One of the weird things about February is that every few years there's an extra day. They call it a leap year.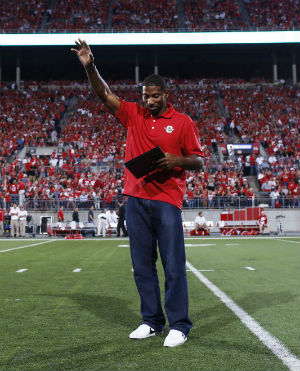 This isn't one of those years, but nevertheless, you're getting your extra serving — in the form of an extra bonus guest on this, the final Eleven Dubcast of February, 2014.
None other than former Ohio State basketball great Scoonie Penn stops by the Dubcast to talk about Buckeye hoops and the recently completed Buckeye Cruise for Cancer. A great player in his own right, Scoonie tells us about the Big Ten race, why so many upsets are occurring this year, Sam Thompson, Aaron Craft and more. He also drops the info on a worthwhile event he's hosting in March.
Our friend Ben Jones from StateCollege.com also dropped in (again) to talk about the upcoming Ohio State-Penn State hoops contest Thursday night and how James Franklin is changing the culture of Nittany Lion football.
And we answer your questions about literally anything. Johnny and I are always happy to take your queries and go into way too much detail in our responses when you email us at elevendubcast@gmail.com. Or you can hit us up on Twitter if you prefer going that route.
Here's your weekly dose of Dubcast:
And here's the breakdown:
0:24- Johnny and I discuss Ohio State's 6-1 run over the last seven games, new money for Mark Dantonio and his staff, weeknight football in the B1G and the NFL Combine.
14:20- Scoonie Penn joins the fun to talk about the recent Buckeye Cruise for Cancer, what's going on in Big Ten basketball this year, which teams might make a run in the B1G tournament, Sam Thompson's development and Aaron Craft's legacy.
25:10- Ben Jones jumps on to talk about Ohio State at Penn State tomorrow night, the job Pat Chambers is doing with PSU hoops, James Franklin, and whether it's a good thing for the Nitts to flip so many Vandy recruits.
37:47- Is Johnny a dog or a cat? Can Big McLargeHuge take out Vladimir Putin? What is our favorite secondary violation? We answer these and more in our Ask Us Anything segment.
51:02- Just don't ask us to take the Wonderlic Test.
Music for the Dubcast this week was "Down by the Water" by The Decemberists, "Let It Go" by Toto, and "Black as the Sky" by Transatlantic.