After three long weeks, Urban Meyer will be back on the sidelines against Tulane.
Meyer will take over arguably the best team in football as the Buckeyes are coming off of their biggest game of the season thus far. 
Today, we will discuss Ohio State's loaded wide receiver room, Dobbins's homecoming game, how Dre'Mont Jones and Jordan Fuller proved their value, and why Ohio State's mistake-free play is responsible for its unblemished record. 
The Versatility of Ohio State's Receivers Has Proven to be Key
Coming into Week Three, Ohio State's offense looked to be one of the best in the country. Despite playing inferior opponents, the Buckeyes were a well-oiled machine that averaged over 650 yards of offense and 60 points a game.
Nothing changed on Saturday.
Ohio State gained 526 yards, putting them at No. 3 for yards per game in the nation through three games. Dwayne Haskins threw for a career-high 344 yards and two touchdowns on Saturday.
Coming into the season, Ohio State looked to have one of the most experienced receiving corps in the nation to support its first-year starter at quarterback. After three games and a ranked opponent, Ohio State's passing attack is evenly distributed and has helped Haskins to a hot-start.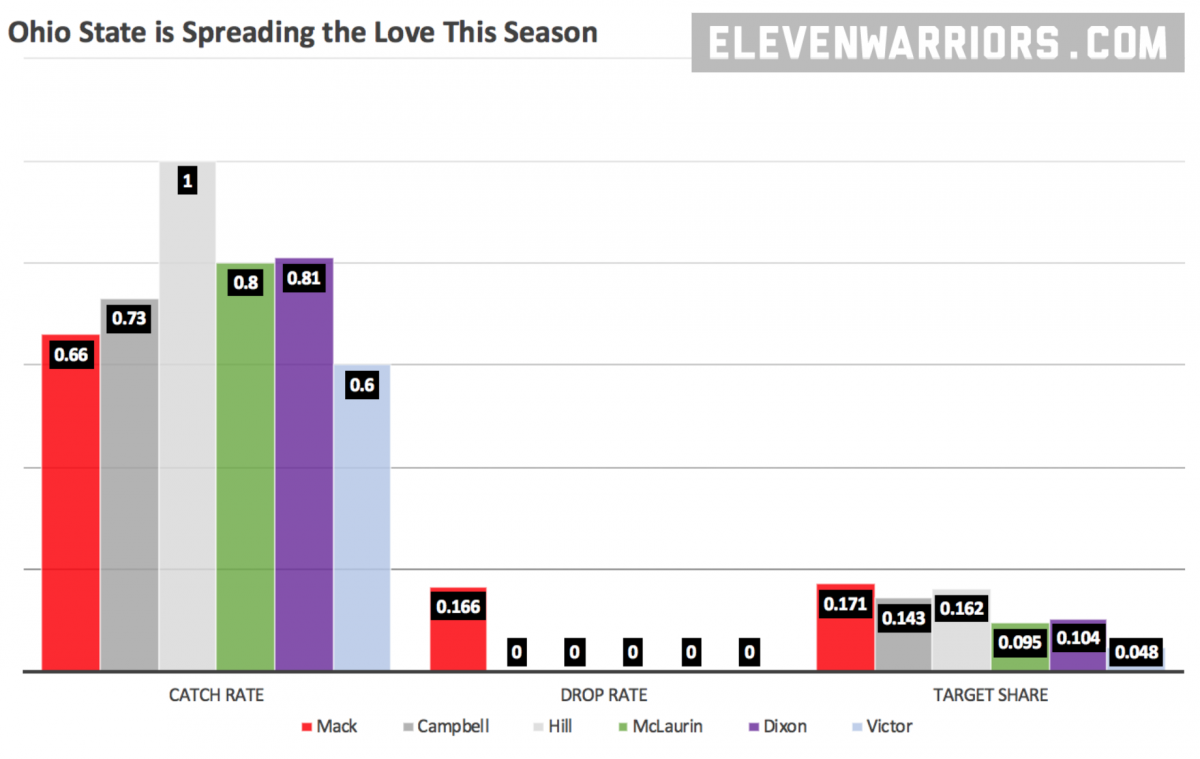 K.J. Hill's 100% catch rate should not go unnoticed. Hill is not a flashy player, he's a great route-runner that can get open and can make Haskins look good on the rare occasion he does not throw a perfect ball. Hill has already been crowned the most consistent receiver on the team and leads the team in yards.
Looking at the target shares, it appears that Austin Mack is the favorite intended receiver for the Buckeyes. Despite Mack getting the plurality of the looks, he also holds all of the receivers' drops on the season. Mack received half of his targets against TCU, however, suggesting that Ohio State wanted to use his size and strength to attack the smaller, faster defensive-backs of the Big 12.
The flexibility of Ohio State's receivers has also proven to be a key aspect of their offensive success. The Buckeyes have had a different leading receiver in each game, allowing Haskins to pick his spots and take advantage of mismatches.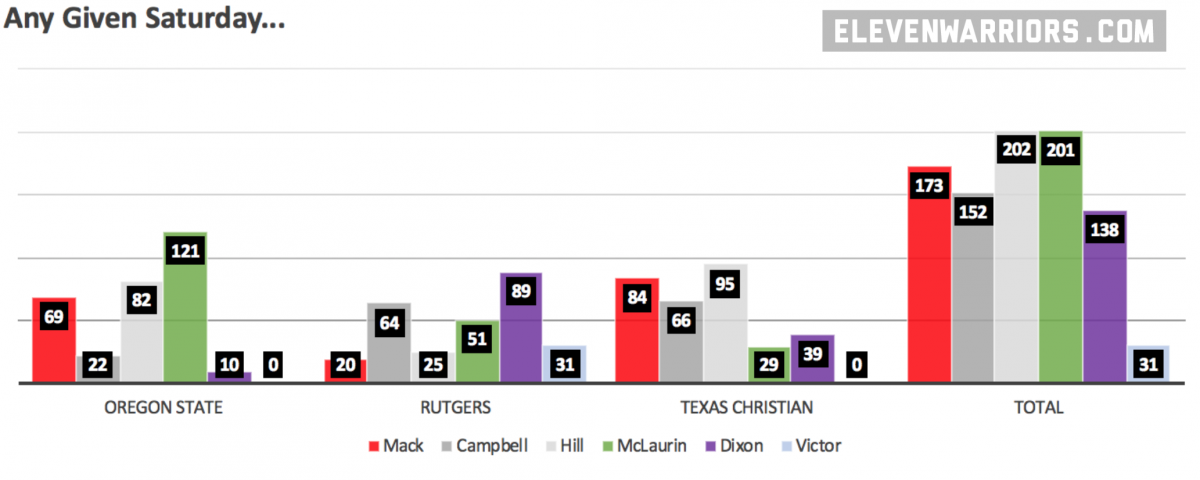 K.J. Hill and Johnnie Dixon are both quick slot receivers with great hands, McLaurin, Mack, and Victor are strong possession receivers, and Campbell is a speed-demon who can take it to the house on any given play. Even these descriptions do not give the receivers their due justice; each player can fill a number of different roles and do not fit perfectly into a single one.
Dobbins Wore the Horned Frogs Down
In his own form of a homecoming game, J.K. Dobbins showed all of Texas what they are missing.
Dobbins rushed for 121 yards, surpassing the 100-yard mark for the first time this season. The Ohio State sophomore pushed his way to an impressive 6.7 yards per carry against a defense that was allowing just 3.21 yards per attempt through the first two weeks.
Much was made about TCU's defensive line prior to the game, and Patterson's group played decently in the first half, holding Ohio State to 90 rushing yards.
For Dobbins, it was not that he played poorly in the first half; it was just that he reached another level in the second half.
Dobbins Controlled the Ground Game
Statistic
First Half
Second Half
Yards
63
58
Carries
12
6
yards/carry
5.25
9.66
yards after contact
45
28
yards after contact/carry
3.75
4.66

 
Dobbins's start to the season now sees him averaging 89 yards per game on 5.96 yards per carry while Weber is adding in 93.6 yards per game on 6.1 yards per carry. The backfield is outpacing their combined average from last year, up from 145 yards per game to 183 yards per game.
Dre'Mont Jones and Jordan Fuller Stepped Up
When Nick Bosa went down, Ohio State fans across the country held their breath.
The nation's best player struggled to get up after suffering an abdominal injury early in the third quarter. TCU converted a third down on that same play and looked to take advantage of Ohio State's crucial injury. Instead, the Buckeyes did not allow a single yard and forced the Horned Frogs to punt.
Ohio State's emphatic response to Bosa's injury encapsulated their play in the second half, with key players stepping up in key moments. Dre'Mont Jones once again showed that Bosa is not the only first-round talent on Ohio State's defensive line. He recorded five tackles (two TFL), one sack, and an interception returned for a touchdown in the second half.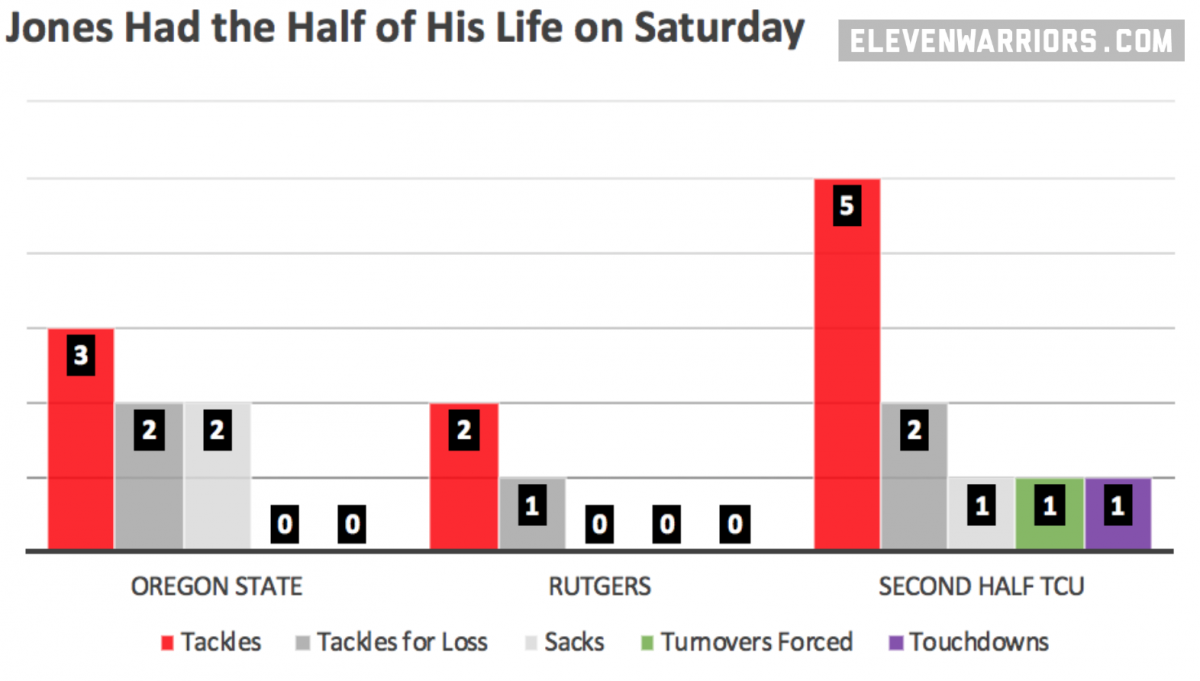 Dre'Mont Jones set the tone up front and recorded a game's worth of play in just one half. Jones's play earned him Big 10 Defensive Player of the Week honors. 
Leaving the front four for the back four, Jordan Fuller continues to be one of the most valuable players for the Buckeyes. He recorded a team-high eight tackles and was clearly the best player in the secondary.
In what seems to be an ongoing theme for Ohio State, the coaching staff must work to fix the poor safety play next to Fuller. Shaun Wade primarily lined up as a nickel-back and Fuller played as a strong safety, leaving either Jahsen Wint or Isaiah Pryor on an island in the middle of the field.
Pryor assisted in allowing a 93-yard touchdown run, the longest offensive play allowed in school history, while Wint failed to track a 51-yard deep ball from Shawn Robinson. Either the development of the two young safeties must progress or a replacement should be considered.
Ohio State Played Smart and Capitalized on TCU's Mistakes
With the help of a semi-blocked punt, two interceptions, and a fumble recovery in the end-zone, Ohio State won the turnover battle by three. Ohio State's lack of mishaps and aggressive defensive play gave TCU problems all night.
Ohio State scored 14 points off TCU's turnovers and elected to run the clock out after Malik Harrison's game-sealing interception. Javon Hamilton's recovery in the end zone and Jones's rumblin' bumblin' and tumblin' pick-six gave Ohio State two defensive touchdowns for the first time since Nov. 5, 2016, against Nebraska.
Despite an unholy amount of low snaps from Michael Jordan, Ohio State never fumbled the ball. Dwayne Haskins was hurried three times and sacked once, but never threw a pick. For the first time since Oklahoma in 2016, Ohio State did not give the ball away against a ranked opponent.
The Buckeyes Seized Their Opportunities

| Statistic | Ohio State | Texas Christian |
| --- | --- | --- |
| Turnovers | 0 | 3 |
| points off turnovers | 14 | 0 |
| PENALTY - PENALTY YARDS | 5 - 39 | 5 - 40 |
| average starting field position | OWN 40 | OWN 19 |
The Buckeyes also had a season-low in penalty yards, giving them fewer penalty yards than their opponent for the first time this season.
Ohio State's near mistake-free football won them the game.