Buckeye football is back.
After a nine-month hiatus, Ohio State football is back in the Shoe as the Buckeyes proved to be far too much for the Oregon State Beavers.
Here, we will touch on Dwayne Haskins Jr.'s first start and how it compares to past Ohio State quarterbacks, how Mike Weber and J.K. Dobbins could outplay their 2017 standard, why the defense will lean on Bosa and co., and how Oregon State could foreshadow some high-point totals. 
Dwayne Haskins is Ready to Take the Reins
Dwayne Haskins Jr. – stop me if you have heard this before – had a historic first-start against Oregon State. The Beavers could do little to stop Haskins and allowed him to throw for 313 yards and five touchdowns.
Since the beginning of Urban Meyer's tenure at Ohio State, elite players at the quarterback position has been a staple. Braxton Miller, J.T. Barrett, and Cardale Jones are some of the best in recent memory. When comparing first-starts, Haskins outperformed them all.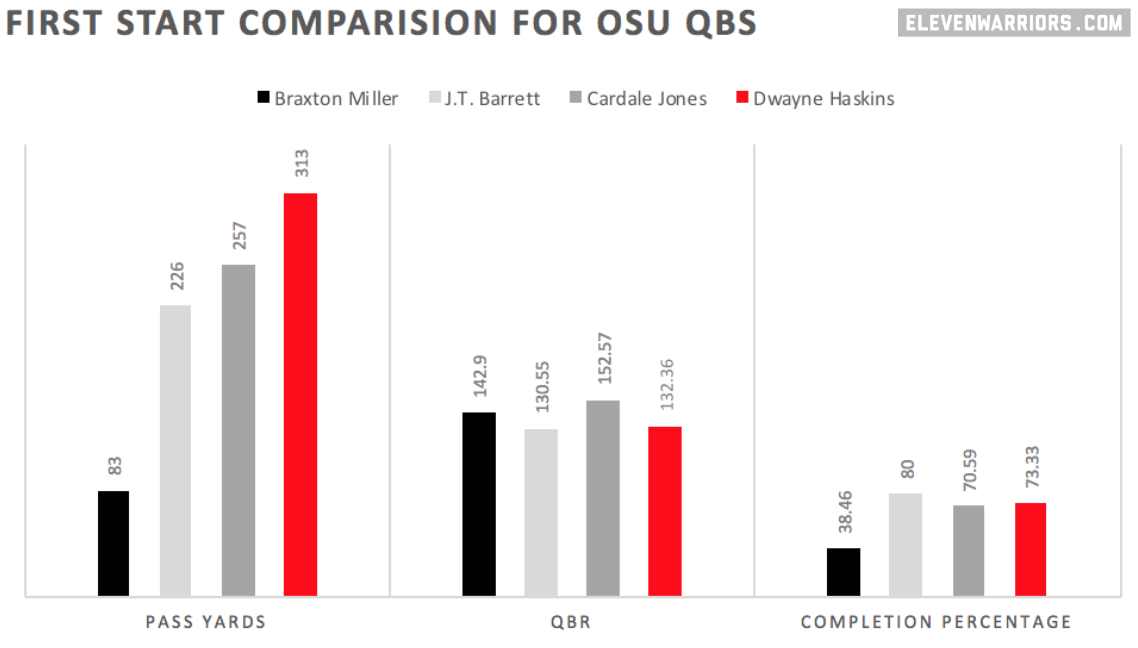 Haskins also threw for the most touchdowns (five) and had the most yards per rush attempt (12) of those quarterbacks compared.
In other news, Ohio State showed that the Read-Option-heavy offense of years past has been archived. Dwayne Haskins's two rushing attempts indicate that the Buckeyes will be turning to a pro-style offense.
The fearsome running back duo of Mike Weber and J.K. Dobbins will likely pressure defenses while Haskins uses his arm to pick the secondary apart and take the top off.
Weber and Dobbins Will Complement Haskins
Ohio State's running attack ground up a total 375 yards, 260 of which came from the starting duo of Mike Weber and J.K. Dobbins. Mike Weber added four touchdowns, three on the ground and one on a jet-sweep pass from Haskins.

Their total yards greatly surpassed last year's average thanks to a huge effort from Weber. Weber got more touches and took advantage of them, outgaining Dobbins by over 100 yards. Additionally, Weber's 49-yard touchdown was the longest rush of the day. 
Their combined attempts (35) was also much higher than last year's average (21), again signaling a move towards a pro-style offense with Haskins staying in the pocket.
Ohio State's Defense Will Depend on the Line
Coming into the season-opener, much of the chatter revolved around the starting quarterback.
Meanwhile, Ohio State's defense lost three defensive linemen, two starting linebackers, and two starting defensive backs to the NFL. While the Buckeyes still have stars on the defensive end, it is clear that some inexperienced players will need to step up to make the defense an elite unit.
Against Oregon State, the inexperience of Ohio State showed. The tackle share of the defensive line, with stars such as Nick Bosa, Chase Young, and Dre'Mont Jones, was significantly higher than last year's average. On the other hand, the linebacker and defensive back units' shares each dropped.

Jordan Fuller (illness) did not play, possibly contributing to the low defensive back share. Fuller was second in tackles last season for the Buckeyes. 
Ohio State's defensive line figures to be one of the best in the country, but the linebacker corps has been a question mark for the entire offseason. Young players will need to step up to support the line and stuff the run. Ohio State's defensive unit must show improvement in order to complement their explosive offense. 
Shootout Potential
Looking forward, Ohio State could be in a number of high-scoring affairs. The Buckeyes gained 721 total yards and scored 77 points against the Beavers, giving Ohio State the best offense in the nation through the first week.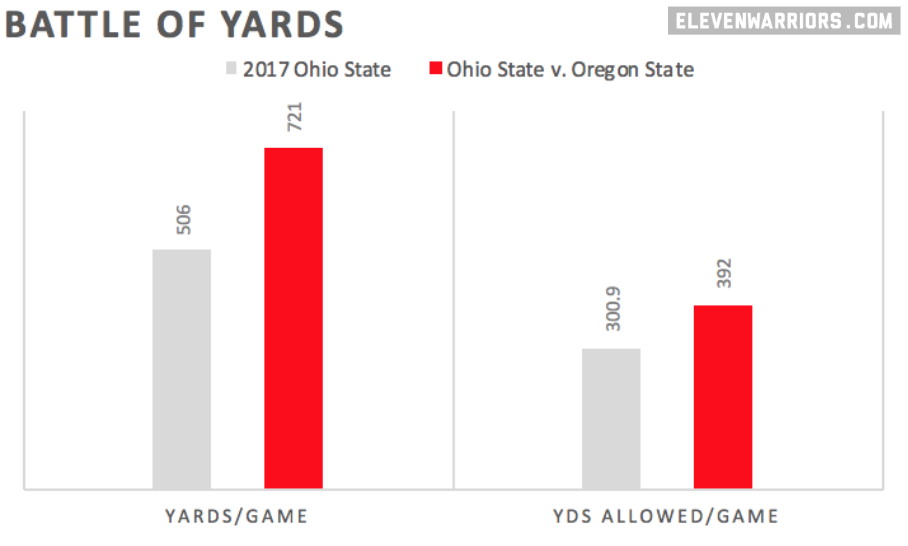 The defense, however, must improve. The 392 yards for Oregon State surpassed the 2017 average and was greater than the yardage gained by Saquon Barkley's Penn State (283) and Jonathan Taylor's Wisconsin (298). 
There could be a number of reasons for this number. Maybe the defense got bored and lazy. Maybe Ohio State put in young, inexperienced players so they could get acclimated to the speed of Power Five football. Maybe Oregon State is just that good on offense.
Whatever the explanation, allowing almost 400 yards to a team that went 1-11 last season could be something to watch.