At a certain point you have to deliver.
A short timeline of Jim Harbaugh's three-season Michigan odyssey has seen him go from impressive to funny to insane to annoying to very annoying to kind of boring and finally to "meh." Meh is bad. Meh is the face of a football team that has slipped from football relevance in the past... oh, I don't know, two decades or so, to the present day where they are just one more 8-5 season from being another seven-second clip in a depressing 60 Minutes montage about the Rust Belt.
8-5 (wow, what a coincidence!) is exactly what we got from Michigan last season, with those five games representing every competent team on their schedule. Their defense was great; they finished with the nation's best passing D in 2017 and Don Brown's crew kept the Wolverines looking like a mostly-competent team.
Which is good because the rotating horrorshow at quarterback and the lack of any real comprehensive plan on offense in general made the Wolverines look like a mostly-garbage team. Total offense in 2017? Raked 105th in the country. Neat.
Here's the deal: Harbaugh has to win 10 games. Ideally 11 or 12. Michigan returns basically everyone. The defense will probably be one of the three best in the country. They've got a hotshot QB transfer and some talent to throw to. The running game exists.
Throw aside the milk and steak and sleepovers with recruits and trips to Europe to meet the Pope and you're left with a coach and a team that needs to prove something. Now.
THREAT LEVEL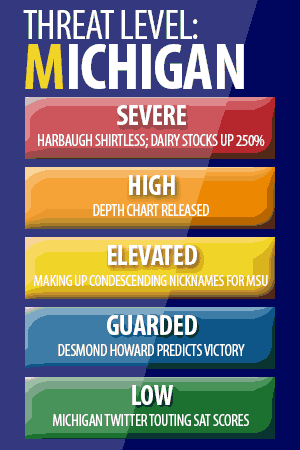 Shea Patterson! Transfer from Ole Miss, savior of Michigan football, pretty good football player. I know a lot of Ohio State fans would love for him to secretly suck or something, but he doesn't. The biggest knock you can make against him is that he really only has about 10 games of starting experience in college football. And then you find out that he's passed for over 3,000 yards and 23 touchdowns in those 10 games.
He's going to have some decent players to throw to. Talented WR Tarik Black is down, possibly for the season, but the Wolverines still return their top three receivers from 2017, including the prerequisite big gangly tight end (Sean McKeon) who runs nothing but 5-10 yard curl/sit routes.
The running game, manned by returning RBs Karan Higdon and Chris Evans, is fine. Michigan's rushing offense was 49th in the country last season, and they'll probably be right there again in 2018.
The defense though...
Defensive linemen Chase Winovich and Rashan Gary, two of the best defensive players in the country, who combined for 14 sacks and a looooot of tackles for loss, are both back. Linebacker Devin Bush is back. The entire, repeat, the entire defensive secondary (best in the country in 2017, remember?) is back.
They are, simply put, great. And they'll have to be, because Michigan has a really difficult schedule that features road games against Notre Dame, Michigan State, and Ohio State, and home games against Penn State and Wisconsin. Fun.
Ultimately, Michigan will go as far as Shea Patterson and the defense will take them. If he gets hurt, then Michigan's 2018 will look a lot like their 2017. If he's as good as advertised... well, Jim Harbaugh better hope that's the case.
The Threat Level begins at ELEVATED.