Dockers has a plan to get everybody to forget about the pleated plague we only recently emerged from as a nation: Game Day Khakis.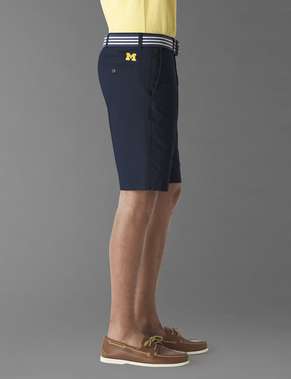 The company has partnered with 20 schools to sell khakis and shorts with the programs' "official colors, logo and slogan." Nine of the participating schools, including Alabama, Arkansas, Florida, Georgia, LSU and Tennessee, call the SEC home because game day is business casual, y'all.
Illinois, Minnesota, Wisconsin and Michigan represent the Big Ten in the collection.
Naturally, the Michigan selection caught our eye because the only way the product images could have topped the Michigan Man look they were going for is if they got Dan Dierdorf to wear his ascot.
100% cotton shorts with an embroidered Block M? Check. Faux yachtsman belt? Check. Boat shoes without socks? You're ready for the open sea – and a cell phone dead zone, which may not be helpful when Les Miles' agent is trying to reach you.
Machine washable, and slim tapered? FEEL THE MICHIGAN.