Michigan football just can't shake this bad, weird acid trip.
Forget about the conference championship drought now in its 10th season, twice as long as the previous worst stretch since Bo Schembechler rescued the Wolverines from oblivion in 1969. Forget this is the seventh consecutive year Michigan hasn't even approached being intimidating. Forget about zero offensive TDs against Notre Dame and Utah. This was already a bad trip. Now it's weird too.
Brady Hoke's Groban-loving fired predecessor's team - which he's already won two bowl games with since being exiled from Ann Arbor - moved to 4-0 Saturday night while scoring five offensive TDs in the 4th quarter alone. Kyle Kalis, whose conspicuous defection from Ohio State's 2012 recruiting class was the insult to injury during the endless Summer of Tatgate still doesn't appear to be a starter-ready blue chip offensive lineman three years into college. 
Bad and weird. Weird and bad. Consider this brutally honest declaration:
This Michigan team has been so woefully inept on offense; so awfully inconsistent on defense; so unthinkably outcoached week after week
...is accurate, incredulous and was, um, from last season. It's still applicable - the Wolverines are fully-immersed in an unenviable quagmire where they're losing games in the Big House while most of the fans in the stands are wearing red and rooting against them. Prior to this season could you imagine this happening?
We're back!! Probably the only time we'll have more fans in the Big House than MICH. <3 our fans. #noblue #UTAHvsMICH pic.twitter.com/KDy2Z8yhA4

— Utah Football (@Utah_Football) September 21, 2014
TRICK QUESTION - of course you could; it happened five years ago halfway through this conference title drought. These two low points, among many others recently, just happen to be an undignified duet between Urban Meyer's future team and Urban Meyer's former team.
It's been a long, weird, bad trip for the Wolverines through some understandable regime-change bumps - but it just suddenly got very dark too. The air is full of spiders. Coaches are already dead but pretending they don't know it yet. Just when you think the acid is wearing off, zombies appear.
Michigan fans aren't sure whether they should surrender or just keep fighting. It must be exhausting for them. Anyway, on to brighter Big Ten news: After a week off the Buckeyes are back - and it's annual 11W tailgate week! Let's get Situational.
---
The LARGEST Conflict of Interest KNOWN TO MANKind
Some guy on Eleven Warriors wrote this three years ago:
You'll know that (ESPN's) mission is complete when college football's already disingenuous postseason becomes an even bigger charade as it overtly chooses matchups for BCS games. And it will happen with everyone watching.
This past Sunday ESPN - the sole owner of some southeastern football conference's television network as well as close to 100% of the college football postseason telecasts - produced this: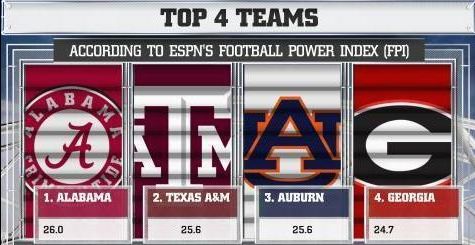 There are no bad losses in the SEC hey didn't Missouri just lose at home to Indiana which means there really are no losses. This is probably why one-loss Georgia is already looking pretty good for the final four per ESPN's football science. The Mississippi schools, South Carolina and LSU can't be far behind. Hell, Arkansas had a good week - put them in there.
This is how circular logic works, and this is only a matter of time, friends:
man espn really has gone too far this time so much bias smh pic.twitter.com/5i6W2EJkaG

— martin rickman (@martinrickman) September 23, 2014
Had Ohio State been able to solve a Virginia Tech team that apparently everyone else can out-scheme this might be perceived as a gripe. It isn't; our grapes were soured by Frank Beamer this time. Also, ESPN's conflicts of interest aren't just in college football. They're in virtually every other sport, including ones they don't cover on purpose because they don't own the broadcasting rights.
ESPN's Top 4 Teams graphic is just a reminder that the college football playoff narrative is already being manufactured for you in September, and it just so happens its largest media stakeholder has a vested business interest in some teams over others. This is explicitly why former ESPN VP of News Vince Doria - an Ohio State grad - openly admitted his network has a scorching conflict of interest between its business operations and news reporting divisions.
The intersection of those two things - which in the business world aren't legally allowed to live together under the same roof - is where you'll find ESPN's "Football Power Index."
Look for LSU to make its move in October after last week's non-loss, or as it's more commonly known, "Auburn last year."
---
The Added-Value Opportunity
Yeah, we already talked about Michigan football - but we have to talk about Michigan football tickets.
Fans who decided to attend the Utah game last week had the opportunity to get in for $50 through the university when they entered the code UTES online at checkout. Many of those discounted seats were in sections where face value is $75-95 and season ticket holders already paid $65 plus a preferred seat donation (PSD) that can run up to $600 depending on the section. 
Of course, there were other ways to get into Michigan-Utah for far cheaper than that, and the university has been suspiciously anxious to unload large amounts of football tickets to the world's third-largest stadium on the cheap for several months. It makes you wonder about the value of being a Michigan season ticket holder. (It also helps you understand just how important Michigan's 100K attendance streak is - to Michigan).
Well, it made me wonder so I looked it up. This is Michigan's official page detailing the benefits of being a football season ticket holder:

That page was taken down abruptly because har har har there is no benefit to pre-paying for seats - after writing a check for the sacred privilege to do so - when there are plenty in the same section selling for a fraction of the price without the PSD.
Unfortunately for Michigan the Internet never forgets: This is what that now-deactivated page used to look like (the screen cap is from the best frame of the Here's Why You Should Buy Michigan Season Tickets video):

Here are were the listed benefits of being a Michigan football season ticket holder. This is the actual text from that page; emphasis mine.
Owning Michigan Football Season Tickets means carving out your real estate in the biggest stage in all of sports - Michigan Stadium. And while many people clamor to own them, only a chosen few have the privilege of calling themselves Michigan Football Season Ticket Holders.
Carving out your real estate among other land owners who found a similar house on the same street as yours, through the exact same realtor - but for a fraction of the price. 
Speaking of price, this section is likely the reason the page was hastily taken down:
Michigan Football Season Ticket Holders pay the lowest price per season (average $65/ticket per game this season as well as in 2013). Public single game ticket prices in 2013 ranged from $65 to $550 per game.

** We may occasionally discount a game or price level below $65 based on inventory and demand, but as a season ticket holder you receive the lowest averaged price across all games.
Let's define occasionally in 2014 using precise math: Michigan is three games into its home schedule and all three of those Saturdays have been steeply discounted. This weekend's Minnesota game and November's Maryland game are currently being bundled and sold by the university for $30 less than season ticket holders paid - and that sale comes with a free gift card.
The only remaining home games are Indiana and Penn State. Therefore, Michigan's occasional discount literally means Every Single Game on the Schedule Except Penn State.
Michigan Football Season Ticket Holders have the opportunity to re-sell their season tickets through a fully integrated and easy to use platform with StubHub, the official fan-to-fan marketplace for Michigan Athletics. This relationship helps Season Ticket Holders utilize their ticket use to help ensure their ticket investment is fully optimized.
"Ensuring my investment is fully optimized? That sounds great! Where do I sig-" 
Yes, this is real. $150 face value for $3. pic.twitter.com/CFDfSuxgEm

— Alejandro Zúñiga (@ByAZuniga) September 22, 2014
Michigan has been jacking up its prices through seat licenses for years and alienating students who have responded by abandoning Michigan Stadium en masse. The hissing from those tasty Cokes being opened is the sound of the bottom falling out of the game day experience - and the value of being a season ticket holder plummeting like Dominos Pizza stock when the company was run by the Wolverines' current athletic director.
We are witnessing the massacre of an historic brand by a ham-fisted corporate slug and Michigan football alumnus with no self-awareness who inexplicably knows nothing about his product or customer. The coach he hired has been underwhelming as well, though the support structure at Schembechler Hall hasn't exactly been helpful during the title drought.
Okay, that's enough about Michigan. Remember, kids: Unfettered greed, impervious vanity and executive hubris are all mutually destructive.
---
The Tailgate of the Year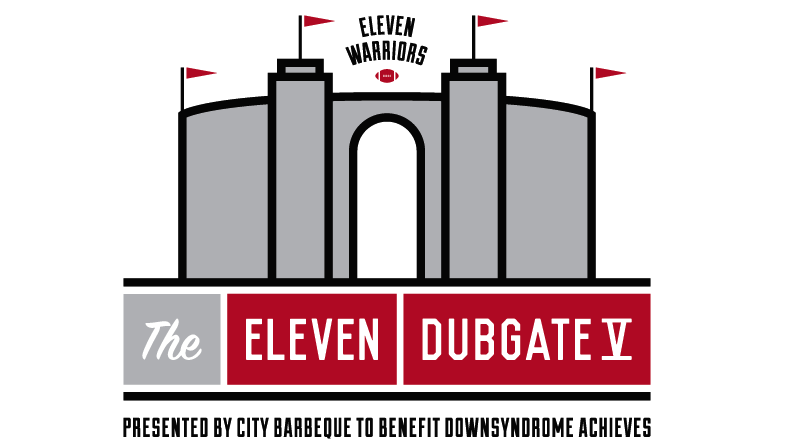 Speaking of value, since 2009 Eleven Warriors has held an annual tailgate to unite our readers and writers with delicious food and beer. Since 2010 we've been using this noble opportunity as a vehicle for worthy, vetted charities.
You can read the entire Eleven Dubgate story here - and you should, so you can fully appreciate what the money you donate this Saturday starting at 2pm will go toward. There's no registration this year - just find us behind the Varsity Club. The information you need is all right here. 
COMPARE VALUE: ELEVEN DUBGATE vs. MICHIGAN FOOTBALL

|   | ELEVEN DUBGATE V | MICHIGAN TICKETS |
| --- | --- | --- |
| RETAIL PRICE | $40 donation (suggested) | $75 if you're a sucker |
| Benefits | DownSyndrome Achieves | University of Michigan |
| City Barbecue | Yes | No. |
| BOTTOMLESS Beer Truck | Yes | No. |
| Tax Deductible | Yes | No. |
| Dubgate Hostesses | Yes | No. |
| BATHROOM LINES | Minimal | >30 minutes to pee |
| WATCH FOOTBALL GAMES? | Multiple TV screens/games | Michigan game only |
| IS IT FUN? | It's going to be so fun. | No. |
All you have to do is show up, meet us and your fellow readers, eat delicious food from City Barbeque, drink fresh Yuengling and locally-brewed craft beer, watch all of the televised games, meet some Buckeye celebrities, enjoy a live musical performance from a campus organization known for its brass instruments and exquisite marching - and do it all - and we mean all - for charity.
Commemorative shirts will be printed on site, we'll raffle off some excellent items - and there are a few other surprises as well. Don't have tickets to the game? It will be on several screens at the Dubgate with food, drinks and bathrooms.
Just show up, donate, get a bracelet and pay forward with us. See you Saturday (psst - the band starts at 2pm sharp - they've got some other commitments with it being a game day and all).
---
The Bourbon
There is a bourbon for every situation. Sometimes the spirits and the events overlap, which means that where bourbon is concerned there can be more than one worthy choice.
Last week several people tweeted this at me:
@ramzy Situational Twinkies http://t.co/KKbZctcuL9

— Kevin (@zippifish) September 19, 2014
Bourbon-soaked deep-fried Twinkies: Everything that comes after bourbon-soaked is absolutely terrible for you. Whiskey, for its part, is not only the tastiest libation ever created - it's the healthiest alcohol you can consume. 
I understand and embrace the state fair trend of deep-frying absolutely everything, but when you get bourbon involved you're venturing off a diabetic cliff and shaming an innocent brown bystander. That said, you can infuse bourbon into a dessert without destroying your pancreas or dignity.
So let's make Salted Caramel Vanilla Bourbon. Yes, we're going to make food out of whiskey.
Mix your water and sugar in a sauce pan and simmer it over medium heat for a half-hour. While you're waiting, pour a glass of Elmer T. Lee, a worthy bourbon named after the late hero of America's bourbon renaissance.
Salted Caramel Vanilla Bourbon

| | |
| --- | --- |
| Sugar | 2 Cup |
| Water | 1/2 Cup |
| Heavy Cream | 1 Cup |
| Room Temp Butter | 2 Tablespoons |
| Vanilla beans OR vanilla extract | 2 beans or 2 teaspoons |
| Elmer T. Lee bourbon | 1/4 cup + a glass for you |
| Salt | 2-3 shakes |
Reduce the heat to low once it starts to look amber. Pour in the heavy cream and stir it in until it's blended. Do the same with the butter and the vanilla, then finally add bourbon to your liking. Think of Elmer as, um, the glue that brings the caramel together. Now hit it with your salt shaker a few times and that's it.
Carefully pour it into a mason jar. You now have a dessert topping that is without peer. The Vine above shows this Salted Caramel Vanilla Bourbon recipe being poured over some gluten-free Twinkies; a nod to the original suggestion that influenced this section. (By the way, Twinkies from scratch taste infinitely better than the chemistry lab ones you buy at the gas station).
But you shouldn't limit adding SCVB to just Twinkies. Pour it on anything. Chocolate cake? Ice cream? The interesting but mysterious date you have tonight? Sure, do it. Salted Caramel Vanilla Bourbon goes well with everything.
---
The Playoff
There's a chance you made it to the end of The Situational while humming the song this edition is named for - and we're not sorry, because Sunshine of Your Love is a terrific song. It's so good it cannot be performed badly by anyone. Sing it in the shower sometime. You'll morph into a naked Eric Clapton.
The original is by Cream and is now - gasp - 47 years old. It's been covered by artists including Jimi Hendrix, Tomoyasu Hotei, Toto, Elvis Costello and the Police, Funkadelic, Ozzy Osbourne, Carlos Santana and...ugh...the Goo Goo Dolls. And they couldn't even ruin it.
That all said, my favorite non-Cream version was performed by Ella Fitzgerald in 1969 on the LP she named for the song.
That album, which Spotify cruelly doesn't have available, also includes Ella's soulful versions of Hey Jude, Love You Madly and Give Me the Simple Life which unlike Sunshine are all immediately destroyed by anyone who attempts to cover them...except Ella. Even Paul McCartney can't sing Hey Jude anymore without ruining it - but if he tried Sunshine it would absolutely kick ass, just like the shower stall version by naked you.
That concludes this installment of The Situational. Go Bucks, beat Cincinnati!