Michigan looked good in their win against Nebraska on Saturday.
Very good. Great, even. Win 45-7 on the road against a conference foe, and maybe people start talking like you actually deserve to be the 2nd-ranked team in the country.
It was literally last week that I was proclaiming it to be a practical impossibility for Michigan to score 40 points in a game, and here they are, less than a week later, making me look like a bum (I am a bum, this is accurate). You could come to my defense and say that sure, it's 45 points, but Nebraska gifted the Wolverines several short fields and also it's Nebraska. Don't let me off the hook: Michigan was playing with its second team for most of the last two quarters and clearly just farting around.
This was, legitimately, a dominant win, to the point where J.J. McCarthy could just go ahead and make out with his girlfriend on the sidelines and nobody cared:
Things are so out of hand in Lincoln that JJ McCarthy brought his girlfriend down to the sideline. pic.twitter.com/NxiT9HibxN

— Jim Weber (@JimMWeber) September 30, 2023
Probably the most impressive part of the game was that Michigan was able to rely on their passers to make things happen on 3rd and longs to extend drives, and this is where I introduce my theme for this week (since I've decided to eschew my usual "offense/defense" template).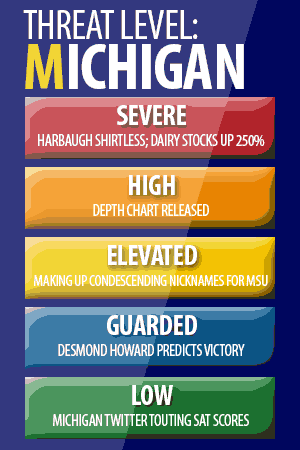 Which is to say that all of this praise does come with one caveat, and I'm going to hammer this one home on a weekly basis until I see otherwise because I think it's going to be relevant in like a month and a half: the Michigan running game is just okay.
It's fine. It's not bad (no running game with Blake Corum is going to be bad), but it's not great, and I'm starting to think that it's merely kind of borderline "good".
HANG ON, I'M ATTEMPTING TO MAKE A POINT
Michigan football's identity for the past few years has been centered around their ability to run the football. Starting in 2021, they stopped trying to give mediocre quarterbacks center stage, and let Hassan Haskins run wild and free to the tune of 1327 yards (with Blake Corum following that up with almost 1000 yards of his own). It wasn't pretty, and it ended up biting them in the ass against Georgia, but they beat Ohio State and everybody was happy.
Last season they followed the same template, this time with Blake Corum being the star attraction as he ran for 1463 yards, with Donovan Edwards getting nearly 1000. Another win against Ohio State, another hilarious loss in the postseason, which you would think might lead to Michigan changing things up a bit, but hell: why would you go back to formula when you're more successful than you've been in 15 years?
What I'm seeing in 2023, however, are diminished returns based on the central issue that Michigan does not have a reliable number two option behind Blake Corum.
THE DONOVAN EDWARDS PROBLEM
I'll get to Edwards in a second, but first, a few stats.
In August and September of 2022, Michigan was clearly one of the best rushing teams in the country. They were 6th in yards per carry, at 6.01, and had scored over 50 points in each of their first three games. This year, against the absolute dregs of college football, they are averaging 4.95 ypc, behind the likes of yes, the Ohio State Buckeyes (a few members of the Michigan commentariat have pointed out that Nebraska was statistically great in run defense before the Wolverines dropped 250 yards on the ground, but take a look at the Huskers' schedule and you'll see that that was obviously fool's gold), and are averaging just 34.4 points per game.
I think a big part of this is because Corum is shouldering the entire running game as Donovan Edwards has been a relative non-factor in each of Michigan's five contests to this point. He's been given the ball 47 times and rushed for only 157 yards, and while he at least looked better against Nebraska (ie, not aggressively missing running lanes and falling down at the line of scrimmage), his assy-ness is allowing teams to sell out on obvious running downs, as Michigan is also over a yard per carry worse on 3rd down running plays in 2023 versus 2022.
The Nebraska game might've finally been his Wally Pipp moment as Kalel Mullings had almost as many yards as Edwards on a third as many carries, but giving Edwards the ball makes the Michigan running game much more predictable and manageable for opposing defenses.
WHAT IS THE PURPOSE OF A RUNNING GAME?
How much any of this actually matters is up for debate. The Wolverines don't play anyone of note until mid-November, and for what it's worth, SP+ still loves their running game. Also, Blake Corum is still great, and as long as he's upright, Michigan is fine. Also also, there's a strong argument to be made that even a diminished rushing attack still puts enormous pressure on opposing teams to convert what few chances they get to actually score after Michigan spends 13 minutes with the ball per possession. Also also also J.J. McCarthy has been mostly unimpressively impressive, doing a decent job of being regularly good if not great and taking a lot of the pressure off Corum and company.
So all things being equal, Michigan's running game is still, probably, legit and not something for them to worry about, yet. I just wonder if (for instance) the repeated failures of Michigan to convert 4th downs in their opponent's red zone, usually via the rushing game, is a symptom of a bigger problem schematically and in terms of personnel than people are recognizing yet.
MATT WEISS DRAMATIC REENACTMENT OF THE WEEK
THREAT LEVEL
It's HIGH, but honestly a few more games like this from Michigan and I will be forced to push it to SEVERE, concerns about the running game aside.
Next week the Wolverines are on the road again at Minnesota, who are bad. See you then!