"Ah ha!" shouted I, at my television screen on Saturday night, after J.J. McCarthy threw his third interception of the game.
Raising a gnarled finger high into the air, I triumphantly bellowed "Vindication! This fellow is indeed poor exemplar of a football quarter-back, as I have been saying for many a fortnight. Witness his sallow complexion, his weak mandible, his imbalanced humors! McCarthy's earlier fraudulent performances against the dregs of collegiate football were shams and flimflam, built on a foundation of twigs and chicken wire. Now the continent entire shall bear witness to his downfall!"
And then I drank three birch beers and fell asleep in a rabbit hutch clutching a copy of Remedies for St. Vitus Dance.
When I woke up, I was once again 38 years old and not yet at the stage in my life when every mistake a football player makes on the football field is an indicator of moral turpitude, or being terrible forever. J.J. McCarthy is still (probably) a good football player, and the same guy who threw three (shoulda been four) interceptions against only eight completions versus Bowling Green is still the same guy who completed 48 of 55 passes in the two games before.
Still, it was very funny to watch. Which you can do here and here and here:
WYD Michigan pic.twitter.com/hYtlZLm1rk

— College Football Report (@CFBRep) September 17, 2023
THE OFFENSE
Michigan beat Bowling Green, 31-6. Great job guys, you defeated a MAC team that's comparable to season one of when you use Dynasty Mode to try and take the worst possible team to a natty.
J.J. McCarthy having a bad game (8 for 13, 143 yards, the aforementioned three INTs) where he just says "the hell with it" and hucks the ball into the stratosphere with one hand over his face and spinning around in a circle is actually kind of on-brand for the guy. While a lot of Michigan fans were excited about him taking a next step in his quarterbacking evolution, he's just got too much Rex Grossman in his DNA to keep it suppressed forever.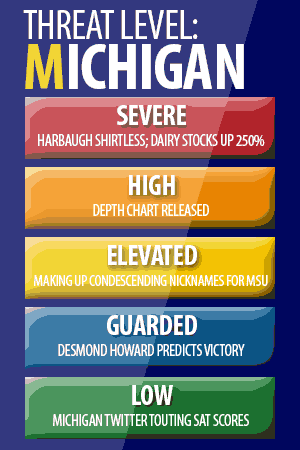 So, whatever. Against Bowling Green it was never actually a problem (more on that later), and Blake Corum still exists (12 carries, 101 yards) so Michigan will continue to have at least a semi-functional offense.
The real concern for Michigan is that their offensive line has looked progressively worse every single game, and the offense as a whole again had ridiculous problems as they approached the red zone. Bowling Green was constantly in Michigan's backfield, confusing the hell out of their tackles with stunts and blitzes. My guess is after watching this game film, Greg Schiano isn't going to ask his linebackers to sit back and play nice.
THE DEFENSE
If you encounter any Wolverine fan that says there's some silver lining to this game because they held the Falcons to 203 yards of offense and six points, please immediately challenge their grandmothers to a game of H-O-R-S-E and shit talk the absolute hell out of her when you win.
Bowling Green lost their first string quarterback before the game had even started, lost their second string quarterback (who was actually doing some sort-of positive things against Michigan's defense) after a quarter of action, and then had to insert a former walk-on who, as far as I can tell, had never thrown a pass before in college and was not named Cardale Jones. His actual name is Hayden Timosciek, and he immediately threw two interceptions. After that Bowling Green coach Scot Loeffler wisely refused to do anything but run off as much clock as he could.
Congrats on holding this offensive juggernaut to a couple of field goals, Michigan. The defensive line looked good, again, and Kris Jenkins is a strong contender for best defensive player in the Big Ten so far this year. But beyond that I have absolutely zero desire to give you any kind of credit for clamping down on a team that was clearly just trying to cash a check after the first 15 minutes of game time was up.
MATT WEISS DRAMATIC REENACTMENT OF THE WEEK
THREAT LEVEL
This was not the game Michigan wanted to have as they head into Big Ten season. It doesn't seem like a huge deal to look this bad, given how absolutely piss-poor their schedule is until literally mid-November, but I really don't think Jim Harbaugh returning from suspension is going to immediately remedy some of the underlying issues that have started to emerge with the Wolverine offense. With Rutgers looking much better than expected, Michigan fans have a right to be a little nervous going into next week.
Still, the Threat Level remains HIGH. McCarthy will likely shake off whatever goblins were sticking pickle forks into his brain, and Harbaugh will yell the right combination of gibberish to get his offensive line playing like more of a unit.
Only probably, though! And if that doesn't happen, things might get very interesting in an ostensibly boring Wolverine football season.