There wasn't a lot of #chaos across college football this weekend, although No. 17 Arkansas, No. 18 Arizona State, No. 19 BYU, and No. 20 Florida were all upset, clearing room for teams on the fringe of the top 25 to slide up a bit.
And then, there's what took place in Knoxville, which did not qualify as an upset but absolutely qualifies as its own special form of chaos.
We pick things up with Tennessee trailing No. 13 Ole Miss, 31-26, in Lane Kiffin's first return to Neyland Stadium since ghosting the Vols in 2010. Facing a 4th-and-24 with just over a minute to play, Tennessee picked up 23 and turned the ball over on downs when the spot and subsequent measurement didn't go their way.
And that's when all hell broke loose.
Tennessee fans began pelting the field with debris, nearly hitting Kiffin with a golf ball, and forcing both cheerleading teams and bands to flee the stadium.
Fifteen minutes later, order was somewhat restored, but not before a mustard bottle found its way to the turf.
October 17, 2021
Ole Miss held on for the win, but the crazy was still going deep into the night as we saw things like a member of the Tennessee beat handing out threats to national reporters.
Just a normal night in Knoxville, really.
Closer to home, Purdue humbled No. 2 Iowa, Michigan State moved to 7–0, and Northwestern might actually have a pulse.
---
Purdue 24, #2 Iowa 7
 
Q1
Q2
Q3
Q4
 
  PURDUE
7
7
3
7
24
  

#2

IOWA
0
7
0
0
7
Life comes at you fast.
Last weekend, Iowa City was partying as then No. 3 Iowa knocked off No. 4 Penn State, 23-20. In the days after the win, Iowa coaches and fans added salt to the matter by accusing the Nittany Lions of faking injuries (it got so heated that Pitt coach Pat Narduzzi even weighed in on things).
With that win, Iowa rose to No. 2 in the AP Poll, their best showing since 1985, and Kirk Ferentz's squad seemingly had the inside track to win a very mediocre Big Ten West.
Then David Bell came to town.
Purdue's junior wide receiver went off, hauling in 11 receptions for 240 yards – a Kinnick Stadium record – and one touchdown. Thanks to Bell's 105-yeard first half, the Boilermakers jumped out to a 14-7 halftime lead before blanking Iowa in the second half for the 24-7 upset.
Bell has made a habit of destroying the Hawkeyes.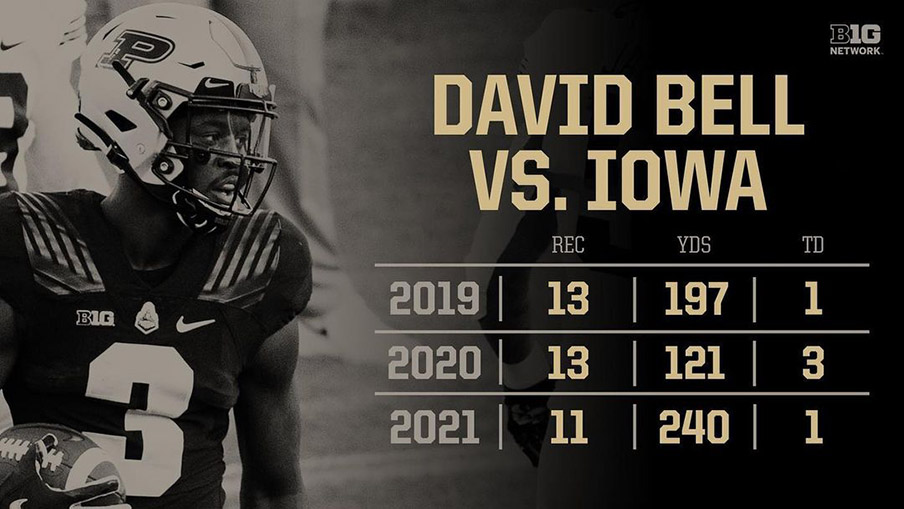 And it could have been worse. Purdue quarterback Aidan O'Connell threw for 375 yards, while the Purdue defense intercepted Iowa quarterback Spencer Petras four times and held the Hawkeyes to 76 yards on the ground. Oh, and Purdue wideout T.J. Sheffield lost a fumble going for the pylon late in the third, leading to a touchback.
What kind of day was it for Purdue? This kind of day:
In the most badass moment of the game, Purdue offensive lineman Greg Long pours a can of @budlight over his face after a fan tossed the beer onto the field in @BoilerFootball's 24-7 win over No. 2 Iowa today in Iowa City. pic.twitter.com/ymZUxWhP2V

— Bryon Houlgrave (@bryonhoulgrave) October 16, 2021
The win was Purdue's first against a top-five Big Ten team on the road since 1964. 1964! Take it away, Purdue Twitter…
We just beat the No. 2 out of Iowa.

— Purdue Football (@BoilerFootball) October 16, 2021
At least Iowa kept its 1980s vibe going.
NEXT:  PURDUE (4–2) vs. WISCONSIN (3–3); IOWA OFF
#10 Michigan State 20, Indiana 15
 
Q1
Q2
Q3
Q4
 
  #10 MICH. ST.
7
0
10
3
20
  INDIANA
3
6
0
6
15
MEMORIAL STADIUM • BLOOMINGTON, IN
Six games into 2021 and Indiana has faced four teams currently ranked in the AP top ten. Sure, they've lost all four of them, but they nearly got over the hump Saturday at home against No. 10 Michigan State.
The Hoosiers held the nation's leading rusher, Kenneth Walker III, to 3.7 yards per carry, held Michigan State quarterback Payton Thorne to 126 yards through the air while forcing two interceptions, and forced the Spartans to punt on their first six offensive possession of the game.
They even led this one at the half! And were within two midway through the fourth! And the Hoosiers even had the ball with the chance to take the lead with a little over two to play…
But you know how this one went. The Spartans picked off held quarterback Jack Tuttle, playing for an injured Michael Penix Jr., to a meager 188 passing yards on 52 attempts while picking him off twice, including one on a 4th-and-21 at the end to hold on for a 20-15 win.
Michigan State takes home the Old Brass Spittoon, which might honestly be the most functional rivalry trophy in the Big Ten. They will be undefeated at 7–0, coming out of an off week when they welcome the Michigan Wolverines to East Lansing on the 30th.
WE GOT THE BRASS SPITTOON BACK #GoGreen pic.twitter.com/1sJdJlCcPB

— Michigan State Football (@MSU_Football) October 16, 2021
NEXT:  INDIANA (2–4) vs. OHIO STATE (5–1); MICHIGAN STATE OFF
Minnesota 30, Nebraska 23
 
Q1
Q2
Q3
Q4
 
  NEBRASKA
3
6
7
7
23
  MINNESOTA
7
14
0
9
30
HUNTINGTON BANK STADIUM • MINNEAPOLIS, MN
"LIttle details got us beat."
That was Nebraska coach Scott Frost following his team's 30-23 road loss to Minnesota Saturday, but it could really be his team's mantra this year as the Huskers lost their fifth game of the season by one score.
Behind the hot arm of quarterback Tanner Morgan, who rifled 16 straight completions at one point, Minnesota jumped out to a 21-9 halftime lead, but the Cornhuskers made it a game in the second half, picking Morgan off twice and rallying to cut their deficit to single digits on two separate occasions.
But those little details. Nebraska turned it over on downs twice in the second half (including once at the goal line), missed an extra point, were hit with a safety when Adrian Martinez tried to throw the ball away in the end zone, and also fell victim to Dramatic Gopher to miss a 27-yard chip shot at the start of the fourth quarter.
Don't look now, but Minnesota is one weird upset loss away from being 5–1, yet still very much in the thick of things in the Big Ten West.
P.J. Fleck, however: still super weird.
October 16, 2021
NEXT:  MINNESOTA (4–2) vs. MARYLAND (4–2); NEBRASKA OFF
Northwestern 21, Rutgers 7
 
Q1
Q2
Q3
Q4
 
  RUTGERS
0
7
0
0
7
  NORTHWESTERN
7
7
0
7
21
RYAN FIELD • EVANSTON, IL
Behold the power of the off week.
Northwestern, which had been the worst team in the Big Ten not named "Illinois" through the first six weeks of the season, took full advantage of their week off last week to regroup and come out of it with a 21-7 home win over Rutgers.
South Carolina transfer Ryan Hilinksi threw for 267 yards and two touchdowns to lead the Wildcats to their first Big Ten win since December.
Meanwhile, the Northwestern defense, which had given up 500 or more yards of offense to every Power 5 opponent it faced this season, forced Rutgers to punt on five of its first six possessions and held the Scarlet Knights to just 222 yards on the day.
After starting the season 3–0 and leading at least one observer to claim that they were now Rutgers Good™, if not actually good, the Scarlet Knights have now dropped four in a row and sit at the bottom of the Big Ten East at 0–4 in conference.
NEXT:  NORTHWESTERN (3–3) at MICHIGAN (6–0); RUTGERS OFF
Wisconsin 20, Army 14
 
Q1
Q2
Q3
Q4
 
  ARMY
0
0
0
14
14
  WISCONSIN
0
13
0
7
20
CAMP RANDALL STADIUM • MADISON, WI
It was a spiderman-pointing-at-spiderman.png game in Madison as Army and Wisconsin, two offenses that love running the ball more than anything else, went head-to-head.
How much do these teams love running the ball? Well, the two quarterbacks in this one combined for 13 completions. Yeah, that's an actual stat.
The Badgers jumped out to a 13-0 halftime lead thanks to a Braelon Allen 33-yard run and a 5-yard keeper from quarterback Graham Mertz, but Army fought back to cut the lead to six and get the ball back with under four to play.
That's when linebacker Leo Chenal went to work, sacking Army quarterback Jabari Laws to force a fumble that the Badgers would recover. Mertz punched it in on the next play to put Wisconsin up 20-7. The Black Knights added a touchdown in the final minute, but it wasn't enough as the Badgers held on at home, 20-14.
The game goes into the books as the last non-conference game for the Big Ten this season. The conference finished the slate 33–9.
NEXT:  WISCONSIN (3–3) at PURDUE (4–2)
---
B1G Power Rankings: Week 7

| Rank | Team | Overall | Conference | Move |
| --- | --- | --- | --- | --- |
| 1 |    OHIO STATE | 5–1 | 3–0 | – |
| 2 |    MICHIGAN | 6–0 | 3–0 | ▲ 2 |
| 3 |    MICHIGAN STATE | 7–0 | 4–0 | – |
| 4 |    PENN STATE | 5–1 | 2–1 | ▲ 1 |
| 5 |    PURDUE | 4–2 | 2–1 | ▲ 6 |
| 6 |    IOWA | 6–1 | 3–1 | ▼4 |
| 7 |    MINNESOTA | 3–2 | 1–1 | ▲ 2 |
| 8 |    WISCONSIN | 3–3 | 1–2 | ▼ 1 |
| 9 |    NEBRASKA | 3–5 | 1–4 | ▼ 3 |
| 10 |    MARYLAND | 4–2 | 1–2 | – |
| 11 |    NORTHWESTERN | 3–3 | 1–2 | ▲ 2 |
| 12 |    INDIANA | 2–4 | 0–3 | — |
| 13 |    RUTGERS | 3–4 | 0–4 | ▼ 5 |
| 14 |    ILLINOIS | 2–5 | 1–3 | – |
Ohio State remains at No. 1 in this week's B1G Power Rankings. I might be a homer, but I also think the Buckeyes would be at least two score favorites against anyone else in the Big Ten right now.
Michigan slides up into the two spot thanks to Iowa's loss to Purdue, and Michigan State looking meh as hell against Indiana. Penn State moves up one spot to No. 4, and Purdue is this week's biggest mover, jumping six spots to No. 5 in the rankings.
Iowa plummets to sixth in the rankings as fellow Big Ten West teams smell blood in the water with the Hawkeyes. In the span of seven days, Iowa went from having the West on lockdown to a virtual three-way tie for the division lead.
Northwestern climbs a couple of spots out of the near cellar but has a tough game at Michigan this weekend.
Speaking of that Week 8 slate, it's not a great one in the Big Ten with just five games lined up and only one game – Wisconsin at Purdue – holding any real interest in divisional races.
However, things get fun in Week 9 with Penn State at Ohio State, Michigan at Michigan State, and Iowa at Wisconsin. Buckle up. The next six weeks should be a lot of fun in the Big Ten.