Week 5 will be a top-heavy schedule. College football fans will enjoy three top 10 battles this weekend. No. 10 Washington hosts No. 7 Stanford. No. 4 Michigan will host a resurgent No. 8 Wisconsin program. The main event, No. 5 Clemson at home against No. 3 Louisville, will also host Gameday on Saturday morning.
The schedule is a little light down the card. Only No. 11 Tennessee at No. 25 Georgia stands out though Georgia's ranking is more a matter of courtesy because of its conference affiliation. The Bulldogs haven't looked good since its season-opening win over North Carolina. Ole Miss routed it last Saturday.
Elsewhere, prominent programs like No. 1 Alabama, No. 2 Ohio State, No. 9 Texas A&M, and No. 13 Baylor are all playing league games against the dregs of their respective conferences.
Let's dive into the schedule.
Thursday
Connecticut at Houston (ESPN, 8:00 p.m.). Connecticut, of all programs, handed Houston its only loss last year. But, that was in East Hartford. This impending annihilation will be in Houston. The Cougars are four-touchdown favorites.
Kansas at Texas Tech (FOX Sports 1, 8:30 p.m.). College football fans aware of Texas Tech know it as a team capable of scoring a lot of points but without a commitment to defense necessary to win it a lot of games. The Red Raiders' ceiling is effectively eight wins, something Kingsbury has done only once since he arrived in 2013.
This will be one of those wins on the schedule. Texas Tech is a 29-point favorite because the opponent is Kansas.
Friday
Stanford at Washington (ESPN, 9 p.m.). My pick for game of the week is tomorrow night in Seattle.
This might be your de facto Pac-12 North championship game. Oregon is already injury-addled and just lost at home to Colorado. A 5-4 or 4-5 record in the Pac-12 seems likely. That leaves these two as the class of the Pac-12 North.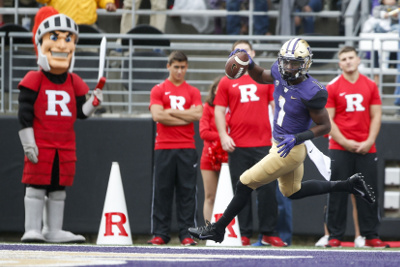 The first Poll Watch this year circled Washington as the team to watch in the Pac-12. Its schedule is favorable, all things considered. It hosts the toughest games in conference play, starting with No. 7 Stanford. It will travel to Oregon, Utah, and California in three of its next four games. These will be challenging, but mostly plausible wins for the Huskies.
A Washington upset of Stanford may have two effects. One, it may effectively give the Pac-12 North to Washington. Stanford would need a combination of an undefeated remainder of its own schedule and two Washington losses later in the schedule to sneak into the conference championship game.
Two, it may also eliminate the Pac-12 from this year's playoff again. Washington is good but it assuredly has at least one loss somewhere in its schedule. Washington's non-conference schedule is bad enough and college football selectors are not as kind to the Pac-12 to give a Pac-12 champion the kind of grace that a one-loss SEC champion automatically gets.
Both the Cardinal and the Huskies are coming off close calls on Saturday night. Stanford needed a last-minute touchdown and a last-second backdoor cover to beat UCLA in the Rose Bowl. Washington needed overtime to beat Rich Rodriguez' Wildcats.
Toledo at Brigham Young (ESPN2, 10:15 p.m.). A recurring theme in these viewing guides, BYU's independence has led it to have some of the cooler season schedules in the country. It looks like something you'd make for yourself in a college football video game. The Cougars host arguably the class of the MAC on a Friday night banger.
Saturday
Notre Dame vs. Syracuse [at MetLife Stadium] (ESPN, 12 p.m.). Notre Dame is 1-3 and just fired its defensive coordinator. Its purple-faced head coach announced that every position is up for grabs and no one's job on the roster is certain.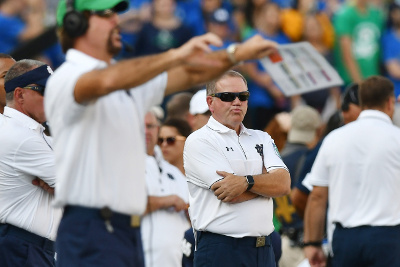 I, on other hand, was dumb enough to think the Irish were an 11-1 squad that might be a thorny issue of debate for the playoff. Send me your Crying Jordans in the comments. I deserve it.
Florida at Vanderbilt (SEC Network, 12 p.m.). Last year's contest between these two was a regrettable 9-7 affair that went to the Gators at home. Vanderbilt has just one win over Florida (2013) since 1988.
Alcorn State at Arkansas (SEC Network, 12 p.m.). The SEC Network will also broadcast this game. Pay attention to Arkansas this game. It hosts Alabama next.
Baylor at Iowa State (FOX Sports 1, 12 p.m.). Interim coach Jim Grobe passed his first test with a home win against Oklahoma State. It will get a 1-3 Iowa State program as a treat.
Texas at Oklahoma State (ABC, 12 p.m.). Texas last hit the field two weeks ago in a 50-43 shootout loss at California. Conference play starts now for what might otherwise be a resurgent Big XII favorite Longhorn program.
Rutgers at Ohio State (BTN, 12 p.m.). This is your game of the week. Stay tuned to Eleven Warriors for comprehensive coverage of this contest.
Southern Methodist at Temple (ESPN News, 12 p.m.). One of last year's surprise teams, the Owls are just 2-2 to start 2016. It will try for a winning record against an SMU team that will travel to Philadelphia as 13-point underdogs.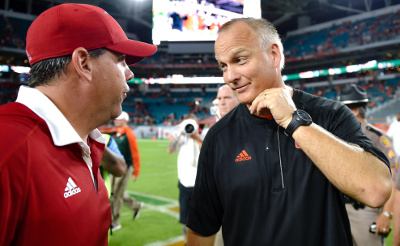 Miami at Georgia Tech (ESPN2, 12 p.m.). Miami is quietly having a renaissance under first-year head coach Mark Richt. The Hurricanes are the last undefeated team in the ACC Coastal.
Its next two games will go to great lengths to determine its fate in the ACC Championship picture. It hosts both Florida State and reigning ACC Coastal champion North Carolina next.
Oregon State at Colorado (Pac-12 Network, 2:30 p.m.). New Pac-12 darling Colorado will host Oregon State fresh off its upset of Oregon in Eugene last week. Gary Andersen is still looking for his first league win in his second year in Corvallis.
Navy at Air Force (CBS Sports, 3:30 p.m.). The first game in the Commander-in-Chief's Trophy series starts Saturday afternoon. Navy won last year's trophy. Air Force won the year before.
Louisiana Monroe at Auburn (SEC Network, 3:30 p.m.). Auburn's players will try to keep their own coach from getting fired on Saturday just a week after getting LSU's coach fired.
Tennessee at Georgia (CBS, 3:30 p.m.). This game will bring back some uncomfortable memories for Georgia fans. Last year's contest in Knoxville saw Georgia lose in an upset that also sidelined Nick Chubb for the season.
Chubb is also questionable for this game. Tennessee is a four-point favorite in Athens.
North Carolina at Florida State (ESPN, 3:30 p.m.). Florida State was arguably the safest pre-season pick in the ACC for a conference championship and a playoff berth. Thereafter, it lost its redshirt senior quarterback to a season-ending injury, forgot how to play first-half football, and its offensive line morphed into a dumpster fire.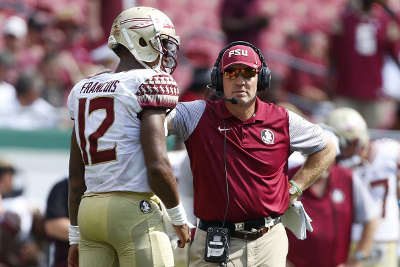 Louisville already routed Florida State, putting it behind the eight-ball for the Atlantic Division championship. A home loss to North Carolina in one of its two cross-division games this year would eliminate the Seminoles.
Florida State is a 10-point favorite. It was favored against Louisville, though.
Purdue at Maryland (BTN, 3:30 p.m.). Because when I think "Big Ten football", I think Purdue at Maryland.
Wisconsin at Michigan (ABC, 3:30 p.m.). The Badgers and the Wolverines are finally playing each other for the first time since 2010. Both programs had each gone through two coaching changes since the last contest between Bert's Badgers and Rich Rodriguez' Wolverines.
This was an unfortunate scheduling quirk amid the first round of expansion and the later transition from the failed "Legends and Leaders" experiment to the "West/East" divisions with the inclusion of Maryland and Rutgers.
Fans should remember the Big Ten tried to gerrymander divisions with the idea that Michigan vs. Ohio State could be played twice a year and that Wisconsin and Michigan might make an ideal conference championship game and not a regular season game. Neither materialized. It took yet another conference change (i.e. nine-game schedules) to guarantee these two would at least play once after six seasons.
Wisconsin beat LSU in Green Bay and routed Michigan State in East Lansing, yet enters this contest as ten-point underdogs. Make no mistake that Michigan could probably secure a few more No. 1 votes (contingent on what happens in Clemson later in the evening) with a convincing win against Wisconsin. It would have earned it too.
Illinois at Nebraska (ESPN2, 3:30 p.m.). Speaking of Big Ten scheduling quirks, this might be my favorite. The Big Ten booked Illinois and Nebraska to begin their league slates against each other from 2013 to 2017. There's the obvious qualifier that Nebraska started conference play last week at Northwestern. However, Illinois was on a bye, so that streak continues in this author's eyes.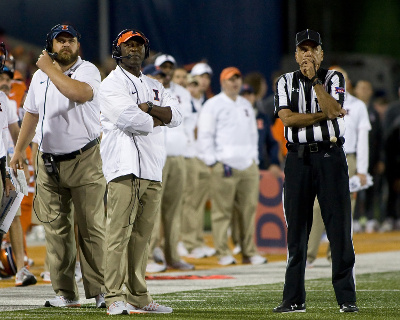 The Big Ten should commit itself to this. The SEC used to do this before its expansion to 14 teams. Alabama always began with Arkansas. Georgia routinely began league play with South Carolina. Tennessee typically opened with Florida. It's a subtly organic way to build a rivalry where there would otherwise be none. It makes a marquee game of what would otherwise be nothing special. Steve Spurrier indicated as much last week in the build toward Saturday's Florida-Tennessee game.
The Big Ten has kind of done this with Illinois-Nebraska. It's also moved Indiana to or near the front of Ohio State's schedule for 2015, 2016, and 2017. It could do well to expand this scheduling practice in the future.
Minnesota at Penn State (BTN, 3:30 p.m.). Fans of the Big Ten may forget this is a trophy game. Neither program played each other before Penn State joined the Big Ten. For some reason, a trophy game—the Governor's Victory Bell—followed.
The trophy involved in this contest had to be repaired after Minnesota players damaged it after the 2013 win. The 24-10 Gophers win in Minneapolis snapped a four-game Penn State winning streak in the series that dated to 2005 and, evidently, snapped parts of the trophy.
Oklahoma at Texas Christian (FOX, 5 p.m.). Oklahoma is back in action and working to make Ohio State look good by proxy. It travels to Fort Worth to play in what might be the closest Big XII series since TCU joined the conference. Neither side has won by more than a touchdown in their past four encounters.
Utah at California (Pac-12 Network, 6 p.m.). 4-0 Utah might already be the team to beat in the Pac-12 South. Arizona State is the only other unbeaten remaining in the division, but the Sun Devils' road continues at USC later in the night.
Kentucky at Alabama (ESPN, 7 p.m.). No one enjoys the SEC's eight-game schedule more than Alabama. Tennessee its only set obligation in the cross-division game. It routinely plays one of the other garbage teams in the SEC East as its other cross-division game. Alabama hosts Kentucky as five-touchdown favorites.
The last time Kentucky did not lose to Alabama in Alabama was a 7-7 tie in Legion Field in 1939. Kentucky has just two wins all-time against Alabama. The most recent win was in 1997. Tim Couch quarterbacked the Wildcats in that contest.
The only other Kentucky win over Alabama? 1922.
South Florida at Cincinnati (ESPNU, 7 p.m.). Both teams are 3-1 and nominally sit atop the 2016 American East division.
It's worth noting this division includes Connecticut, East Carolina, Temple, and Central Florida. This is not much of an accomplishment for either program right now.
Western Michigan at Central Michigan (CBS Sports, 7 p.m.). MAC play begins for two teams that already have some major wins under their belts. Western Michigan beat Northwestern and Illinois while Central Michigan beat Oklahoma State.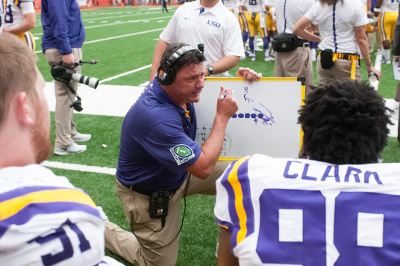 Missouri at LSU (SEC Network, 7:30 p.m.). The Ed Orgeron interim era begins in LSU. He'll host Missouri, which itself has a first-year head coach.
Louisville at Clemson (ABC, 8 p.m.). This is the game of the week and the host of ESPN College GameDay.
Louisville is the surprise team of 2016 and Lamar Jackson is its surprise player. The Cardinals began the season as the No. 25 team in the country and catapulted to the AP No. 3 following offensive showings against Charlotte and Syracuse and a napalming of Florida State. Lamar Jackson has been the star of this show. He's been a touchdown machine since the first game. His 12 total touchdowns lead the the country.
Clemson has been one of the more disappointing stories early this season. Its win at Auburn was rather limp, suggesting the kind of offensive dropoff that observers thought would happen last year when Chad Morris left Clemson for SMU. It struggled to put Troy away in its next game, leading to its fall from No. 2.
It may have turned the corner last week in Atlanta. It not only put 442 yards of offense against Georgia Tech, but it held the Yellow Jackets' triple option attack to 124 total yards of offense.
College football fans who have observed Clemson this year should note defense hasn't been the issue for Clemson. The Tigers have the No. 3 total defense in the country (218 yards per game). It's the offense that sputtered out the gate.
If the offense has turned the corner this season, expect Clemson to roll on Saturday night. Florida State's defense would not have necessarily prepared Louisville for Clemson.
Louisville is actually a two-point favorite on the road.
San Diego State at South Alabama (ESPN News, 8 p.m.). Here's a dark horse for an intriguing game to watch at this time slot. San Diego State is currently the second-highest ranked "Group of Five" program behind No. 6 Houston. Should Houston lose somewhere on its schedule, it's the Aztecs that are in the driver's seat for a New Year's Six bowl berth.
Michigan State at Indiana (BTN, 8 p.m.). Indiana is up next for the Buckeyes. Its offense has routinely been the biggest thorn in the side of Ohio State fans since Kevin Wilson arrived in 2011. How well the Hoosiers play against Michigan State should give some indication what Ohio State fans can expect next week.
Arizona State at USC (FOX, 8:30 p.m.). How bad are things in the land of Troy? Players are reportedly hitting their coaches and transfer may follow en masse. The Trojans are 1-3 for the first time since 2001. Former players are blasting the current players on social media as well, including a Twitter spat between right tackle Zach Banner and the ever-colorful LenDale White.
Keyshawn Johnson's disapproval with the current product took on a more humorous direction.
I'm so stressed this is starting to feel like HACKETT years pic.twitter.com/36OH0XHqlU

— Keyshawn Johnson (@keyshawn) September 24, 2016
Oregon at Washington State (Pac-12 Network, 9:30 p.m.). Oregon is just a two-point favorite at 1-2 Washington State. Let's see how restless the natives get in Oregon if the Ducks lose this contest.
Utah State at Boise State (ESPN2, 10:15 p.m.). The Broncos are now ranked after last week's win in Corvallis. They'll threaten for another "New Year's Six" bowl berth if something happens to Houston later this season.
Wyoming at Colorado State (ESPNU, 10:15 p.m.). This will be a battle of 2-2 teams for the distinction of an also-ran in the Mountain West. Air Force, Boise State, and San Diego State are the teams to watch in that league.
Arizona at UCLA (ESPN, 10:30 p.m.). This week's episode of Pac-12 After Dark returns to the Rose Bowl and will feature the two losers from Stanford and Washington's great escapes last week. Jim Mora's job is not at risk, but he might be feeling some anxiety after a 2-2 start to 2016. The Bruins are still alive in the Pac-12 South race, but they were supposed to be the favorites in the division. They just have not played like it.