I've always been stupidly, aggressively, romantically anachronistic when it comes to college football.
When it was actually a viable video game franchise, I'd play the absolute hell out of whatever iteration of NCAA Football that EA Sports decided to lamely toss into the laps of an eager fanbase. Not once did I learn how to actually pass or pitch or playfake or really do anything that didn't involve running the ball 50 times a game.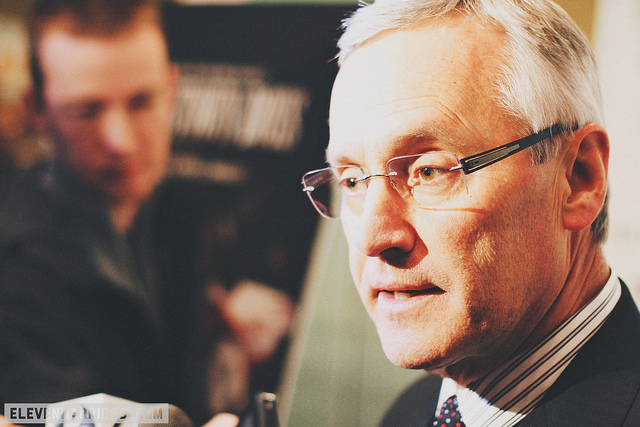 I was on a mission to make my own little version of Tresselball, predicated on infuriating anyone who played me for realsies by way of a steady diet of inside runs, quarterback dives, and the occasional failed outside pitch that only served to remind me that putting the ball in the air in any fashion is the devil's work.
What I'm saying is that I loved Boring Football. I reveled in it. When other teams, like Urban Meyer's Utes or Rich Rod's Mountaineers, were out there on the streets doing it for themselves and creating something new and fun for college football, I turned up my nose and went back to grinding teams into virtual dust with 250-pound tailbacks and playing a bend-but-don't break defense that meant about two possessions per half for both players.
Even as Ohio State lost championships to teams that were smarter, faster, and more creative than them, I shut my ear holes and eye holes and hoped and prayed that Our Dear Leader Jim Tressel would lead us out of this wasteland with a combination of off-tackle rushing plays and a funeral dirge of a defense that suffocated all light and happiness out of the universe.
So that's why it's funny to me that recent high profile games have been sometimes derided as having "video game" type scores. I spent years trying to replicate Tresselball in a polygon world, because that was the football that I loved and didn't want to give up.
But I was wrong. Defense and careful offensive clock management is stupid compared to winning, a fact that I was reminded of starting with the 2014 B1G Championship Game and onward into infinity. Tressel won a championship largely on the back of an insane defense, but he lost two more largely because of an inability to score points when it really mattered.
Anyway, that little rumination got me thinking about the BCS era that college football recently left behind in the dust. The BCS era was dominated by the SEC, a conference not typically noted for offensive creativity, and many of the rest of the BCS teams in the 16 seasons that it existed followed suit. Yes, there were outliers like the aforementioned Urbz and Rodriguez, but for the most part BCS games looked a lot like this:
What you're looking at is a chart measuring the average amount of points scored in BCS games from its inception to ultimate death. When I complied these numbers I expected to see a lot more of a trend toward greater scoring, but it just isn't there. Granted, each year was working with a fairly small sample size, but there were enough Boise State-TCUs (27 total points in 2010) to balance out any West Virginia-Clemsons (103 total points in 2012).
Average margin of victory fluctuated wildly, too. In the 2005 season, BCS games were won by only an average of six points, although that admittedly includes a Penn State/Florida State game that might be one of the worst displays of football I've ever seen. The next year, average margin of victory ballooned to 20 points as two teams lost by 41-14 margins. The year after that, margin of victory was half as much, and winning teams only managed an average of 27 points.
In other words, the great leap forward toward infinite points that I thought Tressel was valiantly fighting against wasn't really happening at all. Or, if it was, it was happening in fits and starts to the point where the BCS wasn't a reliable barometer of anything. Even worse, a lot of these games were just flat out terrible. Because of the nature of the BCS, you were guaranteed at least one (usually two) matchups that brought no drama to the table whatsoever. Apologies to UConn, Cincinnati, Wake Forest, NIU, and Syracuse.
But finally, mercifully, the BCS is dead, and the first year of the College Football Playoff showed me the light.
Points are cool. Running up the score is awesome. Dudes rushing for 200-plus yards in consecutive games owns bones. Pummelings are well-deserved and cathartic.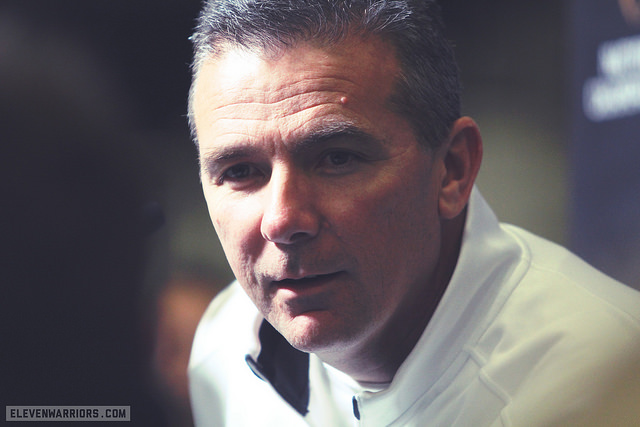 The three playoff games, plus the former BCS bros Orange and Fiesta Bowls, averaged out to a per game score of 46-28, for a total of 74 points per game. That's higher than any of the BCS years, and the average margin of victory of 18 points wasn't all that much different than the average margins of victory of 17, 23, 15, 17, 16, 20, and 16 that we saw during those dark, SEC-infested times.
Oregon taking Florida State to the woodchipper was a thing of perverse beauty, as they combined for over 1150 yards of offense. The Cotton Bowl, which will host a semifinal game next season, bore witness to a rare Sparty Yes as Michigan State and Baylor racked up 83 total points and 1135 yards of offense. And of course, the Buckeyes did horrible things to what was considered to be one of the top two or three defenses in the country in the Sugar Bowl, and then repeated the feat a week later.
If defense isn't dead in the money games of college football, it has at least been administered its last rites. I'm glad that Ohio State was the program to read them out loud. Two games in which the Buckeyes rang up 40-plus points and gazillions of yards have turned me into a believer, and all the other crazy offensive performances this past postseason have affirmed my change of heart.
I'll always have a special place in my heart for Tresselball. It was goofy, painful, frustrating, outdated fun while it lasted. College football has changed, though, and holding good teams to a touchdown or less while methodically grinding them into a paste probably isn't in the cards anymore.
What is in the cards are shootouts, barnburners, and points. And given how that worked out this season, I'm just fine with that.