The first week of the college football season came and went with no shortage of talking points regarding the ongoing season. The SEC looks wide-open and mortal and the Pac-12 looks like a lot of fun this year. Texas A&M and Georgia may have proven themselves for the time being after some preseason doubts while Clemson came crashing back to earth.
Week 2 is typically one of the most disappointing weeks for college football fans. The first week of the season is loaded with marquee matchups to inaugurate the season while many other programs slot the third week of the season to be where the marquee non-conference game of the season is played. There are just two games this week featuring two ranked teams (USC at Stanford and Michigan State at Oregon). The second week is filler.
Still, the Big Ten is putting itself out there this week with Michigan State traveling to Oregon, which is hosting ESPN's College Gameday. Ohio State hosts Virginia Tech, a traditional presence in the ACC.
In what follows, I offer your viewing guide before Ohio State's 8 p.m. kickoff against the Hokies.
Thursday

Arizona at UTSA (FOX Sports 1, 8 p.m.). Here's an odd-ball coaching matchup for the Ohio State fan: Rich Rodriguez vs. Larry Coker.
Is it okay to consider Rich Rodriguez a "feel-good story"? Four years after being bounced from Ann Arbor, Rodriguez has landed on his feet in Tucson and led the Wildcats last year to an eight-win season.
Meanwhile, Larry Coker's coaching career is back from the dead. Unemployable for three years after his dismissal from Miami, Coker has taken UTSA into FBS as the coach of college football's best startup. It's come a long way since practicing six days a week to sit at home and not play a game on Saturday.
Friday

Pittsburgh at Boston College (ESPN, 7 p.m.). After it smashed Delaware 62-0 last week, Pittsburgh has the nation's best total defense. It's conceding just 57 yards per game (well, one game). This would easily be the best defensive unit ever if Pittsburgh played Delaware again for the next 11 games.
Washington State at Nevada (ESPN, 10:30 p.m.). "Hosting" Rutgers in Seattle on the other side of the state in the first week, Washington State will hope for a better result in a true road game at Nevada. 
Nevada, best known for Chris Ault's pistol attack with Colin Kaepernick at quarterback, is now on the verge of obsolescence. It defeated Southern Utah 28-19 in its season-opener.
Saturday

Florida Atlantic at Alabama (SEC Network, 12 p.m.). Florida Atlantic began its season on the road at Nebraska and lost 55-7. My guess is its season starts with two defeats and being outscored somewhere in the ball park of 100-10.
Depending on where you live, you may get Arkansas State at Tennessee at the same time slot on SEC Network.
Oklahoma at Tulsa (ABC/ESPN2, 12 p.m.). I think its admirable that Oklahoma (and Oklahoma State as well) is eager to play at Tulsa and treat it as almost equal. It's almost egalitarian in a college football landscape in which, among other things, Texas leverages itself over the state legislature to get its own network at Texas A&M's expense and where Alabama makes sure Alabama-Birmingham doesn't have anything nice.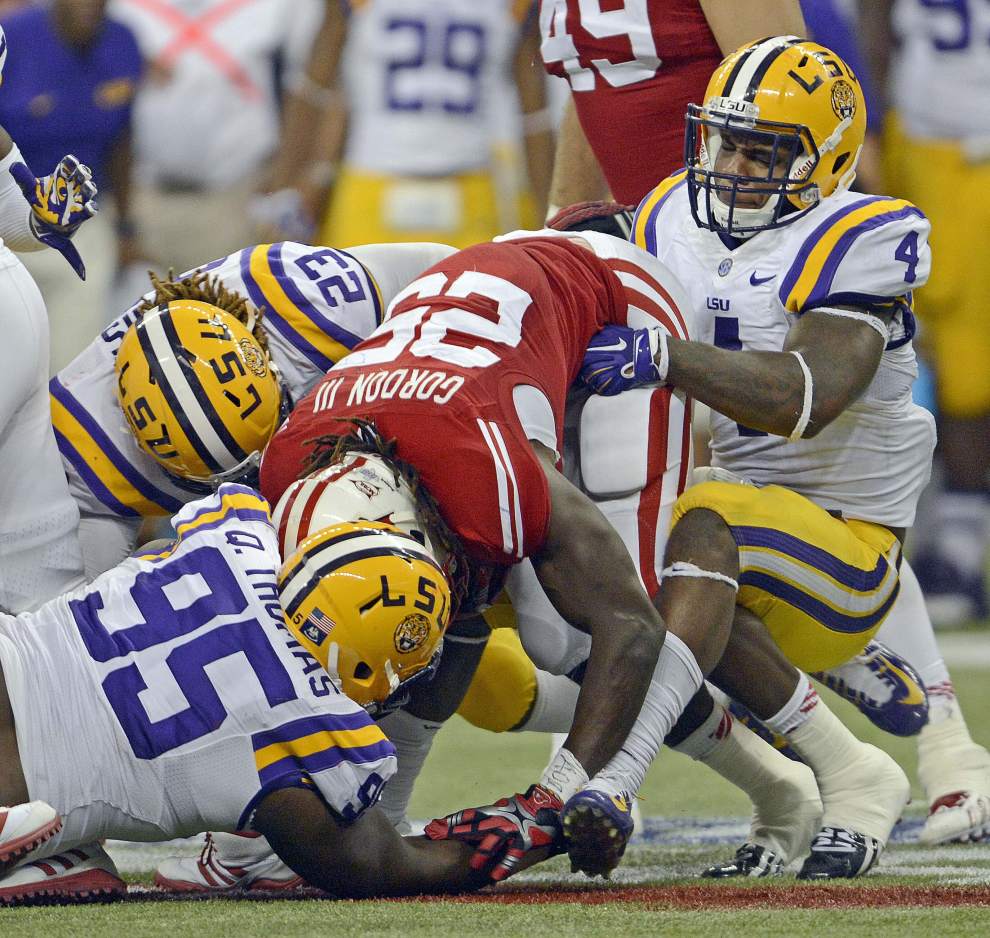 Western Illinois at Wisconsin (BTN, 12 p.m.). Wisconsin blew a 21-point lead against a team whose offense otherwise couldn't make up that kind of deficit in a full game. Its star tailback is arguing with the head coach and its starting quarterback from last year may have the Yips. 
Other than that, things are fine in Madison. Maybe this is the #karma of which we were warned last year.
Depending on where you live, you may get Western Kentucky at Illinois or Howard at Rutgers on BTN instead of this game.
McNeese State at Nebraska (ESPNU, 12 p.m.). I don't think Nebraska's season has started yet. That may be next week when it travels to Fresno State and, the week after, when it hosts the Miami Hurricanes.
Kansas State at Iowa State (FOX Sports 1, 12 p.m.). I remember being mortified at the prospect that Ohio State would pursue Paul Rhoads in 2011 during Luke Fickell's interim season. Rhoads was a hot coaching commodity then. He is not now.
Missouri at Toledo (ESPN, 12 p.m.). Yes, that's right. An SEC team is playing a true road game at a MAC school. Y'all supposed to be SEC, Missouri.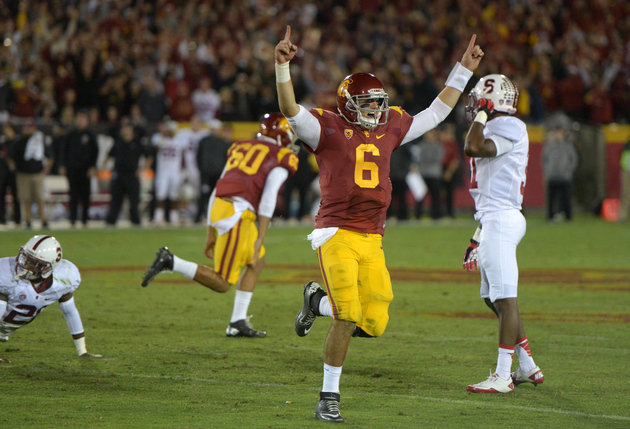 USC at Stanford (ABC, 3:30 p.m.). It's a bit regrettable that this game between ranked opponents this weekend will be a 12:30 local kickoff on the West Coast.
Here is the key to this game. USC lost a starting safety to an incident involving a hastily concocted story about jumping from a second story balcony to save a drowning nephew. A few days later, a running back quit the team and accused its head coach of being a racist.
Amid all this, USC is traveling to Stanford Stadium, where the Leland Stanford Junior University Marching Band roams. The halftime show is going to be epic.
Northern Illinois at Northwestern (BTN, 3:30 p.m.). Hopefully Northwestern's defense will remember to wear the correct wristbands this game.
You may instead get Middle Tennessee at Minnesota in this time slot, depending on where you live.
Ball State at Iowa (ESPN2, 3:30 p.m.). The hope is Iowa makes quick work of Ball State, though Iowa beating Northern Iowa by just eight points last week does not instill a lot of confidence.
Eastern Michigan at Florida (SEC Network, 4 p.m.). Florida's season-opener was indefinitely suspended after a monsoon of rain communicated that God and Mother Nature, in tandem, do not want to watch Florida football. The Gators will try again to play its first game of the season.
Fun fact: all players that Will Muschamp suspended for what would have been the season-opener against Idaho are eligible this game. Basically, Will Muschamp suspended several players for a game without actually suspending them for a game.
You may instead get Nicholls State at Arkansas in this time slot instead.
Ole Miss at Vanderbilt (ESPN, 4:30 p.m.). Ole Miss made a meal of the Boise State game before finally consuming it in the fourth quarter. Vanderbilt, meanwhile, got waxed at home by Temple.
Michigan State at Oregon (FOX, 6:30 p.m.). This is the game of the week in college football and the location for ESPN's College Gameday.
Just how good is Michigan State's defense this year? Last year, the Spartans had the second-ranked unit in total defense (behind Louisville). They were phenomenal, but depletion in the secondary brings question marks this year. The secondary made that unit last year what it was.
Further, a critical eye of Michigan State's defense last week against Jacksonville State would have given two touchdowns to the opposition on the first two drives of the game if the opposition was not an outmatched FCS program. Oregon is a different animal.
Still, college football writers are routinely kind to Oregon because of the manner in which it invites teams like South Dakota and Nicholls State into Autzen Stadium and annihilates them. Oregon is just 2-3 against top-20 defenses since 2010.
San Jose State at Auburn (ESPN2, 7 p.m.). I doubt there is a lot of interest in this game, unless you know an Auburn fan.
Arizona State at New Mexico (CBS Sports Network, 7:30 p.m.). Here is another interesting coaching matchup: Todd Graham vs. Bob Davie.
Lamar at Texas A&M or Sam Houston State at LSU (SEC Network, 7:30 p.m.). Let's all hold the SEC's hand and assure it of how tough its schedule is.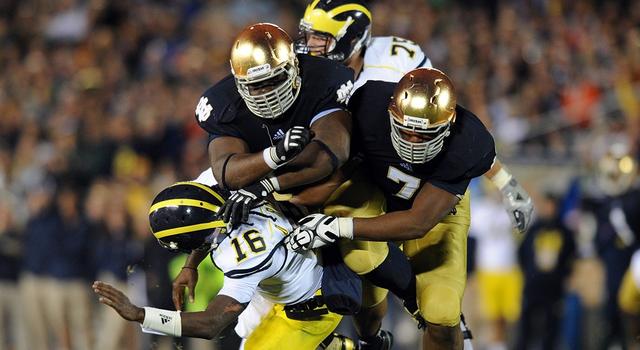 Michigan at Notre Dame (NBC, 7:30 p.m.). This will be the last time Michigan and Notre Dame play each other for the indefinite future. Notre Dame, content with its allegiance to the ACC, has opted to drop this series to accommodate the transition.
It's also dropping the series with Purdue and will schedule Michigan State on a case-by-case basis.
There are two reasons for Notre Dame phasing out the Big Ten. One factor is growing pains following conference expansion. The other part of this is Notre Dame not wanting to be typecast for what it is: a Midwestern school in the center of the Big Ten's footprint. A Catholic administration, an NBC contract, and citations to Knute Rockne are all that separate Notre Dame from a standard Big Ten team. 
Strip that from Notre Dame and the Irish are effectively Purdue with more window dressing.
I won't miss this series all things considered provided Michigan uses the opportunity to schedule more interesting opponents. I would love to see home-and-homes pitting Michigan against the likes of Texas, Georgia, Clemson, or USC.
As of right now, Michigan has substituted Notre Dame with home-and-homes against teams like Oklahoma and UCLA (great), Virginia Tech and Washington (okay), and... Arkansas. Well, all right, then.
BYU at Texas (FOX Sports 1, 7:30 p.m.). This is the return leg of a home-and-home that saw BYU run for 550 yards in last year's win in Provo. That was a school record in rushing yards conceded by the storied Longhorns program.
Virginia Tech at Ohio State (ESPN, 8 p.m.). This is the main event. Stay tuned to Eleven Warriors for a comprehensive preview of Ohio State's home-opener against Virginia Tech.
Air Force at Wyoming (ESPNU, 10:15 p.m.). Wyoming hosts Air Force a week after surviving 17-12 against Montana, an FCS power.
Colorado State at Boise State (ESPN2, 10:15 p.m.). Boise State returns to Idaho to rebound after a fourth-quarter face-plant against Ole Miss in Atlanta. Colorado State opened its season with a win against in-state rival Colorado from the Pac-12.
Oregon State at Hawaii (CBS Sports Network, 10:30 p.m.). It's football on the islands. Lowly Hawaii took then-no. 25 Washington to the wire in a 17-16 defeat. Oregon State, meanwhile, put up yards on Portland State but settled for five field goals in a 29-14 win.
Texas Tech at UTEP (FOX Sports 1, 11 p.m.). You night owls on the East Coast may be awake and ready to watch this game around the time the Ohio State-Virginia Tech concludes. For all Kliff Kingsbury's bells and whistles, his Red Raiders only beat Central Arkansas of the FCS by a touchdown.
Meanwhile, UTEP left New Mexico last week with a 31-24 win.