The Big Ten scheduled quite a bit better in 2014 than they did last year, to the conference's benefit. Even though the Big Ten dominated a cupcake schedule, it did nothing to burnish the Big Ten's reputation. Conferences gain position to other conferences with big wins; more importantly, fans want to see big games in the Big Ten. To that end, I'll be your friendly tour guide to the 10 best out-of-conference games the Big Ten has to offer in 2014.
In the interest of fairness, Ohio State's games have been omitted. The Virginia Tech, Cincinnati, and Navy games all would have cracked the top 10, but there's not much more light to shed on them. There aren't any rivalry games on the list either; sorry, Michigan, Purdue, and Iowa, you don't get credit for scheduling teams you would have played anyway.
There were several difficult omissions to this list. Honorable mentions: Michigan-Utah, Northwestern-Cal, Rutgers-Washington State, and Maryland-West Virginia.
1. MICHIGAN STATE @ OREGON

Michigan State is the defending Big Ten champion, known for fearsome defense. Oregon is a perennial Pac-12 contender known for quick strike offense. This is oil meeting water, a guaranteed top-10 matchup, and one of the most anticipated games in college football this season.
Though Michigan State will likely take a step back after losing so much defensive talent, its offense looks – dare I say it? – competent, even good. Connor Cook matured rapidly as a sophomore, and with similar growth as a junior he could become the best Spartan quarterback in a long time. 
Oregon always has some offensive dynamo in the backfield, and this year it's Marcus Mariota. Michigan State's defensive coordinator Pat Narduzzi is an evil genius, but can he contain Mariota after losing seven defensive starters? He might, if DE Shilique Calhoun plays like an All-American.
2. WISCONSIN VS. LSU

Unlike most of their SEC brethren, LSU cares about strong non-conference scheduling. Over the last decade, the Tigers have an impressive set of non-conference victories: Washington, Virginia Tech, North Carolina, West Virginia, Oregon, Arizona State, and TCU. Even so, LSU hadn't played a Big Ten team in the regular season since losing a 36-33 thriller to Ohio State in 1988. In contrast, Wisconsin has been on an unrepentant cupcake binge for years. Seeing them undertake a serious out-of-conference challenge is refreshing.
Wisconsin's rushing game ought to excel behind Melvin Gordon and Corey Clement, but LSU has gobs of talent NFL prospects, like CB Jalen Mills or DE Jermauria Rasco. The problem for Wisconsin is on defense, where they've lost nine contributors including All-American Chris Borland.
This game is taking place in JerryWorld (AT&T Stadium in Dallas) Reliant Stadium in Houston, giving LSU a slight home advantage. This figures to be a methodical game with staccatos of scoring.
3. NEBRASKA VS. MIAMI (FLA.)

Nebraska and Miami produced one of the greatest bowl games of all time, the 1984 Orange Bowl. They also produced the 2002 Rose Bowl, a blowout which Nebraska would like to forget forever. Neither team is up to the standard they set in the 80s or 90s, but both are on the cusp of greatness within their conference.
The Cornhuskers no longer have the ever-efficient Taylor Martinez to guide them. Instead, they'll rely on Tommy Armstrong Jr., wide receiver Kenny Bell, and the scintillating Ameer Abdullah to guide them. For Miami's part, head coach Al Golden has brought in some great talent, but he has to break in a new starting quarterback and defensive line.
I want to see how Bo Pelini responds if his team loses this game. Losing last year's marquee game against UCLA started all the ruckus, and a similar loss might make his head explode.
4. NORTHWESTERN @ NOTRE DAME

Notre Dame's series against Michigan, Michigan State and Purdue may be in question, but their habit of playing the Big Ten is not. Northwestern proudly remembers the last time the two schools played; 1995, when the Wildcats upset the Fighting Irish and went on to win the Big Ten.
Notre Dame has been inconsistent in three years under Brian Kelly, going from a turnover-prone 8-5 mess to a 12-1 national title contender back to an struggling 9-4 team. Without Tommy Rees to kick around anymore, it's an open quarterback competition between Everett Golson and Malik Zaire. The winner will have to lean on halfback Cam McDaniel and wide receiver Davaris Daniels, the top returning rusher and receiver. They'll miss nose tackle Louis Nix III, who single-handedly propped up the defensive line.
Northwestern was the most depressing team in the Big Ten last year, losing seven straight games to miss a bowl game for the first time since 2007. Aside from the brouhaha over the team's unionization attempt, there has been little drama on the team. Trevier Siemian is the presumed starter, and Collin Ellis and Chi Chi Ariguzo leads the linebacker corps. Notre Dame is the odds on favorite because of the home advantage.
5. PENN STATE VS. CENTRAL FLORIDA

This is a rematch of a game from last year, when Central Florida handled Penn State in front of a tough Beaver Stadium crowd. Most of last year's Fiesta Bowl-winning offense is gone, but the defense returns ten starters, including LB Terrance Plummer, CB Jacoby Glenn, and SS Clayton Geathers. If UCF wins this one, it's going to be ugly.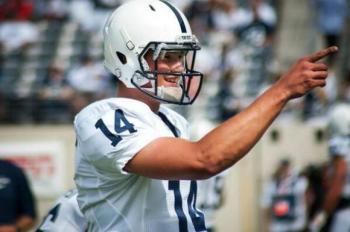 James Franklin has charmed State College and recruits alike; now is the chance to shine on the gridiron. Penn State has the luxury of starting a blue-chip quarterback, Christian Hackenberg, along with a stout defense. They're going to have superb talent in a few years, but the realities of competing with 75 scholarships leaves them shallower than UCF or any of their Big Ten opponents.
Oh, and this game takes place in Dublin, Ireland. Faith and begorra, they're going to kiss the Blarney Stone! (note: this is the extent of my knowledge of Ireland.)
6. ILLINOIS @ WASHINGTON
Illinois has been a tire fire in head coach Tim Beckman's first two seasons. The good news: they improved quite a bit from 2012 to 2013, so bowl eligibility may be within reach if they make another jump in year three. They'll need strong performances from senior QB Reilly O'Toole and RB Josh Ferguson to pull off the upset.
Washington may be out of Illinois' league, as they are riding the momentum of 2013's strong year and new coach Chris Petersen. They did lose top skill position players Bishop Sankey and Keith Price and top tackler Princeton Fuimaono, so an upset is conceivable. I doubt stars like All-America candidate Shaq Thompson will let that happen, though.
7. IOWA @ PITTSBURGH
Iowa had a surprising upturn in 2013, regaining its spot in the upper-middle class of the Big Ten. The Hawkeyes return starting QB Jake Rudock, who was solid in his first year. Mark Weisman avoided the curse of Iowa running backs last year, and he should be solid in his senior year. Pitt will counter with their strong defense, which ranked 34th in the country last year in total yards. Ray Vinopal and Todd Thomas ought to lead the Panthers defense.
Iowa has developed a reputation for being vanilla over the years, but Kirk Ferentz would like you to know that's not true. When he's at the supermarket, he sometimes buys French vanilla ice cream at the supermarket. (Vanilla bean ice cream? Too wacky.)
8. MINNESOTA @ TCU
Minnesota was the biggest surprise in the Big Ten last year, defying preseason expectations to go 8-5. Their offense is all about a methodical run game, and QB Mitch Leidner and RB David Cook are the most important cogs in the machine. The loss of Ra'Shede Hegeman to the NFL hurts their defense, which improved from abysmal to respectable over the course of the season. DB Cedric Thompson and LB Damien Wilson have to pick up the slack.
TCU has had a rough time since moving to the Big 12; last year's 4-8 season was their first losing record of Gary Patterson's tenure. They need QB Trevone Boykin, mediocre in 2013, to make up for unaccomplished running back and receiver corps. TCU returns lots of defensive talent, including leading tacklers Paul Dawson, Chris Hackett, and Marcus Mallet. Minnesota might be a road favorite in this game, but TCU has the name recognition for the Golden Gophers to earn cachet with a win.
9. RUTGERS @ NAVY
The Scarlet Knights have a black cloud hanging over them. Since joining the Big Ten, the athletic department has had unending scandal, recruits have defected in droves, and most recently Minnesota transfer QB Philip Nelson was dismissed from the university for felonious assault. The silver lining for Rutgers haters is that they have a game at Navy, an opponent that scares the jeepers out of Big Ten teams.
The Midshipmen nearly upset Ohio State in 2009 and spoiled Indiana's bowl hopes last year. As always, you can expect Navy to compensate for a size disadvantage with tricky flexbone offense; our own Kyle Jones has documented Navy's tactics. Rutgers counters with a new scheme from first-year defensive coordinator Joe Rossi, the rushing duo of Paul James and Justin Goodwin, and shaky QB Gary Nova.
10. INDIANA @ MISSOURI
When these two schools faced off last year, Missouri tore Indiana's defense to pieces. The Tigers don't blow non-conference games against lousy teams, and there's no sign that the Hoosiers have fixed their defense. QB Nate Sudfeld and converted WR Tre Roberson give Indiana high-octane offense, but this doesn't look too good for the guys wearing crimson. 
To be honest, this game is here on the strength of Missouri's 2013 season and the chance that it could get Indiana head coach Kevin Wilson fired.
0. MICHIGAN VS. APPALACHIAN STATE
This isn't one of the ten best games. It deserves the seat of honor anyway.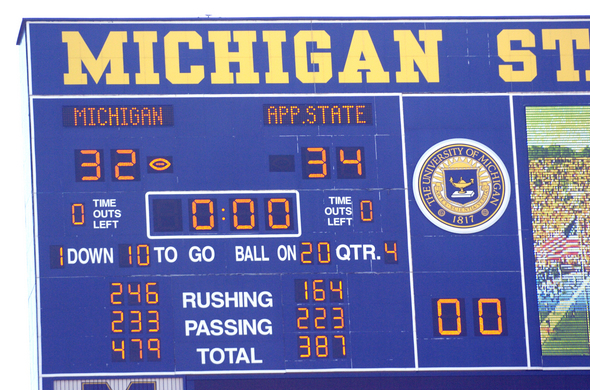 Michigan athletic director Dave Brandon scheduled a rematch of the lowest point in Michigan football history, because he is the dumbest person in college athletics.
Thank you, Mr. Brandon. Thank you for this.