History doesn't win football games.
Tradition doesn't win football games. Merit doesn't even always win football games. Last year Bret Bielema didn't win football games either, but we karmically digress.
Brady Hoke is now in his fourth year of running the football program in Ann Arbor and its history suggests he should be coming off a traditional Michigan third season triumph: Fielding Yost, Harry Kipke, Fritz Crisler, Bennie Oosterbaan, Bo Schembechler, Gary Moeller and Lloyd Carr lost a grand total of six games combined in their third seasons. All but Moeller - who won back-to-back B1G COY awards - are College Football Hall of Famers. Merit.
Well, Hoke's third Michigan team lost six games all by itself. His Wolverines ended 2013 on a slide where they dropped five of six with that one win being 2013's best terrible game; the triple-OT victory against a Northwestern team in free-fall and fake bloody uniformz. There is only one other Michigan coach who lost six games in his third season and he's currently the head coach in Tucson.
That guy didn't get a fourth year. Hoke has survived failing to meet Michigan's daunting expectations and he can probably thank both the Tucson guy's brief tenure - and the guy who fired him - for any latitude vis a vis outcomes. Year 3 at Michigan had a mystique until the current coach and his predecessor, eh, kind of sullied it.
Since those third years in Ann Arbor almost always used to end in Pasadena - often without any unsightly blemishes, either - you can correctly assume those seasons were especially unkind to Ohio State. However, with its angina-inducing 42-41 win in Ann Arbor last November, the Buckeyes now have a two-coach winning streak in the Michigan coaching fraternity's most celebrated season.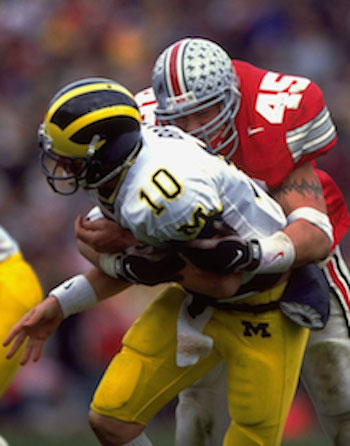 Year 4 at Michigan - at least where the Buckeyes are concerned - isn't quite as celebrated: Moeller's Wolverines trounced a flat, pre-defeated Ohio State team, which occurred during an era when Michigan took great pleasure in destroying Thanksgiving every year. Prior to that, Bennie Oosterbaan did it in 1951. It was Woody Hayes' debut in the rivalry. 
You would have to go back to pre-World War II to find another Michigan win in Year 4, which means you're talking about an era when the Buckeyes and Wolverines met in middle of the season.
(If you're curious about how the father of Michigan football fared in his fourth year, Fielding Yost defeated Ohio State 31-6 in an October game that was sandwiched between contests with the Chicago College of Physicians and Surgeons and the American Medical School) (Bragging rights never die) (But all of those guys did long ago).
Crisler, Bump Elliott - also a College Football Hall of Famer - Bo and Carr failed to beat Ohio State in their fourth seasons. All but Elliott finished those campaigns with just one conference loss - Crisler's was to national champion Minnesota; his Wolverines tied the underdog Buckeyes in Ann Arbor.
So it's not though Year 4 is some sort of cursed season for Michigan coaches; it's that Year 3 is the year in Ann Arbor when you're expected to have everything humming, and now both Rodriguez and Hoke have conspicuously failed to deliver on that historical promise. Even worse, Hoke does not appear to be very close to reconciling last season's disappointment as his offense has seemingly rediscovered the fountain of youth.
The Wolverines will likely be a fringe ranked or also-receiving-votes team once the stupid preseason polls are released. They open at home against Appalachian State almost seven years to the day of fledgling Big Ten Network's first-ever game broadcast. Mildly humorous and condescending revenge jokes, highlight reels Michigan fans would like to see shot into the sun and negative energy will abound - all part of Dave Brandon's continuing branding adventures.
Michigan will win its opener, since Appy State is kind of lousy now. So are Miami, Utah and most of its other opponents. If expectations in Ann Arbor were to run the Rutgers/Maryland/Indiana gauntlet then things might be sunny on the horizon; the problem is that Michigan's history begs for higher aspirations than quelling the death rattle of conference bottom-dwellers.
Year 3 in Ann Arbor is when you're expected to have everything humming, and now both Rodriguez and Hoke have conspicuously failed to deliver.
There are roadies at South Bend, East Lansing (like last year - that's a fun hiccup), Evanston and Columbus. There's also a bye prior to the hatefest with Sparty (like last year - that's a fun hiccup). Its three toughest games are away from Michigan Stadium, which is exactly where Hoke's Wolverines have played their worst football. Sweeping the Irish, Sparty and the Buckeyes - hard to do in any season and never accomplished in Year 4 - isn't all that likely to happen, which smites the expectations yet again.
This isn't lost on Michigan fans, who in many ways are exactly like us in that our programs were built largely by Ohioans, we both have a deep adoration for deceased coaches and we constantly use historical barometers to gauge the present. Stop cringing; it's true.
What's also true is that Michigan's offensive line cannot play worse in 2014 than it did last year. Unproven latent at tailback and wide receiver just means the scouting report is incomplete. And Michigan's defense, despite losing its tackles, should be quite decent. This Year 4 semi-tradition isn't smooth, but it isn't a mandate either. 
History doesn't win football games. It doesn't lose them either.