Since Tedd Ginn Sr. took over at Glenville Academy in Cleveland, they have routinely sent their top football prospects to Ohio State. Although Illinois was able to snag Cordale Scott in 2008 and USC landed highly rated lineman Aundrey Walker in 2010, but you could usually count on the Buckeyes landing at least one Tarblooder. 
Ohio State's 2014 recruiting class, featured three prospects from this important "pipeline" school. Marshon Lattimore, Erick Smith and Marcelys Jones are all considered four-star signees and many had them booked for Columbus throughout the process. Kentucky was one school that recruited the trio hard, leading some UK insiders to think the Wildcats stood a chance, but in the end, the three signed with Urban Meyer.
While the 2015 recruiting cycle is only beginning, we could be looking at a year in which Ohio State doesn't offer anyone from Glenville. Meanwhile, Mark Stoops and Kentucky continue to invade the state of Ohio and getting a foot into Glenville would be a huge boon for the team.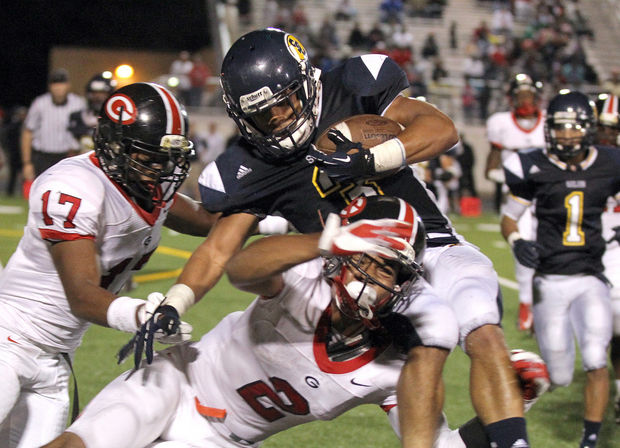 Vince Marrow, the Wildcats' tight end coach and recruiting coordinator, has been credited for his outstanding work recruiting Ohio. Marrow, a Toledo graduate, helped Kentucky land 11 signees from Ohio in 2014. Their recruiting class was named the 22nd best class in the nation, although it was 10th in the SEC according to 247Sports. 
Let's take a look at a few junior prospects from Glenville that Kentucky is quietly hoping the Buckeyes decide not to offer.
Matthew Draper - OLB

The six-foot-two, 200-pound outside linebacker still needs to put on some weight for the next level, but he has the frame to do so. Draper is ranked a four-star by 247Sports, checking in as the nation's 17th-rated outside linebacker. 
One of the few Glenville prospects already holding BCS offers, Draper is on the Buckeyes' radar. He camped at Ohio State for Friday Night Lights and he could camp again this summer. Linebacker is always a need for OSU, but the 2015 class is absolutely loaded which hurts his chance of earning an offer from the home state power.
Ball State, Cincinnati, Kentucky, Louisville and Toledo have already extended early scholarship offers. His 247Sports "Crystal Ball" currently has six predictions of Kentucky.
Draper is a prospect that has been flying under-the-radar and his name is worth monitoring over the summer camp circuit. Early on it looks like UK is in good shape, but an offer from a bigger school could make things interesting. If Ohio State misses out on a few of their top linebacker targets, Draper could draw a closer look. 
Trevon Story - WR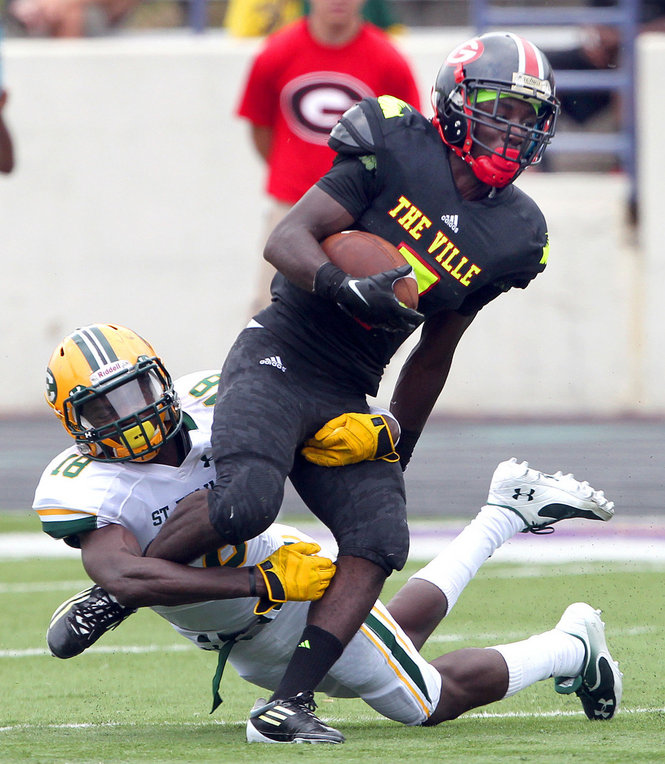 Despite not having ideal size for a receiver, five-foot-eight Trevon Story has intrigued me in the few times I have saw him. He starred at corner and wide receiver for the Tarblooders, who lost in the state championship game this past season. 
Georgia Tech, Kentucky and Toledo have taken notice of the three-star prospect with the Yellow Jackets and Wildcats each offering following an impressive camp performance out of Story. While he is projected as a receiver, I was impressed with him at corner. He lacks ideal size, but he makes plays.
He might not be Ohio State-caliber prospect, but he would be a nice addition for Kentucky. Landing a pair of prospects from Glenville would be huge for Stoops and Co.
Milen Golden - LB/ATH

While Milen Golden does not hold an offer from Kentucky, his name usually comes up when discussing the top junior prospects at Glenville. Georgia Tech offered Golden after he camped there last summer. At six-foot-two and 205 pounds, Golden plays receiver and linebacker for the Tarblooders. 
Much like Draper, Milen will need to put on additional weight for college ball. He has the tools to be a successful linebacker, which is where most schools are recruiting him. Like the other two prospects, he camped at Ohio State for Friday Night Lights. 
Despite only being ranked as two-star by Scout, various other schools have taken notice of the athletic linebacker. It appears unlikely that he will be on Ohio State's future radar. 
---
The Buckeyes signed 22 prospects from Glenville in the last 13 cycles. It's still early, but that number may stay unchanged following Signing Day 2015. Which is just fine with Kentucky.