The 2013-14 Big Ten basketball season was equally thrilling and mystifying. 
It took until March for Michigan to firmly establish themselves as the top team in the conference. Even so, enttering the NCAA Tournament, the Wolverines were not necessarily the Big Ten's best bet to make a deep run. 
With Michigan State's apparent return to full-health, a Big Ten Tournament title and Tom Izzo's reputation, the Spartans were a popular Final Four pick. As it turned out, despite their reputation, Wisconsin became the 10th B1G squad to make the Final Four since the turn of the century. 
It is, undoubtedly, an era of unprecedented success for the Big Ten. With so much turnover heading into next season, however, will the conference still be a major force in the national landscape? At least one team will be, and they're destined to repeat last year's success. 
On to the early, 2014-15 power rankings:
1. Wisconsin (LAST Season: 26-7, 12-6) 

Key Losses: Ben Brust
Key Returning Players: Frank Kaminsky, Nigel Hayes, Sam Dekker, Traevon Jackson
Frank Kaminsky dropped 43 points in an early-season matchup with North Dakota, but his true breakout occurred in March.
He was particularly dominant against Arizona, who couldn't match up with his combination of length, athleticism and range. That will be a recurring problem for Big Ten teams, as Kaminsky likely enters his senior season as the favorite to win the B1G's Player of the Year award.
With Kaminsky in tow, the Badgers offense will remain a high-powered, balanced attack. Last year, Wisconsin averaged 1.135 points per possession, the seventh highest rate in the country. Ben Brust is the only member of the starting lineup who doesn't return, but Bo Ryan has a pair of strong options to replace him. 
Nigel Hayes can add length to the Badgers' starting five or, if Ryan wants to replace Brust's combo-guard abilities (and buzz-cut), Ryan can throw sophomore Bronson Koenig into the mix.
2. Nebraska (Last Season: 19-12, 11-7)

Key Losses: Ray Gallegos
Key Returning Players: Terran Petteway, Walter Pitchford, Shavon Shields   
Behind eccentric head coach Tim Miles, the Huskers shocked everyone and made the NCAA Tournament for the first time since 1998.
While he's not bold enough to bring his pet cat to games, Miles did help energize a fan base that was almost nonexistent in hoops. Nebraska finished with a 15-1 home record, the top mark in the Big Ten.
As they proved in their conference tournament game against Ohio State, point guard position is a major weakness. The Huskers turned the ball over eight times in the second half, on their way to blowing a huge lead. Fortunately, help arrives in the form of incoming freshman Tarin Smith. If he's able to handle the lead guard role, he'll ease the pressure on junior Terran Petteway. 
3. Ohio State (Last Season: 25-9, 10-8)

Key Losses: LaQuinton Ross, Aaron Craft, Lenzelle Smith Jr. 
Key Returning Players: Shannon Scott, Sam Thompson, Amir Williams
By no means are the Buckeyes ranked this highly based on the strength of their returning players.
Sure, Shannon Scott provides strong perimeter defense and can ease D'Angelo Russell into the point guard role. Neither him, Sam Thompson nor, especially, Amir Williams have proven themselves to be consistent offensive threats. 
Last year's offense was a raging dumpster fire, while LaQuinton Ross feebly attempted to put it out with a wet blanket. Ross declared for the NBA Draft, while Aaron Craft and Lenzelle Smith Jr. both graduated. That means Sam Thompson, who averaged 7.9 points per game last season, is the team's top returning scorer.
Luckily, Thad Matta brings in a top-10 recruiting class, led by the explosive Russell. Between him, Keita Bates-Diop and redshirt freshman Kam Williams, opposing teams will have to respect Ohio State's outside shooting for the first time since Jon Diebler left campus. 
Those expecting a breakout season from Marc Loving probably expected the same at the end of last year, but the hope is he can provide a spark off the bench or take over at the "four" spot. Playing Temple transfer Anthony Lee next to Amir Williams would add significant length to the back line of the Buckeye defense, but also clog the lane on offense (unless Lee adds some range).
Regardless of whatever challenges face Matta, expectations should be 10 conference wins – as he's done in every year but his first – and a finish in the top-half of the Big Ten standings.
4. Michigan State (Last season: 26-8, 12-6)

Key Losses: Gary Harris, Adreian Payne, Keith Appling
Key Returning Players: Branden Dawson, Denzel Valentine
Tom Izzo is another difficult coach to count out, even faced with the difficulty of replacing three starters.
The Spartans lose nearly 60 percent of their offense thanks to Gary Harris' decision to declare for the NBA Draft, as well as Adreian Payne and Keith Appling's graduation.
Branden Dawson and Denzel Valentine will see a massive increase in shots, which could lead to breakout seasons for both. The major issue facing Michigan State is at point guard, just as it was without a healthy Appling. 
Izzo will add four-star point guard Lourawls "Tum Tum" Narin, who will have every opportunity to step into the role – in addition to ruining his phenomenal first name with a nickname. MSU will also lack size, as they lose Payne and don't bring in anyone over 6-feet, 7-inches tall. 
5. Maryland (Last Season: 17-5, 9-9 in the ACC)

Key Losses: Shaquille Cleare, Roddy Peters, Nick Faust
Key Returning Players: Dez Wells, Seth Allen, Jake Layman
One of the newest Big Ten schools is poised to make noise in their new conference – and it's not Rutgers.
Maryland will have a loaded backcourt next season, with returning starters Dez Wells and Seth Allen, plus to incoming freshman Melo Trimble and Dion Wiley. What they lose in Shaquille Cleare's size (transferred to Texas), the Terps make up with freshman Trayvon Reed and his 7-foot-1-inch frame.
They might not have a particularly stout defense, but with a full season from Allen and their ability to stretch the floor, the Terrapins will run up the score on a few B1G opponents.
6. Michigan (Last Season: 25-8, 15-3)

Key Losses: Nik Stauskas, Mitch McGary, Glen Robinson III, Jon Horford, Jordan Morgan
Key Returning Players: Caris LeVert, Zak Irvin, Derrick Walton Jr.
Last season, Michigan made a surprise run to claim a Big Ten title. A repeat would be even more shocking.
The Wolverines lose, by far, the most talent out of anyone in the conference. The Big Ten player of the year? Gone. A breakout star in their 2013 Final Four run? Gone. A maddeningly inconsistent, yet occasionally dangerous scorer? Gone. Any frontcourt depth? Also gone.
Redshirt freshman Mark Donnal (I guess?) will take the major leap into the starting lineup. Him and McGary have a similar skill set, but it might be too much to ask for that to be evident in his first season in the rotation.
The returning backcourt is solid, led by the leading returning scorer, Caris LeVert. There's little reason to believe he'll regress, plus Zak Irvin and Derrick Walton Jr. could shine with increased roles.
7. Illinois (Last Season 19-14, 7-11)

Key Losses: Joseph Bertrand, Jon Ekey
Key Returning Players: Rayvonte Rice, Tracy Abrams, Nnanna Egwu, Kendrick Nunn, Malcolm Hill
The Illini were as bad as any Big Ten team, but they suddenly found a rhythm at the end of the year. 
Winning four out of their last five games – including road wins in East Lansing and Iowa City – Illinois has something to build on. Incoming sophomores Kendrick Nunn and Malcolm Hill entered the starting lineup towards the end of last season and the Illini's play slowly improved (as if it could get worse). 
John Groce's entire starting lineup returns, although freshman Leron Black should crack the rotation.
8. Iowa (Last Season: 20-12, 9-9)

Key Losses: Roy Devyn Marble, Melsahn Basabe, Zach McCabe
Key Returning Players: Aaron White, Mike Gesell, Jarrod Uthoff
Their offseason is going as smoothly as the end to their season.
On the court, the Hawkeyes lose a major chunk of the depth that made them so dangerous last season – well, up until February. Iowa completely fell apart at the end of the year. At least head coach Fran McCaffery didn't stop searching for answers: 
Behind returning starters Aaron White and Mike Gesell (who led the Big Ten in assist-to-turnover ratio), as well as sharpshooter Jarrod Uthoff, Iowa still has the personnel to effectively run the floor. Still, McCaffery will have to shorten the rotation and, maybe, someone will take on a defensive leadership role. 
9. Indiana (Last Season: 17-15, 7-11)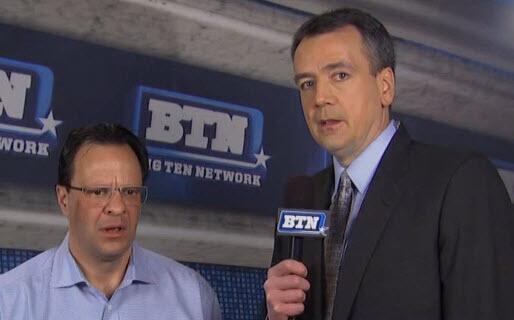 Key Losses: Noah Vonleh, Will Sheehey, Evan Gordon, Jeremy Hollowell
Key Returning Players: Yogi Ferrell, Troy Williams, Stanford Robinson
Another season like the previous one, and Tom Crean will have to seek employment outside of Bloomington, Ind.
At this point, the only person in the state of Indiana that is more disliked than Crean is Jerry (or Larry) Gergich from Pawnee's Parks and Recreation Department. The Hoosiers' head coach did bring in a solid recruiting class, although it's not on the level of previous classes. 
He loses stud big man Noah Vonleh and the team's second leading scorer in Will Sheehey. Indiana will, at least, reload in the backcourt by adding James Blackmon Jr. –one of the top incoming freshman shooters – and Robert Johnson. Suprisingly, Indiana's offense struggled mightily last year (No. 168 in points per possession), but that has a chance improve with their incoming class.
10. Minnesota (Last Season: 20-13, 8-10)

Key Losses: Austin Hollins, Malik Smith
Key Returning Players: Andre Hollins, Deandre Mathieu
In an attempt to make Crean jealous, Richard Pitino cut down the nets in his first year with the Gophers.
Pitino did it at the NIT, but it still counts. He'll lose the team's second-leading scorer in Austin Hollins, but top-scorer Andre Hollins will return. Amir Williams' worst nightmare, a.k.a. Elliot Eliason, will be a senior and hold down the frontcourt.
The Gophers don't have a highly touted recruiting class, but the five incoming freshman will add depth to a team that was lacking in that area.
Perhaps I'm underrating Minnesota a bit, but I'm not sure they have the offensive firepower to sustain the pace Pitino wants them to play. 
11. Northwestern (Last Season: 14-19, 6-12)

Key Losses: Drew Crawford
Key Returning Players: JerShon Cobb, Tre Demps, Alex Olah
Last year's offense almost entirely revolved around Drew Crawford and JerShon Cobb.
Half of that duo is gone, but there will be plenty of options ready to step in. First among those is Tre Demps, who averaged 11 points per game last year. Beyond him, head coach Chris Collins brings in a stellar class, especially by Northwestern standards.
Victor Law is, quite possibly, the best recruit the Wildcats program has ever landed. He should play right away, while the four other freshman will have a shot to crack the rotation.
12. Purdue (Last Season: 15-17, 5-13)

Key Losses: Terone Johnson, Ronnie Johnson
Key Returning Players: A.J. Hammons, Kendall Stephens
Unfortunately for Purdue, adding two more teams to the conference means they can fall further than last season's twelfth place finish.
Terone Johnson graduated, while Ronnie Johnson is in the process of transferring. Those were two of only three players that averaged double digit points for the Boilermakers. The other one was A.J. Hammons, who briefly considered a jump to the NBA.
With a crop of young players, such as sophomores Kendall Stephens and Bryson Scott, as well as incoming freshman Isaac Haas (7-foot-1-inch center who can run the floor) and Vincent Edwards (Middletown, Ohio native), Purdue should break out of their recent funk. It might not happen this year, but, hopefully, head coach Shane McMahon Matt Painter is around to see it.
13. Penn State (Last Season: 15-17, 6-12)

Key Losses: Tim Frazier, Allen Roberts
Key Returning Players: D.J. Newbill
While they lose point guard Tim Frazier, D.J. Newbill will return (much to the dismay of Ohio State). 
Freshman Shep Garner should step in immediately at the lead guard spot, but the Nittany Lions need someone to fill the scoring void due to Frazier's departure. It could be Brandon Taylor, although he's not a particularly efficient shooter.
14. Rutgers (Last Season: 12-21, 5-13 in the AAC)

Key Losses: J.J. Moore, Wally Judge
Key Returning Players: Myles Mack, Kadeem Jack
So, this is the only good thing to come from Rutgers basketball, probably ever:
The Scarlet Knights have not been to the NCAA Tournament since 1991, but "alum" Eddie Jordan is now the head coach. If a former NBA coach can't stabilize the program, especially one that had to deal with Gilbert Arenas, then there's truly no hope for Rutgers (he said, as if there's hope to begin with).