This year's run to the Final Four could've been redemption for Bo Ryan. 
After years of living devoid of basic human emotion, the Wisconsin head coach completed the NCAA Tournament's biggest upset by appearing somewhat sympathetic, in an interview following their regional final win over Arizona. 
Ryan was a man who went on national TV and radio to defend the hypocrisy of college coaches. He dismissed the actions of his repulsive fan base, who allegedly spat on Jared Sullinger, and simultaneously gave birth to an infamous phrase. In the moments after clinching his first Final Four appearance, though, he was neither tone-deaf nor cold-hearted – he was relatable to fellow human beings for the first time. 
If anything, Buckeye fans know the pain of losing on a last-second shot to Kentucky and igniting a parade of tears.
"Anybody that watches it more than once, I feel sorry for them.  If you know the result, why would you?" Ryan said, in his postgame press conference. "I watched Dumb and Dumber about 20 times, and I might watch it a 21st when I get home, and I know the ending. "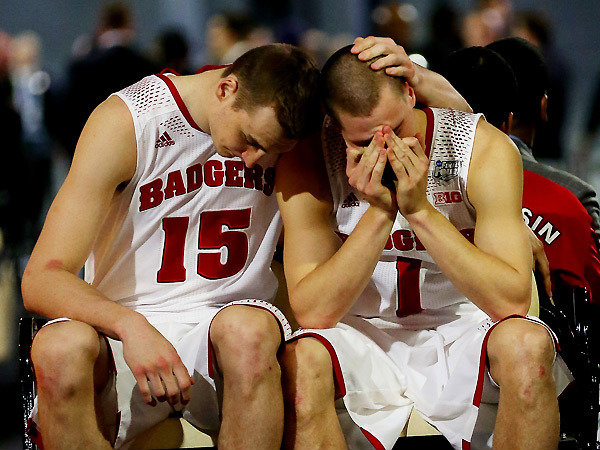 Will that tough loss or his affection for Dumb and Dumber change the way Ohio State fans feel about him and also undo this vindictive smile I have when watching Aaron Harrison bury Wisconsin? No, absolutely not. 
Perhaps what this Final Four run showed was Ryan isn't on Tom Crean's level of despicability. While it was a tremendous accomplishment to be in that elite category, Ryan's skill as the director of the Badgers' swing offense far outweighs Crean's contributions to the game. At least at that level, Ryan has earned respect. 
Unlike Crean's Indiana teams, he's expected to maintain a higher level of consistency and follow through on it. Ryan is on par with Thad Matta, both having won at least 10 conference games in all but one season of their Big Ten coaching careers. 
This season's team, however, felt different. Tempo statistics reflect it (No. 292 overall in terms of quickest pace, while they're usually in the mid-300s) and Wisconsin seemed to be more aggressive on offense. Their versatility allowed Ryan to loosen his typical restrictions and, in turn, made him a better coach.
"I really love coaching this team," Ryan said. "I knew they had something in them it was just trying to get it out of them sometimes that was a little bit of a challenge."
As tough as it is to repeat a Final Four run, the Badgers have all the pieces in place to do it. Guard Ben Brust is the only contributing senior that will graduate, while junior Frank Kaminsky and sophomore Sam Dekker are expected to return. 
With good reason, OSU should regret making a delayed effort at recruiting Big Ten Sixth Man of the Year and Toledo native Nigel Hayes. Between him, Dekker and Kaminsky, there are few team in the Big Ten or, let alone, the country that will be able to match up with that frontcourt. 
As much as we may like to see Wisconsin fans wallow in sadness, next year's team will have a similar feel and should enter the season as the prohibitive conference favorites.