Usually Michigan fans are known for their humility. Clearly the fans above are the few rotten apples in the fan base.
The "2014 B1G Champions" banner isn't completely off-base, considering the Wolverines end the regular season with Purdue, Minnesota, Illinois and Indiana. They'll be heavily favored in each of those games and have a solid chance of entering the Big Ten Tournament on a five-game winning streak.
Meanwhile, their mitten state brethren are trending in the opposite direction after dropping Sunday's game in Ann Arbor. Sparty moves downwards, while Wisconsin stays hot and continues to ascend up the rankings.
There's not much room for the Nebraska to move up, but they do have our player of the week. Terran Petteway, undoubtedly a part of the Big Ten Player of the Year discussion, led the way for the Huskers again by averaging 27.5 points in wins over Penn State and Purdue. In the game against the Nittany Lions, he went to the line a staggering 19 times. 
On to the rankings:
1. Michigan (19-7, 11-3)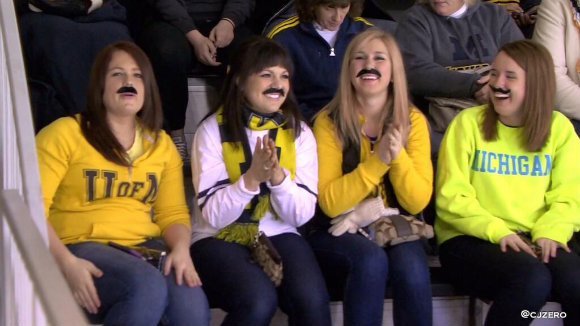 Last week (2): 79-70 win vs Michigan State
This week: at Purdue, vs Minnesota
They haven't won consecutive games in nearly a month, but the Wolverines' February schedule featured as tough a stretch a team can experience in Big Ten play.
Michigan's last four games were at Iowa, at Ohio State, with Wisconsin and Michigan State at home. They went 2-2 against four of the top five schools in the conference, tough to do considering the level of competition.
Also encouraging: the Wolverines have gotten something out of Glenn Robinson III. Sure, he hit teammate Jordan Morgan in the face with a pass, but he also has scored in double figures the last two games. 
2. Wisconsin (22-5, 9-5)

Last week (4): 79-74 win at Iowa
This week: vs Indiana, at Penn State  
Quality non-conference wins over Florida, St. Louis, Virginia, plus an early conference victory over Iowa gave the Badgers the best resume in the conference. Still, losing five out of six games put a major dent in their hopes for a high seed in the NCAA Tournament.
Wisconsin has rebounded in impressive fashion, winning five straight games since their January swoon. Now they could be looking at a two-seed, with an outside chance at a one-seed. Crazy as that sounds, winning out would put them in a good position to grab a top two seed.
3. Iowa (19-7, 8-5)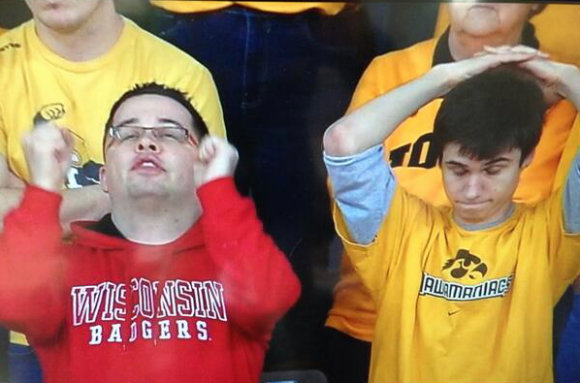 Last week (1): 79-74 loss vs Wisconsin 
This week: at Minnesota, at Indiana (rescheduled from Feb. 18), vs Purdue
Iowa quickly falls from grace after the Big Ten's hottest team takes them down in Iowa City. 
In their earlier matchup, Iowa blew a big halftime lead only to allow Wisconsin to storm back for a win. The opposite nearly happened, Saturday, but Frank Kaminsky bailed out the Badgers in the final minute. Roy Devyn Marble is as valuable as any player in the Big Ten, but he wasn't able to hang on to the ball while attacking the rim for the go-ahead bucket. 
Perhaps he was distracted by the blithering stupidity streaming from the mouth of Dan "searches his own name on Twitter to see who's insulting him" Dakich:
Dan Dakich calls Bo Ryan "100% correct" for his heavy restrictions on Uthoff's transfer options because he "needs to protect his program."

— Adam Jacobi (@Adam_Jacobi) February 22, 2014
4. Michigan State (22-6, 11-4)

Last week (3): 94-79 win at Purdue, 79-70 loss at Michigan
This week: vs Illinois 
The Spartans are widely viewed as "national championship contenders, if healthy." That makes for some lovely consolation, but they haven't been healthy since early January and won't get to that point anytime soon. 
What else hasn't happened in a month? Consecutive wins, a feat they haven't achieved since a victory over Indiana, Jan. 21. Michigan State has lost five of their last nine games, with brutal losses to Georgetown (what?) and at home to Nebraska.
MSU randomly broke out of an offensive slump by hitting a school record 17 three-pointers against Purdue and shot over 54 percent in Ann Arbor. Now it's their defense generating cause for concern, as Ronnie Johnson, Kendall Stephens, Nik Stauskas and Caris LeVert all went off this week. Perimeter defense, particularly with an ailing Keith Appling (returned too early?) and without an injured Branden Dawson, isn't up to Tom Izzo's standards.
5. Ohio State (22-6, 9-6)

Last week (5): 76-60 win vs Northwestern, 64-46 win vs Minnesota 
This week: at Penn State, at Indiana
The home loss to Michigan was emotionally crippling, but it didn't ignite a lengthy losing streak like the overtime loss to Michigan State did.
Correcting atrocious first half performances would make all of these inevitable blowouts enjoyable for all 40 minutes, though. At least we can take solace in how well the Buckeyes have played in the final 20 minutes. Over the last three games, Ohio State has outscored opponents (Illinois, Northwestern, Minnesota) 113-61 in the second half. In closing out the Gophers, they equaled Minnesota's point total by scoring 46 points in the second half.
As big a factor as any is Sam Thompson's sudden offensive resurgence. Much like last year, when Thompson hit a three-pointer in six straight games to close out Big Ten play, he's finding it again from deep. He's hit multiple threes in four of his last six games. 
6. Nebraska (16-10, 8-6)

Last week (6): 80-67 win vs Penn State, 76-57 win vs Purdue
This week: at Illinois, vs Northwestern 
Despite Nebraska's stellar home record, head coach Tim Miles demanded more passion. It was another amazing quote from Miles, this one referencing an old-school Dr. Dre track (really, they're all "old school" until Detox comes out). 
The above video gets me pretty fired up, but I can't even imagine what's it's like for fans in Lincoln, who are just picking up the beautiful game of roundball. The Huskers are now 13-1 in their inaugural season at Pinnacle Bank Arena, surpassing even the most optimistic of expectations. 
Biggest reason for their success? Clearly it's Petteway, who can score at will, averaging 18 points per game and hitting 37 percent of his three point shots. 
7. Indiana (15-11, 5-8)

Last week (11): 61-56 win at Northwestern
This week: at Wisconsin, vs Iowa (rescheduled from Feb. 18), vs Ohio State
If you thought there wasn't a huge drop off after Nebraska's spot in the standings, this week proved you're completely wrong. 
Indiana would not be in this spot if Assembly Hall's roof didn't threaten to give some poor fan the same treatment that Ned Stark received. Must have been the last resort to ensure their gym is a dangerous place to play again. 
The Hoosiers will probably return to form, this week, as they run the gauntlet against Wisconsin, Iowa and Ohio State. Perhaps the Northwestern win will give their offense a bit of a spark, but IU has not really put together consecutively solid performances on the offensive end since early January. 
8. Minnesota (17-11, 6-9)

Last week (7): 62-49 loss vs Illinois, 64-46 loss at Ohio State
This week: vs Iowa, at Michigan
Any team that loses to Illinois hardly deserves praise.
Not only did they drop one to the Illini, they did it on their own home floor. When the tournament committee reviews bubble teams, the hope is they accidentally gloss over last week. 
Somehow, they managed to put together an even more stunning performance in the game following the loss to Illinois. Getting outscored 46-18 by Ohio State, as his team desperately tries to lay claim to one of the final tournament spots, isn't exactly how Richard Pitino envisioned it.
At least this week wasn't as embarrassing as the time Pitino tried to fight Lane Pryce.
9. Purdue (15-12, 5-9)

Last week (8): 94-79 loss vs Michigan State, 76-57 loss at Nebraska
This week: vs Michigan, at Iowa
By the grace of the Big Ten scheduling gods, Purdue follows up a brutal week with the Wolverines and Hawkeyes.
The Boilermakers have lost seven of their last nine games, dropping to a point where they can salvage a .500 conference season only by running the table. The Indiana win will represent a high point in their season, which is probably okay with Purdue fans.
10. Illinois (15-12, 4-10)

Last week (12): 62-49 win at Minnesota
This week: vs Nebraska, at Michigan State
By virtue of being one of the few teams in the lower half of the Big Ten to win their previous game, the Illini jump up to 10.
It's been a rough season, but there has been one good thing to come from it: freshman Kendrick Nunn. He's played at least 30 minutes a game since being inserted into the starting lineup and Nunn has been productive. The team has won twice since then, and he's scored 19 points in both of those games. 
11. Northwestern (12-16, 5-10)

Last week (9): 76-60 loss at Ohio State, 61-56 loss vs Indiana
This week: at Nebraska
Beyond mildly agitating Amir Williams, Northwestern has not accomplished much in February. 
Since sitting at 5-5 in conference, the Wildcats have dropped their last five games. Drew Crawford's first half performance and Nikola Cerina's flailing arms were the first signs of life from this team in a while. 
12. Penn State (13-14, 4-10)

Last week (10): 80-67 loss at Nebraska
This week: vs Ohio State, vs Wisconsin 
What does raising over $13 million for pediatric cancer get you? Last place in Eleven Warriors' power rankings, apparently.
The annual THON event notwithstanding, PSU basketball is a Tim Frazier miracle shot away from losing five straight games, just like the team above them. Ohio State will come to Happy Valley with revenge on their minds, then the Nittany Lions will play a scorching Wisconsin squad. Don't expect Penn State to climb out of this hole, yet.