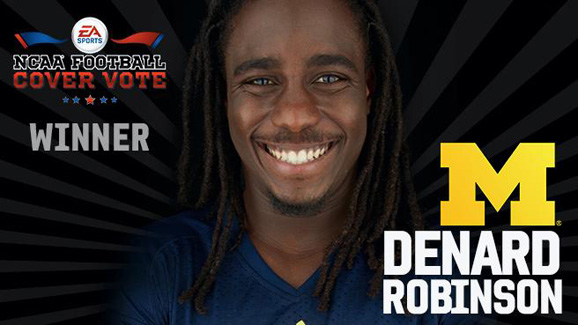 Following one of the dirtiest elections of our time, in which each side was accused of voting irregularities, Michigan's Denard Robinson has edged Texas A&M's Ryan Swope to appear on the cover of EA Sports' NCAA '14.
Former Michigan quarterback Denard Robinson will grace the cover of NCAA Football 14 after prevailing in a tense final vote against former Texas A&M wide receiver Ryan Swope.

"I want to say thank you to all the fans at Michigan for getting behind me," said Robinson, the NCAA's all-time leader in rushing yards by a quarterback. "Michigan has one of the best fan bases."

With the victory, Robinson becomes the third Michigan Wolverine to appear on the cover of an NCAA Football title after former Heisman Trophy Winners Desmond Howard (NCAA Football 99) and Charles Woodson (NCAA Football 2006).

"It's an honor to go to Michigan, and for us to be on the cover of NCAA Football."

So, what will we all be playing this fall ilnstead of NCAA '14?