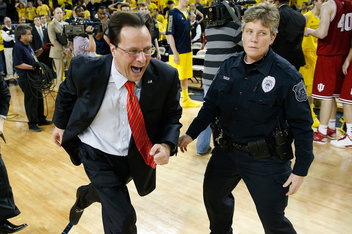 College basketball recruiting is a contact sport. There is an Indiana native on Michigan's roster (freshman Mitch McGary of Chesterton in the northwest part of the state) that Indiana pursued and there is another one on the way – Zak Irvin of Hamilton Southeastern High School, the leading choice for 2013 Mr. Basketball.

But protect-your-turf recruiting scrums like those two wouldn't be enough to inspire that kind of emotion from Crean.

This might be: One of the visitors at the Crisler Center Sunday was James Blackmon Jr. from Fort Wayne. He's one of the top juniors in the state as well a Top 50 player nationally in the 2014 class. He tweeted a few thoughts and pictures from his seat near the baseline where first Trey Burke and then Jordan Morgan missed their potential game-winning shots at the end of Indiana's 72-71 victory.

Blackmon has been committed to Indiana for nearly three years without ever giving an indication of wavering.

Seeing Blackmon at the game sitting with Irvin and Austin Hatch, a Michigan 2014 commit from the Fort Wayne area, might have been enough to inspire Crean to greet Meyer with a little different response than "nice effort," in the post-game handshake line.

Crean has scrapped through five seasons to elevate Indiana from 1-17 to 14-4 and undisputed Big Ten champions. There have been a string of bruises and no shortcuts. The Big Ten teams that had the means to bury Indiana buried the Hoosiers.

Negative recruiting was a constant companion. Big Ten head coaches telling recruits not to sign with Indiana because they'd never play in the NCAA Tournament. Other coaches in the league warning guys not to go to IU because Crean was stockpiling too much talent.
It doesn't make Crean's behavior any less indefensible, but it does illuminate just how deep these rivalries go.
Fortunately for Hoosier fans, they're long accustomed to defending their basketball coach's demeanor as long as he keeps on winning.