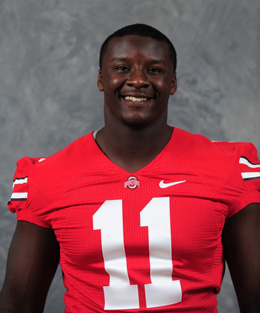 Ohio State defensive end Se'Von Pittman wasn't present at the first spring practice today, causing some to wonder about his status. Now we have our answer: Pittman is transferring from Ohio State and has already been granted his release, per Tim May of the Dispatch.
Sources told The Dispatch it had to do with an off-the-field issue, and that Pittman was looking for a fresh start. While Pittman could not be reached for comment, sources said he was considering a transfer to Louisville if it can be worked out.
You may recall that Pittman, from Canton McKinley, was originally committed to Michigan State, but Urban Meyer was able to flip him soon after assuming the coaching duties at Ohio State. This flip led to a bit of bad blood between to two coaching staffs that still lingers to this day.
Pittman, a redshirt freshman, enrolled early last year, but suffered a knee injury and didn't see the field as a true freshman in 2012.
In other news, the Buckeyes are now at the 82 scholarship limit.