Ohio State has American Idol and Randy Jackson to thank for one of the program's foremost buzzwords: swaggernaut.
Recruiting extraordinaire Mark Pantoni and his wife, Kristin, sat in front of the TV a few years ago, joining millions of other Americans watching the popular reality-singing competition. At one point, Jackson used the term "swaggernaut." Suddenly, the Buckeyes added a new work to their lexicon.
"I was like, 'Swaggernaut, I kind of like that.' So ever since then I just kind of took off with it," Pantoni said.
The vernacular also includes coded words such as "5-star Friday" and "BOOOOOOOM!!!!!" – no, he doesn't say it out loud – which signals a verbal commitment. As the point man for Ohio State's recruiting efforts, Pantoni, armed with the title of director of player personnel, must keep up with the times. That means being active on Facebook and Twitter, where his followers number more than 15,000.
He describes himself as a 32-year-old going on 18, because he's up-to-date on the hip-hop culture, recent trends and all the latest fads.
"It helps keep me young," Pantoni said, with a smile. "What I have to be good at is thinking inside the minds of 17- and 18-year-olds. By tweeting out silly stuff, I hope it grabs their attention. If they retweet or favorite it, that's my time to send them a message. Now let's build that relationship. It's fun. It's a good part of my job."
While he doesn't game plan or coach on Saturdays, Pantoni's position on the football staff is valuable. Upon bringing Pantoni to Ohio State, Urban Meyer referred to him as one of his most important hires. There's a reason for that, Pantoni is Meyer's right-hand man and considered to be the top recruiting coordinator in the country.
The process begins two years out. Sometime during a prospect's sophomore season, Pantoni will reach out – on Facebook or Twitter, naturally – and begin the recruiting cycle. At Florida, he was the driving force behind a recruiting machine that produced two national championships.
"I don't know how to quantify [his value]," offensive coordinator Tom Herman said. "He's worth whatever they're paying him times two. He does a phenomenal job of not only the things you guys see – the boom, the swaggernaut and all that cool stuff on Twitter – but he picks up a lot of the slack from us during the season. And the stuff you guys don't see – the organization of recruiting weekends, us going on the road. It's unbelievable. He's the glue that holds the entire recruiting operation together."
Said Meyer: "He's my guy. I have to have him. I don't know how you do it without him. I don't want to put him in the same category as the strength coach, but when you start talking about the most valuable assets of a program, No. 1 is personnel, and he's knee deep in it."
There's an age and generational gap between the duo, but Pantoni has earned Meyer's utmost trust. It's reached a point where Pantoni holds veto power on offers. If a coach – Meyer included – is misguided on extending an offer to a recruit, Pantoni will speak up and sometimes nix the decision.
He calls Meyer "relentless" and says the coach possesses unique leadership qualities that galvanize the entire coaching staff.
"He's my guy. I have to have him. I don't know how you do it without him." -Urban Meyer
"We follow his lead," Pantoni said. "We set things up for him, and when it's time for him to go in and close, the table's set in place. He's outstanding to work for. He takes care of the coaches and their families, and the players as well."
What starts with a simple message on social media is meant to evolve into a relationship with a position coach and, eventually, the head coach. Pantoni and a trusted group of interns rifle through 150-200 players, sorting out the good and the bad. They went through 2,700 full games for members of the 2014, '15 and '16 classes.
"I'm trying to keep creating a huge umbrella and maintain some sort of contact with as many as I can and try and get them up here on campus," Pantoni said. "It takes a lot of time and effort, which I pride myself on."
That time and effort equals waking up before the sun breaks the horizon and continued texting and tweeting while lying in bed. Thanks to an extra battery pack, his phone never dies. Maybe that's one reason why Pantoni jokes that his wife has thrown it through the window multiple times.
"It's a good thing I don't have any hobbies," he quipped. "I do the best I can. My family is most important to me, keeping my wife happy. But she understands the job and knows I'm driven to want to be the best at what I do. So she gets it."
One week a year, he'll go on vacation to decompress. But even then it's hard to completely get away. Pantoni compares recruiting to brushing your teeth – you can't take days off. If you aren't contacting a five-star recruit, Alabama and Florida State are, which creates constant paranoia. Recruiting is all about building relationships. The day-to-day grind is a relentless battle with some contact between Pantoni and a potential or already committed player being a daily ritual. 
The top priority is to sell Ohio State. There's history, tradition, one of the best coaching staffs in the nation, NFL alums, a positive academic reputation and a winning culture to pitch. To many, it sounds as difficult as convincing someone to buy beachfront property in Miami.
But there's a distance factor with out-of-state recruits and the giant elephant in the room – cold and snow, though Raekwon McMillan (Georgia) and Johnnie Dixon (South Florida) scoffed Wednesday at the notion weather impacted their decisions.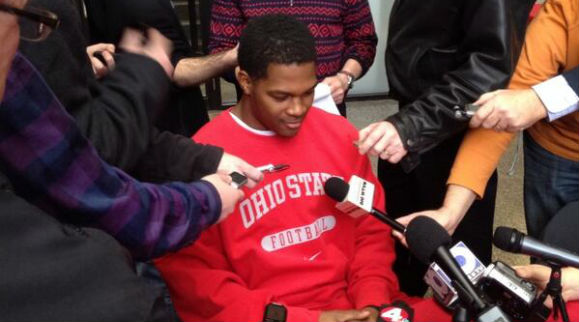 Pre-existing relationships help when leaving the state borders. Meyer, Pantoni and wide receivers coach Zach Smith are familiar with coaches throughout the state of Florida from their time with the Gators. That helped get Dixon to Ohio State. And in an odd twist, two of McMillan's high school coaches were from Ohio.
"The brand itself is huge. A lot of times [recruits] don't know the actual specifics," Pantoni said. "They don't know the intensity of the [Michigan] rivalry. They don't understand all the traditions. But they know the Block 'O' and all the great former players. Once you get them up here on campus, it's an eye-opener for them how big and how great everything is."
In 2011, Pantoni was in the same situation. Born and raised in Florida, he came north with little knowledge about Ohio State. As Pantoni was selling recruits on the Buckeyes, he was also brushing up on Ohio State's football history. It sure beat being facedown in medical books, which was the alternative.
The Sarasota native enrolled at Florida with sights set on medical school. A detour eventually came. As a college football fan, Pantoni enjoyed following recruiting. That led him to a volunteer position with the Florida football program. 
"I got my foot in the door and I really loved it. It was a passion of mine," Pantoni said. "I took it as an opportunity and worked as hard as I could. I never asked for a t-shirt or anything. Coaches started to respect how hard I worked, and I was there because I loved what I did. It paid off over time. Here we are today. I'm glad I made this decision. I'd probably be finishing up residency and be in a lot of debt right now."
Instead, he just helped secure yet another top-five recruiting class and is even inspiring Ohio State's basketball program to hire a recruiting guru. College basketball recruiting, like its football brethren, is undergoing a constant evolution. So Thad Matta hired Christopher Spartz to oversee the team's recruiting efforts and do many of the things Pantoni does with the football Buckeyes.
Pantoni, Spartz and assistant coaches Jeff Boals and Greg Paulus share information and new strategies with one another to try and keep Ohio State on the cutting edge of recruiting.
"A guy like Mark Pantoni, those people who can organize that dynamic, almost like they're an assistant GM or director of player personnel in professional football, so you can weed out all the stuff that could get in the way of the coach focusing on who the best players are, that's the model that's being used to build successful programs," ESPN national recruiting director Tom Luginbill said. "It's critical not only for Ohio State, but you're seeing that direction in a lot of programs out there."
For now, Pantoni just needs ideas on how to sleep well – National Signing Day meant a 4 a.m. wake up call – and who to vote for in the next episode of American Idol.
Thursday and beyond is aimed at 2015.
"There's no catching our breath," Pantoni said. "We have to get this next class ready."