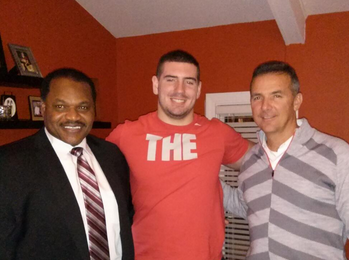 Sports Illustrated embedded a Q&A with Ohio State defensive line coach Larry Johnson Sr. in a lengthy article by Pete Thamel and Thayer Evans today. This is probably our favorite exchange:
SI.com: You were at Penn State for almost 20 years. What will you do with all that gear?

Johnson: I've got a whole closet full of Penn State stuff to find something to do with. (Laughs.) We'll find a way to move it, maybe the Salvation Army.
"Coach J" stressed he's not bitter about being passed over for the head coaching job:
SI.com: What are your feelings toward Penn State? You obviously were interested in the job when it opened twice in the past few years.

Johnson: I'm not bitter about anything. Maybe the best guy got the job, and that's OK. I had a decision to make and made the best decision for my family and where I was. I don't have anything but gratitude for Penn State. I had a great career there. I impacted a lot of young men, and they impacted me, also. I'm happy to be in the opportunity I'm in and have a chance to move on in my career. You can't think about what could have happened. I don't live that way and never have.
The article is embedded in a tome of college football info; so if you're bored on this Tuesday afternoon, it's a definite time-sink.