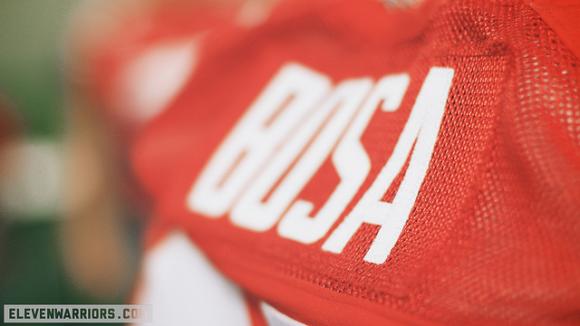 Top recruits are ready to immediately play more than ever, and the Ohio State program is no exception. The Buckeyes redshirted a few more freshman this year  than Urban Meyer would have liked, but that didn't mean the freshmen were devoid of production. (Joey Bosa, for example, was named a freshman All-American and Dontre Wilson showed glimpses of his dazzling speed and play-making ability.) 
It's a bit of a trend in college football, that freshmen are ready to contribute immediately. Sports Illustrated dove into the topic yesterday:
Whether it's a byproduct of the improved preparation of incoming freshmen, or of the enhanced ability of recruiting analysts to evaluate them, there seem to be many more booms than busts among the consensus can't-miss prospects than there were a decade ago. In fact, it doesn't take long to obtain the necessary affirmation.

''That's the way college football is moving," said Mike Farrell, Rivals.com's national recruiting director. "Maybe we used to wait until the [NFL] draft to see how things panned out -- how many of our five-stars are first rounders. But now we start looking at it closer and earlier because all the freshmen are very good and getting on the field."

There are certain positions at which it is more difficult for a true freshman to make an immediate impact. While redshirt freshman quarterbacks (Manziel and Florida State's Jameis Winston) have won the Heisman Trophy in each of the past two seasons, true freshman starters remain rare at major programs. (Penn State's Hackenberg was a notable exception.) Offensive linemen also seem to take more time to develop, but every receiver, defensive back, linebacker and defensive lineman in the top 25 of last year's Rivals.com rankings saw the field in 2013, as did two of three running backs. Ole Miss' Laquon Treadwell emerged as the Rebels' top wideout. Virginia Tech's Kendall Fuller led the Hokies in interceptions.
Only four of Rivals' top 25 recruits were redshirted last year.
Ohio State has another talented class ready to sign tomorrow, and many could contribute immediately, especially along the depleted offensive line.