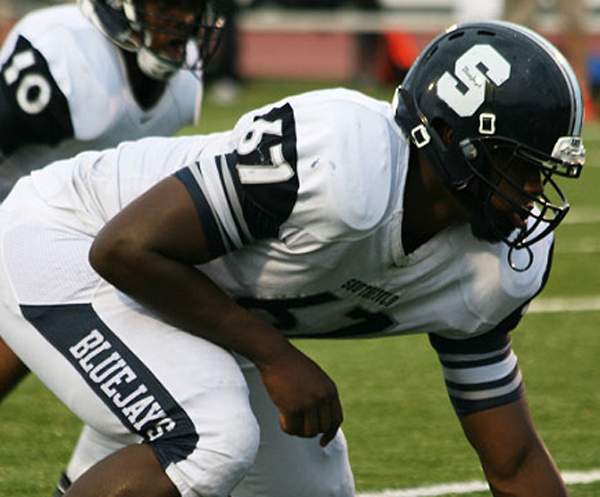 The Detroit-based five-star DE, Malik McDowell, took an official visit to Ohio State this weekend. While the big fellah has drawn weary of the recruitment process, it will all come to an end on Wednesday.
52% of analysts are calling McDowell-to-MSU. 17% are calling for McDowell to Ohio State, up from 4% last week before it was announced McDowell's final official visit would be to Ohio State.
Yet, as we draw closer to Wednesday's signing day, it appears the McDowell house is a bit divided as to what's best for the young McDowell. From DetroitNews.com:
"(He is thinking about) what it's all going to turn out to be as far as family also," his father Greg McDowell said. "I feel like he is thinking about my mom, his grandmother — a lot. His mom's parents are both deceased, so he only has my mom and my father, and my father is disabled. He wants to keep it close to home as far as my mom being able to come see him. Not just on TV. That's something where he is very thoughtful in that way about her."
On one hand, Malik McDowell is an apparent family man, and wants to stay close to his family so they can see him play football on Saturdays. That's nothing but admirable. On the other hand, from 24/7:
We're basically at the same point, his mother and I, as long as he gets away from Michigan we don't care where he goes. We've expressed numerous times all we want is the best for him and seeing him get out of here we think is best. It's for his future. I just want him to recognize that and hopefully he understands and he will take that into account and say I'm 17 and my parents want the best for me and I'll jump on board because it's only three or four years that I'm going to be away, and I want to get to this certain level and be somewhere I can concentrate. You have to be somewhere you have less distractions and be around people that do what you do, go to class, be football players, be a student-athlete. That's the environment I want him to be around, and not be in close proximity to his friends.

I want him out of Michigan. I don't care if that's Ohio State or Florida State.
Yes, teens are renowned for their keen ability of short-sighted thinking. 
Reading between the lines, it appears McDowell's heart is set on Michigan State, but Ohio State would sure seem like a compromise for the McDowell house. (Obviously, no bias here!)