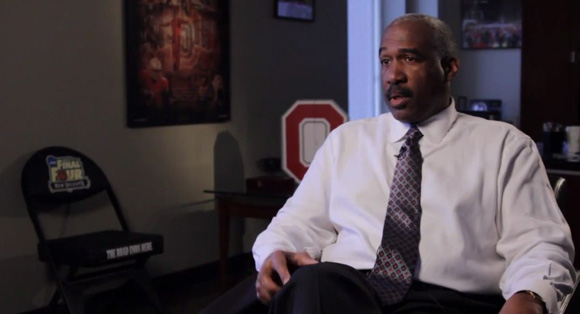 Earlier this week, Gene Smith got a much deserved promotion and pay raise. Today, the Associated Press took a look at his new contract, and unsurprisingly due to the pure scope of his job, Gene Smith is paid pretty handsomely. Interesting, though, are how his bonuses are structured:
Every time an Ohio State individual athlete or team wins a national title — in track, swimming, fencing, rifle, pistol or any of 24 other non-revenue sports — athletic director Gene Smith will receive a bonus of $18,000 to $36,000 under terms of the new contract extension announced earlier this week.

... If the Buckeyes football team plays in a major bowl game or the men's or women's basketball teams make it to the Final Four, Smith will receive four times his weekly base salary, or more than $72,000. Should the football team or men's basketball team go on to win the national championship, Smith would receive an additional $36,000.

... Any team that wins a Big Ten title — outright, a co-championship or even a conference tournament title — results in Smith getting a $36,000 bonus. The total he can be paid under this part of the contract in any academic year is $120,000.
The bonuses of this kind are capped at a mere $120,000 anually. As the AP notes, it's a bit rare for athletic directors to be paid bonuses for the performance of non-revenue teams, but again, rare is the job of this magnitude. 
Smith will make a base salary of $940,484. His contract runs through 2020.