Both Ohio State hockey squads earned some much needed conference points last week. The men brought back three B1G points from a split on the road at No. 9 Wisconsin. The ladies took advantage of some home cooking and big series from Claudia Kepler to sweep Minnesota State, picking up six huge WCHA points.
We recap both series and have a look at the news from Buckeye hockey land including a productive week for RJ Umberger and a Q & A with recruit Christian Lampasso.
What Happened
Ohio State traveled to No. 9 Wisconsin without two key defensemen. Curtis Gedig and Craig Dalrymple were both ruled out for the series due to undisclosed injuries. The Buckeyes got off to a rocky start on Friday. A sharp angle shot got through Matt Tomkins to give the Badgers an early lead. The Bucks came back with power play strikes from Ryan Dzingel and Nick Schilkey, taking a 2-1 lead into the first intermission.
Ohio State's lead evaporated late in the second period. Two Badger goals in the final minutes of the middle frame and one early in the third period put Wisconsin back on top. A slick shorthanded goal from Dave Gust drew the Bucks within one, but a Badger power play goal put an end to OSU's comeback. Wisconsin took Game One by a final of 5-3.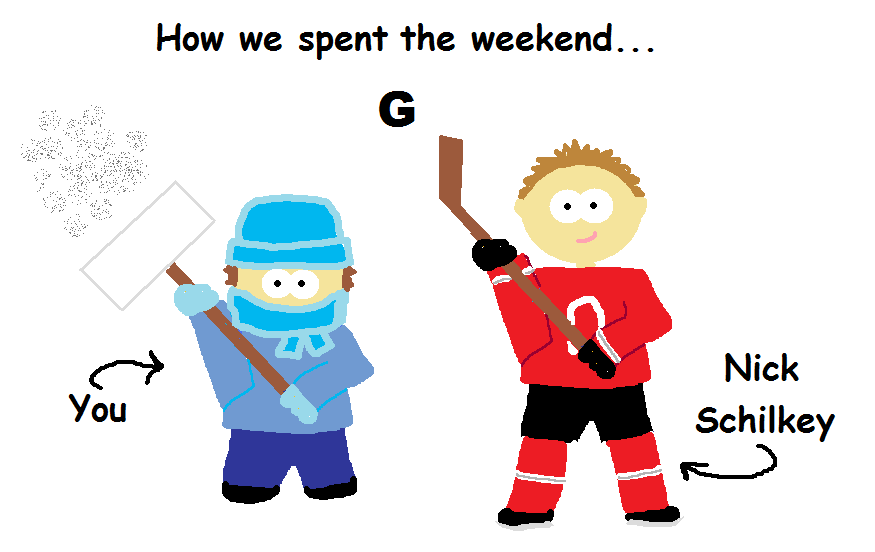 On Saturday the two teams battled through 30 scoreless minutes. The Badgers drew first blood midway through the game, but their lead didn't last long. Schilkey shoveled a backhand shot into the top corner to tie things up. (It was a nifty play, I'd say one of the top 5 Buckeye goals of the year. The highlight would be embedded all over this post if the internet had a clip of it.)
Nick Oddo got the eventual gamewinner cleaning up a rebound in front of the net. Ohio State headed to the third period with a one goal lead and committed to locking the game down defensively. The prevent defense worked. Tanner Fritz set up Darik Angeli for an empty netter to seal the victory. Buckeyes win 3-1.
"I'm really proud of these guys," Steve Rohlik, Ohio State head coach, said. "We've battled the Big Ten teams and played close with a lot of them but couldn't find a way to win. Tonight we found a way to win. We had good goaltending and scored some timely goals. That's what you have to do to win on the road." via Ohio State
My Two Cents
Ohio State being without Gedig was a huge deal. He approximately 5,482 minutes per game for the Bucks. The loss meant someone was going to have to step up their game this week and one guy who I thought did that was freshman Drew Brevig. I thought he made smart plays and I don't think he was on the ice for a single goal-against in the series.
On the other hand, one guy who seemed to struggle was Sam Jardine. He was on the ice for a lot of goals against and turned the puck over behind the net leading to Wisconsin's ** goal Friday night.
The final result didn't look good for him but Tomkins made some big stops on Friday and played pretty well for about 54 minutes. Plus I accidentally jinxed him on Twitter right before the wheels came off for Ohio State in that second period, so apologies for that.
Christian Frey looked excellent on Saturday in just the fourth game of his collegiate career. (Against one of the country's top teams, no less.) It's early yet but so far he seems to have been a genius midseason pick up for Ohio State.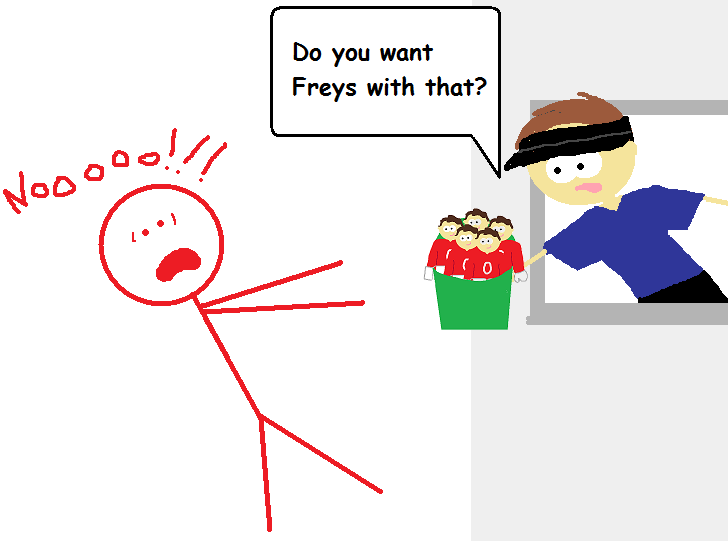 After shuffling his lines up against Minnesota last week, Steve Rohlik sent a more familiar arrangement out on Friday night, reuniting, among others, the ATM line. Apparently he didn't like what he saw because he mixed everything up again on Saturday. I'm not completed convinced the line changes made much difference, although it's kind of hard to argue with the result.
Thumbs ups to Badger fans for packing the building both nights and being a vocal presence on both television broadcasts. That was pretty impressive.
Thumbs down for BTN still occasionally forgetting which team is on the power play, the position played by Alex Lippincott, and semi-chortling when Wisconsin scored their fourth goal.
What's Next
The Buckeyes host Penn State on Friday at 7pm (featuring Script Ohio on ice) and Saturday afternoon at 2pm. The series will be an opportunity for Ohio State to rake in some much needed conference points, but the Nittany Lions are a dangerous team to overlook. There isn't any television coverage for Friday night's game, but ESPNews is supposed to be carrying Saturday's.
Further Reading
Visuals from the series include BTN's Friday night highlights, Rachel Lewis' photo gallery of Friday's game for Inside Hockey, photo galleries on the Badgers' website for both Friday and Saturday's games, and this time lapse video from one of the games which was uploaded by Jacob Johnson and appears to give you the band's-eye-view of the Kohl Center.
For more game recaps check out the following write ups from Ohio State (Friday and Saturday), Andy Baggot for Madison.com (Friday and Saturday), USCHO's Todd Milewski (Friday) and staff (Saturday, plus both of the website's recaps include postgame interviews with the Buckeyes), Andy Johnson (Friday) and Matt Masterson (Saturday) for Bucky's 5th Quarter, Grant Miller (series) for The Lantern, and Benjamin Worgull for Badger Nation (series).
Buckeye Women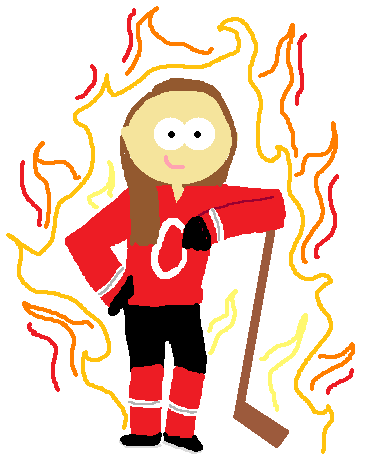 I intended to get down to the Ice Rink for at least part of this series so as to provide you all a better recap but the weather just didn't cooperate. From what I could discern over the online audio and Twitter it sounded as though Minnesota State made the Buckeyes work hard for the sweep.
Friday's game was scoreless for a long time. Power play goals from Claudia Kepler and Ally Tarr gave Ohio State the lead. The Mavericks came storming back to tie the game and send the Buckeyes to their 1,673th straight overtime (approximate stat). Julia McKinnon didn't leave Buckeye fans in suspense for very long, though. She notched the gamewinner mere seconds into the extra frame.
The Bucks got of to a quicker start, scoring-wise, on Saturday. Kepler struck just three minutes after the opening faceoff but Minnesota State answered a shift or two later. Ohio State pulled away in the second period on goals by Kendall Curtis and Danielle Gagne. The Mavs briefly made things interesting, drawing within a goal of the Buckeyes with a shorthanded tally in the third. However, Kepler responded with a shorty of her to put a ribbon on OSU's first conference sweep of season.
With the six points they earned in this series Ohio State has put some distance between themselves and Minnesota State/St. Cloud. They're 16 points behind fourth place Minnesota-Duluth with only eight games remaining in the season so it isn't likely they'll catch the Bulldogs. The Buckeyes have an excellent shot at fifth place, though, sitting just three points back of Bemidji State.
What's Next
The ladies travel to St. Cloud this week for games on Friday at 8pm ET and Saturday at 4pm ET.
Further Reading
Short Shifts

Around the Big Ten
It was an interesting week for all the B1G teams. In the only conference series other than OSU-UW, Michigan swept Michigan State. The hate simmered throughout the series until the tension finally snapped on Friday. Meanwhile in non-conference action Minnesota took home the big, colorful, wooden North Star Cup with wins over St. Cloud and Minnesota-Duluth despite some, uh, interesting officiating. Penn State, who we'll talk about at greater length on Friday, lost 3-2 to No. 2 Boston College last Saturday. The Eagles may have been victorious, but the Nittany Lions did not go quietly and earned some praise from BC's Jerry York.
"Penn State has made marked improvements since we saw them in December," BC coach Jerry York said, referring to his team's 8-2 win in last month's Three Rivers Classic championship game. "They are so close. They are big and physical and play tough hockey." via USCHO
Future Nuts
You'll probably have to answer a couple survey questions in order to see this entire Q & A with Ohio State commit Christian Lampasso, but the couple clicks are worth it to read how Buckeye assistant coach Brett Larson has contributed to the recruiting process. It's also nice to find someone who'll admit to having pregame rituals.
Matt Weis scored twice in the Green Bay Gamblers' 6-0 trouncing of the Chicago Steel last Friday night.
I've misplaced the link about it, but word on the Twitter is that Ohio State decommit Dylan Pavelek has commited to Michigan State.
Countdown to Sochi
The 2014 Winter Olympics begin in just ten days. Former Buckeyes will lace up their skates for Teams USA (Ryan Kesler), Canada (Natalie Spooner), and Finland (Emma Terho and Minttu Tuominen). Chris Peters checks up on the NHL point production of the members of Team USA since being named to the roster at the beginning of the month. He also has a look at Ryan Miller's paint job for the Sochi Games. (FYI that's the table showing through the mask in the first picture, not Uncle Sam's naked thigh.)
Nuts Abroad