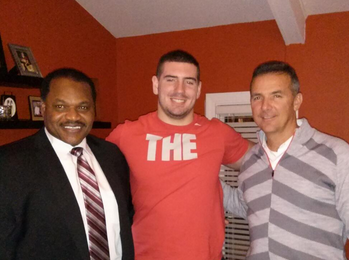 The above photo was taken during an in-home visit to 2014 defensive end commit Dylan Thompson (of which the departed Mike Vrabel was the lead recruiter.)
Granted, Thompson was already in the fold prior to Johnson's arrival, but damn does that man just ooze swagger. Hard to envision a better recruiting duo, and it's even harder to imagine a recruit saying "no" to the two men in this picture. Johnson has definitely hit the ground sprinting.
Be afraid, other colleges who don't employ Urban Meyer and Larry Johnson Sr., be very afraid.