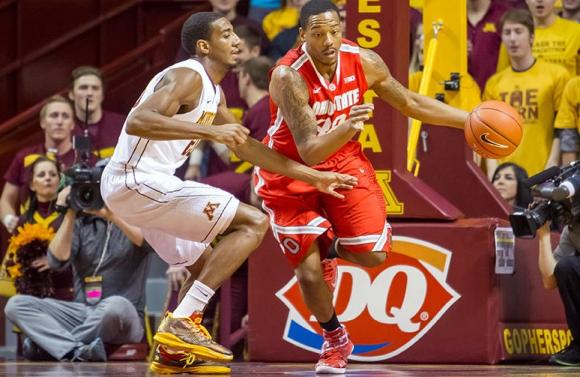 Thad Matta said all the right things after Ohio State squandered a second-half lead to Iowa last Sunday. He referenced past seasons and how he'd been in similar situations. Becoming flustered wasn't an option. Matta said the finish line wasn't even in sight yet.
Coming up on a week later, is a Buckeye victory in sight? They suffered a third consecutive loss Thursday night, and the next win remains a mystery due to offensive ineptitude. Matta had no answer for the recent performances.
The words he used were "I don't know" and it seemed as if they were mumbled to himself. Who could blame him? The starting five – minus LaQuinton Ross – scored 19 points and shot 27 percent from the field at Minnesota. Ohio State trimmed the turnovers to 13, though some still emerged at inopportune moments. But it didn't matter because of an inability to score points.
Zone defenses have wreaked havoc for the No. 11 Buckeyes. Because there's no consistent threat complementing Ross, opponents are able to render Ohio State irrelevant on one end of the floor. It was a robust 7-of-22 shooting in the second half.
The Gophers committed nine turnovers in the game's first 10 minutes and only trailed by one point thanks to the Buckeyes' woeful shooting. They misfired on 11 of their first 14 shots. And it wasn't as if Ohio State threw up low-percentage looks, it got the shot attempts it wanted. 
Lenzelle Smith Jr. continued a forgettable stretch where he's just 10 for his last 32 from the field. It's even worse when he moves beyond the arc – 2 for 19.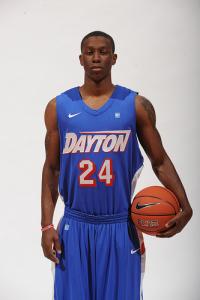 Point guards Aaron Craft and Shannon Scott provide minimal in the way of offense, meaning only three legitimate scorers are on the court. In a 10-point loss to Minnesota, Craft and Scott combined for eight points and nine turnovers, an unthinkable combination for a top-15 team. The pair has 26 turnovers and 26 assists during the losing streak. Craft alone has 15 turnovers.
Sixth man Sam Thompson was the second-leading scorer against the Gophers with 12 points. No one else had more than eight. But the poor shooting isn't limited to field goals. The Buckeyes have also suffered at the free throw line. They were 11 of 18 Thursday and are converting just 68.4 percent of their attempts on the season.
What Ohio State lost in Deshaun Thomas cannot be overstated. If a basket were needed, he would find a way to get the ball to the rim or draw a foul. That type of player isn't on the current roster. Through Thomas' sometimes questionable shot attempts and underwhelming defense, he was a machine in crunch time.
Without Thomas, the Buckeyes' offense ranks 130th in the country. That's how you go from 15-0 and ranked No. 3 to 2-3 in the Big Ten. Failure to find the basket equals failure to win games. There's also been a failure to hold on to talent.
J.D. Weatherspoon and Jordan Sibert transferred to Toledo and Dayton, respectively, following the Buckeyes' Final Four run in 2012, with both citing playing time as the reason. The duo is now flourishing at their landing spots.
Weatherspoon is averaging 11.3 points and six rebounds per game for the 14-2 Rockets, shooting 55.6 percent from the field. Sibert is the leading scorer for the Flyers, who fashion a 13-4 record. Sibert's averaging 12.4 points, 2.6 rebounds and 1.5 assists. He's shooting an impressive 47 percent from the field and three-point range.
Ross leads the Buckeyes from 3 at 41 percent. Second best is Amedeo Della Valle, who's only shooting 37.3 percent from long range. 
It's become obvious that Ohio State isn't the same team that started the season 15-0. These Buckeyes are damaged goods. But 13 games remain in the regular season, an eternity in basketball. Ohio State waited until February to reach rock bottom last season, before quickly rebounding and winning 11 consecutive games.
Reality isn't always friendly, and right now it's staring the Buckeyes in the face with a scowl.