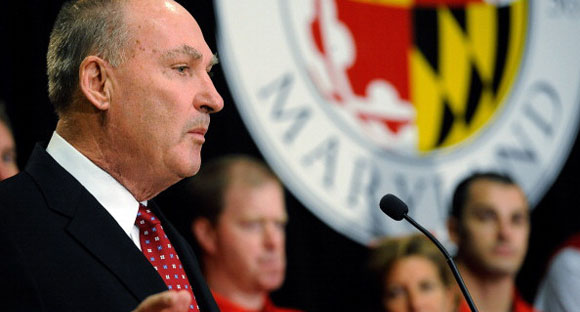 You thought conference expansion news was over, right? Guess again.
The University of Maryland has filed a $157 million countersuit against the ACC, and the details of the case are juicy. Maryland is accusing Wake Forest and Pitt of trying to recruit unnamed schools from the Big Ten to leave and join the ACC. Maryland even brings ESPN into the case, alleging that the Worldwide Leader counseled the ACC on which schools to target. 
This isn't the first time ESPN's been a player in conference realignment. They also got their hands dirty during ACC and Big East realignment. 
Maryland files a $157 million counterclaim vs. ACC. Alleges Wake Forest/Pittsburgh officials tried to recruit unnamed B1G schools to leave.

— Alex Prewitt (@alex_prewitt) January 14, 2014
But wait, it gets better:
Alleges that b/c of "counsel and direction...received from ESPN," the ACC has tried to lure other schools "to extract more lucrative terms."

— Alex Prewitt (@alex_prewitt) January 14, 2014
Per Maryland state's attorney's office: claiming the ACC tried to recruit two Big Ten universities to leave the Big Ten and join the ACC.

— ESPN ACC (@ESPN_ACC) January 14, 2014
The lawsuit game began after the ACC sued Maryland to the tune of $52 million after the school left for the Big Ten. An attempt to get the suit thrown out was rejected. So, now the question becomes, which Big Ten schools were targets of poaching? Penn State is logical, but who else?