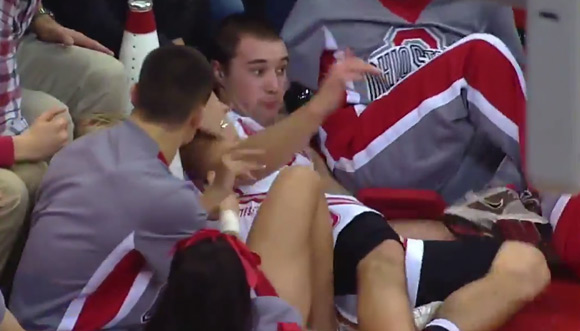 At the midway point of the season, the strength of Ohio State basketball is as obvious as the deficiencies on the football team – defense. The Buckeyes are 15-2 thanks in large part to winnable games, but when quality opponents come knocking, a defense that could defend a small country has turned away (almost) all-comers.
The latest examples came in defeat. After rattling off 15 consecutive wins, Ohio State went 0-2 last week. It dropped them to 2-2 in the Big Ten and makes Wednesday's game at Minnesota a must win.
A 20-3 spurt over the final seven minutes of regulation at Michigan State is what created overtime. But it was aided by defensive pressure that formed into offense. Ten Spartan turnovers later, the game was tied. When all was well versus Iowa in the second half, the Buckeyes held the Hawkeyes without a field goal for more than six minutes. 
"The fact that we're all taking pride in [defense] makes it a lot of fun for us," junior guard Shannon Scott said. "Hopefully we can keep doing it in the Big Ten and keep going from there."
Offense has not been kind to Ohio State, making its defense that much more valuable. Aaron Craft and Sam Thompson were left dejected after the Michigan State game, telling reporters the Buckeyes haven't proven anything. Good teams don't stumble like Ohio State did and that the pre-game goal wasn't met. The margin of defeat and fashion in which it occurred are irrelevant.
Those statements all contain some elements of the truth, especially in light of the most recent loss to Iowa. If anything, the Buckeyes may have proven more in their furious comeback in East Lansing than they did in the previous 15 wins. There was already a miracle win over Notre Dame that was sparked by defense. Once again, Ohio State showed it would not concede.
But if the offensively challenged ways continue in big games, the losses could mount. LaQuinton Ross and Lenzelle Smith Jr., the Buckeyes' top two scorers this season, were limited to just 4-of-18 shooting and a combined 12 points against the Spartans. It was so bad that the duo didn't see the court during Ohio State's stretch run.
Thompson and true freshman Marc Loving changed the offensive fortunes, finishing as the Buckeyes' top two producers – 18 points and 10 points, respectively – and supplying all 28 bench points. 
Both Ross (22 points) and Smith (10) scored more points against the Hawkeyes, but they once again disappeared in the second half. Ross had an air ball, turnover, turnover sequence in one crucial late second-half sequence.
Uncharacteristic turnover-heavy nights plagued Ohio State in each game. It turned the ball over 21 times Tuesday and looked uneasy at times in one of college football's most raucous environments. That isn't out of the ordinary, except when you consider the Buckeyes are a veteran team led by two of the best guards in the nation.
"You can't come on the road and have 21 turnovers," head coach Thad Matta said after Michigan State's overtime victory. "We are not a good enough basketball team to waste possessions like that."
The Buckeyes turned around and turned the ball over 17 times against Iowa.
Recovering from losses has been a hallmark of the Matta era. Two years ago, a late-season swoon evolved into a Final Four run. Last year, Ohio State followed up a 22-point humiliation at Wisconsin with 11 consecutive wins that culminated in an Elite Eight berth.
But Sunday brought another loss – this time at home. It was an atypical performance by a team that's challenged for a Big Ten championship seemingly every season Matta's been at the helm. Backs against the wall, the Buckeyes now must top Minnesota in Williams Arena, one of the conference's most unfriendly venues for opponents.
If it does so, it will rely on an elite defense. That's how you build off continued success when you lose the Big Ten's leading scorer – and still don't have a reliable replacement. Ohio State still owns one of the top three-point field goal defense, scoring defense and field-goal percentage defense in the nation. The Buckeyes have 118 steals on the season.
"Everybody knows they're the best defensive team in the country," Michigan State head coach Tom Izzo said. "Everybody knows those guards are leading the country in steals. They get after you. You just have to man up."
The guards Izzo referenced are Craft and Scott. They have a combined 79 steals and rank in the top 35 nationally. The efficiency on the defensive end comes from talent and a work ethic in practice that seamlessly transitions to game situations. Loving has already discovered that, admitting locking down defenders in games is "10 times easier" when it's been rehearsed in practice.
Michigan State was the first team to score 70 points on the Buckeyes, and even it needed overtime to accomplish the feat. Iowa's 84 – the Hawkeyes have the eighth-best scoring offense – came via 44 points in the paint, 27 points off turnovers and 21 free throws.
"We tried to utilize spacing as best as we could because we really wanted to keep them spaced. Ohio State is going to take advantage with their quickness and they are really good at getting steals," Iowa head coach Fran McCaffery said. "For us, we wanted a great offense going into this game."
They talk about SEC speed in football. Well, maybe Big Ten speed should become a popular moniker in basketball. Or at least when discussing Ohio State.
"The way they defend is as good as we've seen," Nebraska head coach Tim Miles said after the Buckeyes caused 11 turnovers by the Cornhuskers' starting five. "Their defensive quickness really causes problems."
Ohio State will need quick feet and hands when it travels to the Twin Cities. Minnesota is averaging 76 points per game, eighth-most in the Big Ten. Time and again this season, the Buckeyes have flashed the capability of entering a different gear when defensive stops are paramount. Notre Dame, Michigan State and Iowa are obvious answers, but it's occurred in blowouts as well.
Ohio State used runs generated by the defense to separate itself from Maryland, Wyoming and Nebraska, among others. The Cornhuskers had an eight-minute period without scoring. Double-digit leads can happen with little notice. Intensity, aggression, loose balls and blocked shots become buzz words.
"From the viewpoint of other teams thinking of us as a problem on defense, we really want that to happen," Scott said. "We went them to be scared to play against us."