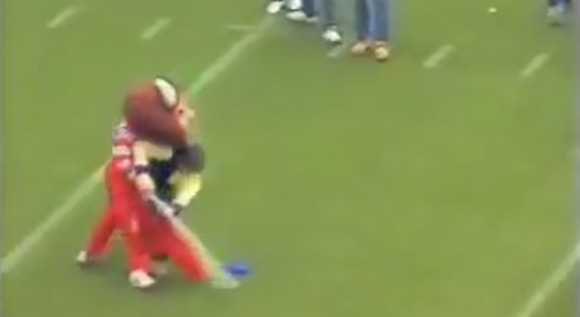 Is there a mascot that's been tackled more than Brutus Buckeye?
Three years ago, Rufus, Ohio University's mascot, straight jumped Brutus as he and the football team were taking the field. Last spring, former Ohio State linebacker David Perkins destroyed Brutus on a mascot option play during the team's student open practice.
And then there's this video, from the 1983 Ohio State–Michigan game in Ann Arbor. Although the video has been up on YouTube for a few years – indeed it appears to have been uploaded as a response to the aforementioned incident with Rufus – this is the first we've seen of it and it shows Brutus responding to a Michigan student that had tackled him by... beating him with a pole.
It's nice to know there was a time when Brutus dealt out swift justice for transgressions against him.