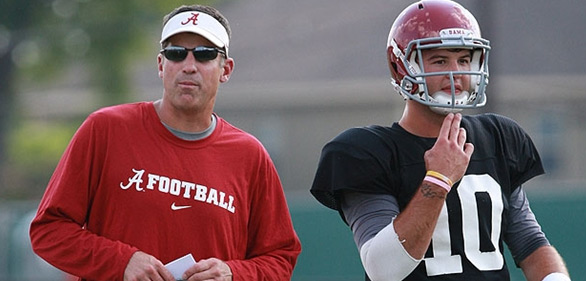 Well that escalated quite quickly.  
Alabama offensive coordinator Doug Nussmeier has been hired away by Michigan, according to the guys at FootballScoop.com. In 2013, the Crimson Tide had the 33rd ranked offense in the country under Nussmeier, who made $680,000 last year according to USA Today's assistant coaching salary database. 
Nussmeier, however, appears to be in for quite the pay raise, as CBS' Bruce Feldman reports Michigan will give him a top five assistant coach salary.
As for the dream scenario of Lane Kiffin-to-Alabama? Well...
#Michigan hiring OC Doug Nussmeier does open very real possiblity of Lane Kiffin joining #Bama staff. He & Nick Saban are buddies.

— Bruce Feldman (@BFeldmanCBS) January 9, 2014
We can't be that lucky, can we?
In related news, Nussmeier's Wikipedia page, as is typical in these cases, was factual and free of any type of vandalism.