Around the Oval is Eleven Warriors' weekly love letter to Ohio State sports that don't get the coverage they should.
It was a chilly week, as many Ohio State students returned to school and others arrived for the first time. Ohio State students were lucky enough to delay the inevitable, with the Columbus campus closing due to frigid temperatures for the first time since February 2011.
With a heat wave raising the temperature to 12 degrees, classes opened today, marking the official beginning of "spring" semester.
While the men's basketball team lost a heartbreaker last night to their new northern rivals, several Buckeye teams are getting back into the swing of things.
It was another eventful week for Buckeye hockey, as the men's team picked up a couple of easy wins and the women's team begins conference play this weekend.
Meanwhile, the women's basketball team and men's wrestling teams are right in the thick of things, as they reach the meat of their schedules.
Join us after the jump for more on Ohio State's smaller sports.
Wrestling
The wrestling Buckeyes were off this past week, but two weeks ago they wrapped up non-conference play in impressive fashion, defeating Kent State, 27-6.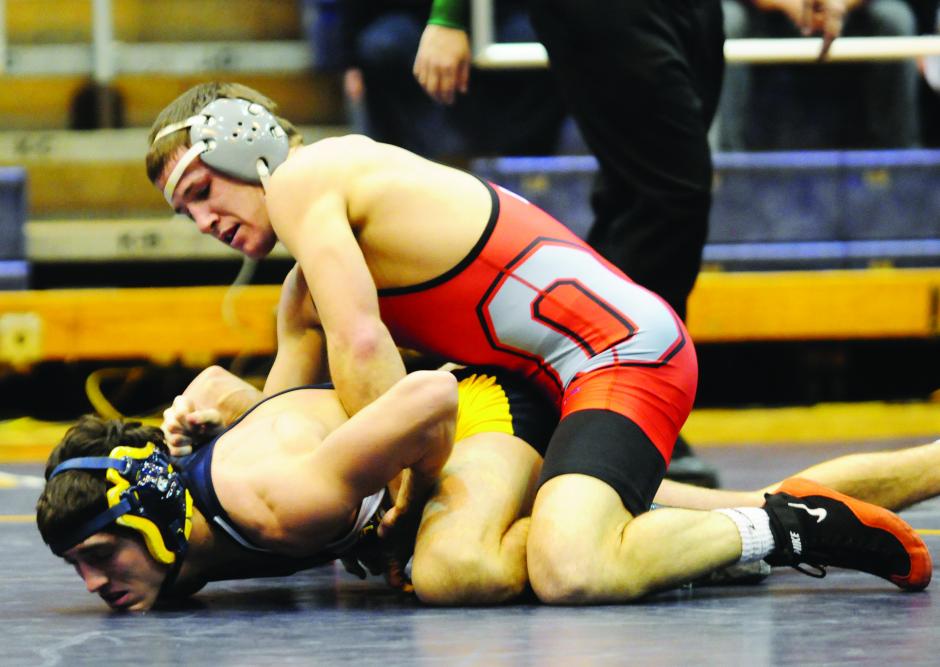 Coming off his first loss in nearly two years, third-ranked Logan Stieber responded with a dominant, 10-0 major decision victory over No. 18 Tyler Small in the 141-pound match.
In other ranked matchups, No. 6 Johnnie DiJulius narrowly defeated No. 19 Mack McGuire, 3-1, in the 133-pound class and No. 20 Ian Paddock defeated No. 26 Mike DePalma, 11-6, in the 149-pound class. Meanwhile, No. 12 Kenny Courts knocked off No. 17 Sam Wheeler, 11-10, in dramatic fashion.
With the win, Ohio State improves to 5-1 (0-1 B1G) on the season and next travels to Madison on Friday to take on the Badgers before wrestling at Illinois on Sunday.
Women's Basketball
It was another up and down week for the Lady Buckeyes, upsetting Purdue before falling to Michigan in a pair of home games. While losing to your rival is never good and will put a damper on the week, knocking off No. 17 Purdue was easily Ohio State's best win of the season.
Martina Ellerbe and Ameryst Alston led the Buckeyes offensively in the 89-78 win over Purdue with 19 points each. Cait Craft added 15, Darryce Moore had 14 and Ashley Adams chipped in 10 points off the bench. Believe it or not, 89 points was only Ohio State's third highest total of the season, though it was by far the most against a high-major opponent.
The Buckeyes controlled every facet of the game, out-rebounding the Boilermakers, 38-29, while scoring 25 points off turnovers to Purdue's 16.
It's hard to call any game against Michigan a "letdown game," but that's exactly what happened to Ohio State on Sunday, as the Wolverines handed them their first conference loss, 64-49. It was an altogether sloppy game for the Buckeyes, who were out-rebounded 48-33 and shot only 3-of-11 from the charity stripe while Michigan was 26-for-28.
In a defensive slugfest, neither team shot the ball well at all: Michigan shot 36% to Ohio State's 31%, including 6-for-25 from long-distance despite many good looks.
"It's disappointing because all of the things that we were so good at Thursday (in the upset win over No. 17 Purdue), all the things we can control, we didn't today. I was very disappointed to how we responded off a great win."

-Head Women's Basketball Coach Kevin McGuff
Just like with the men, though, the Buckeyes remain firmly in the thick of things both in the Big Ten and for an NCAA tournament bid. While the Michigan loss was bad, beating one of the top teams in the Big Ten in Purdue should give this team confidence moving forward. If they play the way they can, there isn't any reason they can't win the Big Ten this season.
Ohio State is currently receiving votes in the AP Top-25 poll and is ranked No. 23 in the NCAA Women's Basketball RPI rankings. Ohio State travels to Indiana, Saturday, to take on the Hoosiers.
UPCOMING EVENTS
Thursday: Men's Volleyball at Hawaii, 7 pm
Friday: Men's Volleyball vs. UCLA, 4 pm, Honolulu, Hawai'i
          Men's Ice Hockey vs. Michigan State, 6:30 pm, Schottenstein Center
          Wrestling at Wisconsin, 8 pm
          Women's Ice Hockey at Minnesota, 8 pm
          Men's/Women's Track hosts Buckeye Classic, 4 pm, French Field House
Saturday: Women's Swimming at Toledo, 11 am
              Men's Volleyball vs. Penn State, 4 pm, Honolulu, Hawai'i
              Women's Gymnastics vs. Oregon State/Bowling Green, 4 pm, St. John Arena
              Women's Basketball at Indiana, 4:30 pm (BTN)
              Men's Ice Hockey vs. Michigan State, 7 pm, Schottenstein Center
              Women's Ice Hockey at Minnesota, 7 pm
Sunday: Wrestling at Illinois, 2 pm