The men's hockey team had last weekend off but the Buckeye ladies were in action. They kicked off the second half of their season with a sweep of Penn State. Nate Handrahan said in Friday's postgame comments that his team came into the series with a renewed focus and energy. It showed. Eleven Buckeyes recorded points in Friday's 8-0 victory, including Claudia Kepler who notched a pair of goals. OSU outshot PSU 56-19. They were whistled for zero penalties while going 2-4 on their power play chances. The Buckeyes even held a 36-28 edge on faceoffs, led by Katie Matheny's 11/15 wins. Lisa Steffes started both games and made 19 and 18 saves to earn back-to-back shutouts. Saturday's contest was closer statistically, but the result was still a 4-0 Ohio State win. The trio of Danielle Gagne, Taylor Kuehl, and Ally Tarr each scored a goal, adding to their impressive series point totals. All told the line racked up a stat line of 5-11--16 for the weekend. Defensive stalwarts Kari (2g, 2a) and Sara Schmitt (1g, 2a) had a productive couple of games as well.
Next up for the Buckeye women: The ladies face a tough challenge in their first conference series of the new year. They'll be at No. 1 Minnesota this weekend.
A few more links from PSU vs. OSU…
Short Shifts
Buckeye Men
As promised, here's the "art" from the Mercyhurst series: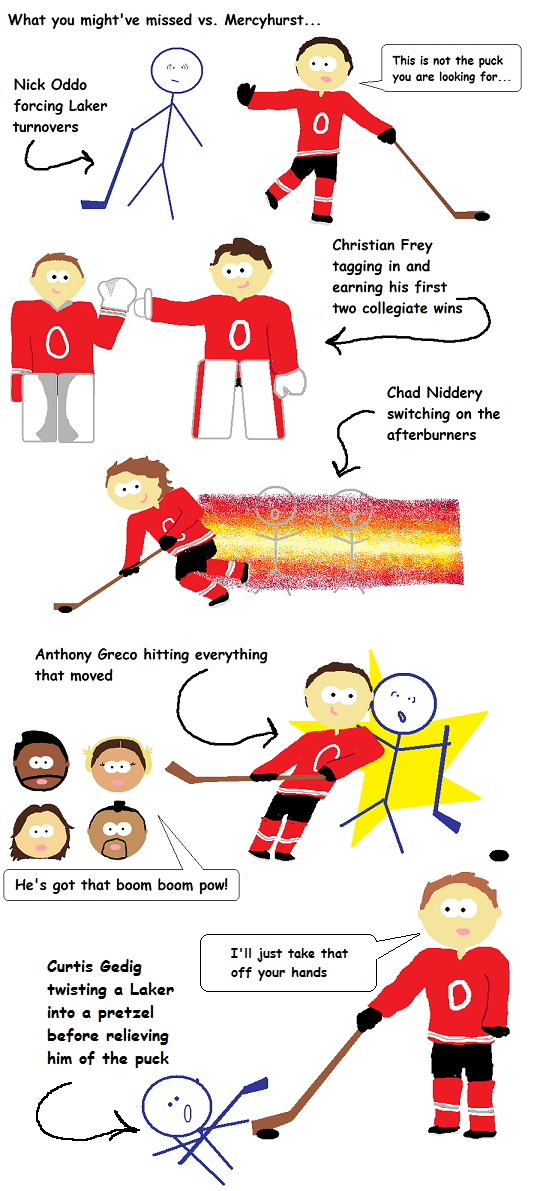 The guys have their first conference showdown of 2014 this weekend. They'll host Michigan State on Friday at 6:30 p.m. and Saturday at 7pm. Be sure to come back and get the lowdown on the series in Friday's preview. Until then here's some more Buckeye reading…
Around the Big Ten
No. 1 Minnesota and No. 13 Wisconsin were the only two B1G teams playing last weekend. The Badgers were upset by Alaska-Anchorage on Friday and had to rally on Saturday to avoid being swept. But a lackluster weekend wasn't the worst news for Wisconsin. The really bad news is that Nic Kerdiles, recently of Team USA and the WJC, took a nasty fall in his return and apparently did substantial damage to his shoulder. Over at the Mariucci Classic, Colgate beat Minnesota in a shootout, sending the Gophers to the tournament's consolation game. They faced RPI on Saturday where, bolstered by the return of Brady Skjei, Hudson Fasching, and coach Don Lucia (also late of Team USA), they rolled to a 6-2 win. Kyle Rau scored twice in that game, one night after joining Minnesota's century club.
World Juniors Wrap Up
Congratulations are in order for surprise WJC champion Finland. The Finns upset Sweden in the gold medal match to take the tournament crown. Russia knocked Team USA out in the quarterfinals and went on to defeat Canada for bronze. It was a disappointing finish for an American team that had appeared strong in the round robin games. Wisconsin's Nic Kerdiles led the U.S. in points with seven (2g, 5a). Andrew Copp of Michigan tallied five assists as well. Minnesota's Hudson Fasching contributed two goals and two assists in the tournament and fellow Gopher Brady Skjei chipped in an assist. Future Buckeye defenseman Janik Moser finished his WJC campaign with a goal and two assists. He and Germany fought off a pesky Norwegian team to win the relegation round.
Olympic Watch
Future Nuts
Nuts Abroad