Welcome to the new ice age. It's Tuesday afternoon and we're four hours away from the first big B1G basketball game of 2014 as Aaron Craft and his Buckeye pals make the treacherous drive up US-23 heading to East Lansing in a top five matchup against Michigan State. Before then, let's talk Buckeye football recruiting as we're known to do, huh?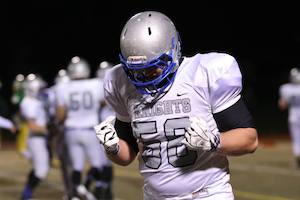 After my post on Sunday night, I noticed a number of questions being asked in the comments about things I didn't talk about directly in the column, so I've decided to turn tonight into an impromptu "mailbag" of sorts in order to try and get some things answered for you all.
My question to you Jeremy is who else besides Taylor do you think ends up in this class if you don't believe any of the DL will commit? - WEIMERAD
Inside of the column I predicted that Ohio State will miss out on Solomon Thomas and Malik McDowell and would finish their recruiting class with 22 players, culminating with Bishop Ready (Columbus) lineman Brady Taylor. Yes, we know that Taylor does not have an offer currently, but with the Buckeyes wanting to finish with five offensive lineman it makes sense that they'll add one more, and the interest from others isn't as serious as it would need to be at this point. Those two, Frank Ragnow and Roderick Johnson, will need to visit Columbus (again in the case of Johnson) before they become legitimate contenders.
Initially I believed Ohio State would end up closer to 24 in 2014, and while that's still entirely possible (never count out Meyer et co.,) the other two players are just not as cut-and-dried targets as we're accustomed to seeing.
Any word on Torrance Gibson? I heard he visited Buckeye practice in Florida. Do you like where we stand with him? - KBonay
Torrance Gibson is absolutely a primary target for Ohio State in 2015 and not just in the ambiguously named "athlete" position, either. The Buckeyes believe 100-percent that he can be a quarterback at the next level and will recruit him as hard as they can with that idea in mind. Ohio State would like to take two quarterbacks in 2015 and Gibson is in their top group as things currently stand alongside New Jersey's Brandon Wimbush, Georgia's Lorenzo Nunez and Texas' Jarrett Stidham.
Knowing where the Buckeyes stand on Gibson is only half the equation, of course. Is the "love" reciprocated? According to the American Heritage (Fort Lauderdale, Fla.) star, it absolutely is. Two weeks ago he made it a point to check out the Buckeyes as they practiced in south Florida for bowl prep and came away very impressed by what he witnessed. He believes he could be a star in the Ohio State offense and his relationship with Urban Meyer is developing very nicely. Gibson is one to watch closely moving forward, especially if he makes it up to Ohio State for his first visit, which he says will happen in late spring or early summer. He says that while he has no "top two," the Buckeyes are in a top group with LSU, Miami and Notre Dame.
If you've not seen Gibson live, I recommend watching this. Get your popcorn.
Oh, speaking of Wimbush, while he initially had wanted to make an announcement in December or sometime this month, he told me today that he'll be waiting a little bit longer to get a bit more run from the recruiting process.
"I want to take some visits with Minkah (four-star teammate, defensive back Minkah Fitzpatrick," Wimbush told Eleven Warriors. "So I am going to give myself a little more time and not announce this month. It will be closer to the summer." 
Ohio State remains in great shape with Wimbush and should be considered the leader for his commitment at this time.
Any thoughts about Poona Ford defecting from Louisville? - Sharks
Poona Ford and Derek Barnett were popular choices among Buckeye fans over the summer to become the defensive tackle in the "Dream '14," but Ford ended up choosing Louisville (Barnett chose Tennessee) when the Buckeyes decided to turn their focus at the position to Matt Elam or Thomas Holley instead. Unfortunately, Holley ended up choosing Penn State and Elam has a final two of Alabama and Kentucky, so the Buckeyes appear to be looking at a goose egg at defensive tackle in 2014. Would they make an attempt to get back into the mix with Ford? I'd be surprised. They passed on him the first time around knowing full well they could have landed a commitment from him, and I imagine they'll pass the second time around.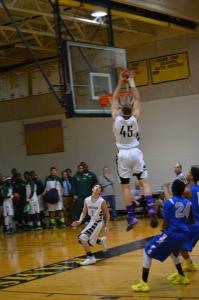 Ironically, it's another Louisville commitment named Ford — Jacksonville (Fla.) wide receiver Isaiah Ford — that I initially thought about when Charlie Strong vacated Louisville's head coaching position for Texas. Ohio State offered Ford early in the process, and while they are set at wide receiver, it made sense to at least consider the 6-foot-2 Ford simply because he's got two 2015 teammates that are among the best players in the country, defensive back Kevin Toliver and linebacker Jeffery Holland, each of whom Ohio State is very interested in, although Toliver is already committed to LSU.
Did I miss JuJu Smith committing somewhere? I thought we were in the running somewhat? - AllInOSU
Nope, didn't miss anything, and yes, Ohio State was once in the running for John "JuJu" Smith from Long Beach (Calif.) Poly High School. JuJu visited Ohio State in September and for a moment had the Buckeyes near the top of his list but it was always a longshot to pull the Golden State star. Add in the recent commitment of Erick Smith — added with Mailk Hooker already in the fold — and Ohio State is pretty set at defensive back.
I haven't seen that he has committed elsewhere but is Damian Prince still out of the question? - HighBallAce
As the Buckeyes continue to search for the elusive fifth offensive lineman in the 2014 class, there's no doubt that they would have liked it to be Maryland star Damian Prince. In fact, Ohio State felt really good about their chances with the five-star lineman at one point this summer, but as time passed following his visit to Columbus, the shine came off the diamond and the Buckeyes' confidence waned. Eventually, by the beginning of fall, they knew that Prince was not going to happen. Family concerns will likely keep him in-state and playing for the Terps.
Do you think we are done at DB? I know there have been rumors of the safety from GA (Rogers) or the CB committed to TX (Roberts). Obviously the priorities are DL and OL, but does one of these guys sneak in as well? - OregonionBuckeye
Yep, I think the Buckeyes are done at defensive back. Mike Rogers, Jermaine Roberts and others are excellent players and the need for defensive back help has been firmly established over the last few months, but with Dame Webb, Marshon Lattimore, Erick Smith, and Malik Hooker committed in the secondary, the need has certainly diminished. 
Of the two, I think Ohio State would still entertain the idea of bringing Roberts aboard were he wanting to flip his commitment from Texas, but I think the Charlie Strong hire will be enough to keep him staying put with the Longhorns. He's supposed to visit Ohio State officially this month, so let's see if that still happens.
Is the Solomon Thomas and Malik McDowell situation a "first to commit gets the spot" type situation? Or is there room for both potentially? - Killer Nuts
I do think that Ohio State would take both Thomas and McDowell, but whether or not they get a chance to take even one is the big question. What they see is two strongside defensive end prospects capable of playing on the interior at some point and athletic enough to stay outside in pass rushing situations. Thomas, as I mentioned Sunday, is the player they feel the most confident in right now, but they see an opportunity to bring in McDowell where they once didn't. Yes, it appears Michigan State is the leader for McDowell, but if Ohio State can impress him and his parents at the end of the month, it could be a major coup for Mike Vrabel and Kerry Coombs.
Thomas has been very high on Ohio State for sometime, but Stanford continues to be the team that draws the most attention. Charlie Strong's hire at Texas is a big boost to their chances of keeping Thomas in-state as well. UCLA and Arkansas round out his top schools, but most people think it's a three horse race. Thomas will visit Ohio State the same weekend McDowell does, January 31st. 
What about Mike Gesicki? - Everyone
When Bill O'Brien left Penn State for the Houston Texans, I was one of many who believed that it could potentially be very good news for Ohio State and its pursuit of Mike Gesicki, one of the nation's premiere tight end talents and a personal favorite of Urban Meyer's. Gesicki is 6-foot-5, he's 240 pounds and he's an athletic freak, a word that is often overused but is 100-percent appropriate in this situation. My initial optimism has faded a bit — and was completely erased when it appeared Al Golden would take the Penn State job — but rather than playing a guessing game here's what I know.
Ohio State has reached out to Gesicki, he's been in on-again-off-again communication with them, but hardly anything that is giving anyone confidence that he's legitimately interested in re-opening his recruitment. Ohio State recruits have attempted to make contact with him as well, but up to this point, Gesicki is staying quiet and letting the situation play out, watching what happens before he really makes any decision. It's clear his heart is with Penn State, but he has to recognize the opportunity and stability at Ohio State is a unique situation. 
I guess bottom line is this: wait and see. Who Penn State hires will play a major part in this decision for Gesicki moving forward.