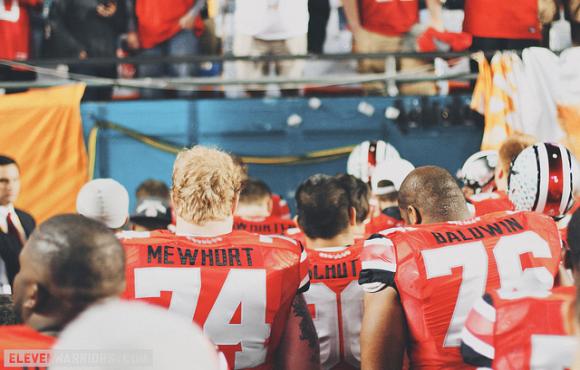 MIAMI GARDENS, Fla. – Ohio State's Class of 2013 has been through it all. From the high of the Rose Bowl to the depths of a 6-7 season and postseason exile, the journey has certainly been noteworthy and memorable.
Now, with a 40-35 loss to Clemson coming on the heels of a loss in the Big Ten Championship Game, their legacies will be mixed with good and bad, triumphs and letdowns.
"I think we were very resilient, hard workers, good people. I like to think that would be the legacy," senior left tackle Jack Mewhort said. "Obviously we dropped a few tough ones here at the end. We would have liked to go out on top, but I think we set a standard for these younger guys. I think they're going to do great things. This program will stay on the rise with Coach Meyer and some of the leaders coming back."
What's taken place in Columbus since the program suffered its most loses in a season since 1897 is nothing short of remarkable. Head coach Urban Meyer has been a turnaround artist at each of his previous three head-coaching destinations, but no one foresaw 24 consecutive wins. Quarterback Kenny Guiton described it as a roller coaster ride.
"We kind of got spoiled from the start," he said. "We had a bad year and then Coach Meyer came in and changed the leadership around. He changed a lot around, and it helped for the better."
Three head coaches later, Guiton and his fellow seniors leave Ohio State without a national championship, but heads held high. The current expedition didn't begin in 2012 when Meyer took over. Pieces took shape and ideas were formed. 
It hit Meyer like a ton of bricks. As he watched Alabama and Notre Dame in the BCS National Championship Game in January 2013, as he saw the passion on fans' faces, as he felt the energy of an amped up stadium, Meyer not only needed that feeling back as a coach, he also wanted his players to experience it. Shortly thereafter, a banner was hung in the indoor field at the Woody Hayes Athletic Center. It reads: The Chase.
It's a daily 30-foot by 10-foot reminder. 
"We're all chasing something," Meyer said the day Ohio State began spring practice.
That was the starting point.
"We did a lot of growing up, as far as maturity goes," Mewhort said. "I think when Coach Meyer got here we realized that we were the older guys now and had to assume some responsibility and not just take a back seat. It's been a lot of fun and a great journey. I love this senior class."
Meyer refuses to reflect at the moment. There's still a sting and tarnish that accompanies the past two seasons stemming from the consecutive losses. Unfinished business remains exactly that – unfinished. One day, though, he expects to be astonished at the string of success and take a glass half-full approach.
When you're never satisfied, it's easy to find motivation and drive yourself and others. An undefeated season in 2012 did little to quench Meyer's thirst for achievement. There was no trip to the Big Ten Championship Game or a bowl. All the Buckeyes had was a No. 3 national ranking, a win over Michigan and a Leaders Division championship. Not accomplishments to scoff at, but also short of what Meyer and Ohio State sets out for.
"He pulled us out of something bad," Mewhort said. "I'll be forever grateful to him for that. You have to keep moving forward for this next group of guys and start fresh next year and do it the right way."
Energy, positive vibes – all of it was sucked out of the Ohio State football program in the midst of an earth-shattering scandal throughout 2010 and 2011. Many thought the Buckeyes might go the way of Nebraska, Miami and other historic programs that withered into irrelevancy.
That notion became more realistic after the 6-7 campaign. But along came Urban Meyer to lift his childhood team of choice to unprecedented peaks, summits and apexes. Never before had Ohio State won 24 games in a row, and it came with relative ease and high beliefs.
"Coach Meyer, he came in with a great spirit," senior safety Christian Bryant said. "He wanted to try to turn this program back to where it was before coach Tress left, and I feel like he did a great job of that."
The popular thinking is Meyer came in, hired a staff he believed could change the culture back to its winning ways and snap his fingers a few times – Voila! Ohio State's winning at a rapid pace. Those things may have happened, but Ohio Stadium wasn't built in one day.
"I know it looked like immediate success after going from 6-7 to 12-0 in one year, but it wasn't immediate at all," Mewhort said. "It started at 5 a.m. in January of 2012. Every day we came to work and we grinded hard. What you saw on the field was a product of a lot of man hours, a lot of effort."
That effort came to a screeching halt in the wee hours of Sunday morning 1,217 miles from campus. Ohio State might enter the 2014 season with a two-game losing streak and coming off its first loss when scoring 35 points in program history, but the expectations never change in football-mad Columbus. For a few months, though, the mood will be just as gloomy as the weather.  
"It stings now," Mewhort said. "It kind of dissolved a little bit, but we got Ohio State back to where it should be. Our seniors did a good job of setting the template on how to work. Hopefully, we'll be remembered for that."