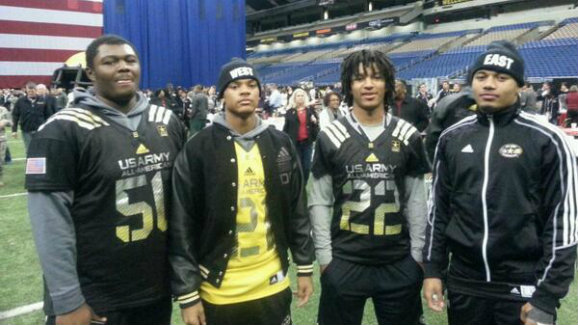 Ohio State fans will want to keep a close eye on Saturday's Army All-American Game that will feature seven current Ohio State commitments and a few of the Buckeyes top remaining targets to fill out the 2014 recruiting class. Our John Brandon previewed the High School All-American Games for you last week. 
As the week began, Ohio State fans were expecting two Gray Box commitments on Saturday. However, Erick Smith had seemingly changed that with reports that he planned to take a pair of official visits to Michigan and Michigan State. Smith now plans to announce, sticking to the original plan. The Buckeyes are the favorite to add commitments from Marshon Lattimore and Erick Smith. 
Join us after the jump for more on how the future Buckeyes have done in practice this week, the latest on the Glenville Trio, and more on what to watch for in tomorrow's game (1 pm EST on NBC).
The Glenvile Trio
With the latest uncertainty surrounding the Glenville Trio, many Buckeye fans have started to become frustrated. It's typical for the top prospects from Glenville to draw out their college decisions before ultimately committing to Ohio State. Impatient recruitniks have now began to wonder if Urban Meyer should move on because a teenager is taking a little too long making the biggest decision of his life. 
Anyways, will the trio be headed to Columbus? A person close to the situation expects long-time Ohio State commitment Marcelys Jones to enroll early and be in classes at Ohio State, Monday. Jones has long flirted with the possibility of flipping to Kentucky, but he recently told the media that the visit was merely a vacation. We should have a final word no later than Monday when Ohio State's early enrollees will report for spring classes. Ted Ginn Sr. only fueled speculation when he told a UK reporter that "something's happening" with his recruitment. 
As mentioned before the jump, Erick Smith had announced that he would not be making a decision during the game. This surprised many and some insiders still quietly wondered if this is just a way to build suspense around his announcement. While the latest developments has some OSU fans worried after reading a bogus rumor about the trio committing to Kentucky, that rumor has been completely debunked. The Glenville safety is now expected to announce his decision during game, as previously stated. Buckeye fans should be expecting good news, although you shouldn't rule out another official visit or two. 
Marshon Lattimore caused a stir when he tweeted that his decision would shock everyone. Numerous recruits, including Doran Grant, have said the same thing right before committing to Ohio State. Kids like to build up suspense for their announcements. Lattimore is expected to commit on Saturday, with Ohio State the expected choice. Despite there being some talk that he could enroll early, it looks like he will enroll at a school in the summer. 
Future Buckeyes Draw Praise
Ohio State's seven commitments have draw a lot of praise from various insiders throughout the week. Ohio State fans will be glued to their TVs to see some of these future stars in action. 
Ohio State WR commit Johnnie Dixon compared himself to Andre Johnson today after practice. Definitely have the same styles.#ArmyBowl

— Bill Greene (@BillBankGreene) January 2, 2014
#OhioState WR commit Johnnie Dixon just caught a TD pass during 7on7. Got nice separation and Jacob Park hit him. #Buckeyes

— Marc Givler (@MarcGivlerBG) December 31, 2013
Johnnie Dixon was a recruit that the staff absolutely loved. While many fans wondered why OSU was taking another receiver in this class, Dixon is proving to be something special. The speedster has wasted no time in challenging Ohio State commitment Curtis Samuel in a race once they report to Columbus. 
#OhioState commit Curtis Samuel playing DB for the East and looking good in run support #ArmyBowl

— ScoutBrianDohn (@BrianDohnScout) December 30, 2013
#Buckeyes commit #EAST ATH Curtis Samuel takes flight. pic.twitter.com/UmEtsL3WlL

— #ArmyBowl (@ArmyAllAmerican) December 30, 2013
Curtis Samuel is expected to start off his career on the offensive side of the ball, but he is expected to play safety in the All-American game. I have long wondered if he would be a better prospect on defense, but Urban Meyer and staff is drooling over his speed and athleticism on the offensive side of the ball. 
cant build a better OLB prospect than Dante Booker. total package.

— Shannon B. Terry (@sbtery247) December 30, 2013
Another recruit at #ArmyBowl that really got my attention was #OhioState LB Dante Booker. Looks the part & outstanding young man.

— Shannon B. Terry (@sbterry247) December 30, 2013
The founder of 247Sports appears to be a big fan of Ohio State commitment Dante Booker. They have the Ohio State commitment rated as the 13th best prospect in the nation and it appears that he has lived up to the hype. The outside linebacker has a college ready frame and should be able to contribute right away in Luke Fickell's defense. 
DB Damon Webb (@DameWebb) making plays at #ArmyBowl. #GoBucks commit. #tOSU should expect a lot.

— Damon Sayles (@DamonSayles) December 30, 2013
Damon Webb and Bryce Dixon go up for a jump ball, Dixon looks like he had it, but Webb snags it away just before hitting ground. #ArmyBowl

— Brandon Huffman (@BrandonHuffman) December 30, 2013
Ohio State fans shouldn't be surprised that Damon Webb is shining on a bright stage. The lockdown corner put on a show at Ohio State's FNL camp. With Bradley Roby heading to the NFL and the lack of depth at corner, Webb could make a run for some early playing time. Steve Wiltfong named the OSU commitment the top DB performer in practice. 
Demetrius Knox from the #ArmyBowl practices. He is committed to #OhioState and has performed solidly thus far. pic.twitter.com/tiM166nIDM

— Greg Powers (@GPowers79) December 31, 2013
Mostly positional work so far for the West team, #OhioState Demetrius Knox is so explosive. Really strong in the lower body.

— Marc Givler (@MarcGivlerBG) December 30, 2013
With the tough task of replacing four starters on the line, Knox could challenge for early playing time. I wouldn't entirely rule out the possibility of him challenging for one of the starting guard spots opposite of Pat Elflein.
Biggest personality on @ArmyAllAmerican East squad? Seems like #OhioState OL commit Marcelys Jones is the unanimous choice #ArmyBowl

— Beth Long (@Beth_Long) December 30, 2013
Perhaps Marcelys Jones is just having a little fun with his recruitment before heading to Columbus? Stay tuned. 
There wasn't much talk about Ohio State commitment Jalyn Holmes on Twitter, however, he was taking first team reps with the defensive line. His speed off the edge should be showcased in the All-American game. 
More News and Notes
* Myles Autry, a four-star athlete from Georgia, has had a strange recruitment. He has long mentioned Ohio State as his dream school, but he there hasn't been that much mutual interest. The Army All-American received good reviews from those in attendance at practice. The Ozone's Michael Chung tweeted that Autry named a top three of Georgia Tech, Florida State and Ohio State with plans to officially visit Columbus soon. It seems like the interest is more of his end, but it will be worth monitoring. We'll see if he actually visits. 
* Four-star defensive tackle Derrick Nnadi is scheduled to officially visit Ohio State on Jan. 17. There have been reports from San Antonio that Buckeye commit Jalyn Holmes has been doing some work on recruiting Nnadi to OSU. While Virginia Tech appears to be the favorite, but we'll see how his official visit goes. Some believe the Buckeyes have a legit shot at landing the All-American. He has routinely been listed as one of the top performers this week. 
* A job positing for a football coach was posted by Ohio State through January 7. Urban Meyer is looking to hire an assistant to replace outgoing Everett Withers. Don't be surprised if Meyer moves fast with the recruiting dead period ending Jan. 15. Ohio State would likely prefer to have a full staff to recruit down the stretch. Sometimes new hires brings new recruiting connections. 
What to watch for tomorrow
Be sure to stay tuned to Eleven Warriors for the latest on the decisions of Marshon Lattimore and Erick Smith, which are expected to come during the game. We'll continue to update everyone with the latest on the Marcelys Jones front, with a final word coming on Monday.
Remember to follow the 11WRecruiting Twitter feed, as well as Jeremy Birmingham, John Brandon, Mike Young and myself for more all-star game updates. For a list of all Buckeye commits, targets, former targets and B1G commits competing in all-star games go to Eleven Warriors' official preview of all-star week.
We'll have much more coverage tomorrow on Twitter and in the Eleven Warriors forums leading up to, during and after the game.