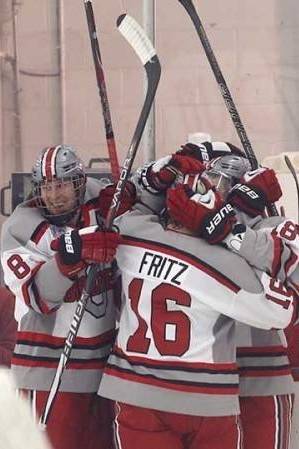 2013 was a big year for Buckeye hockey. I thought we'd use the time afforded us by this bye week to look back at some of the most noteworthy stories of the calendar year. These were, in my opinion, the eight biggest headlines of last year. (Yes, eight. Everyone was doing 10 or 13.) I'm probably wrong. Tell me why in the comments.
8. ROAD WARRIORS
The Buckeye women's hockey team didn't have a whole lot to celebrate in 2013, but the ladies' upset of then No. 5/6 North Dakota has to be considered one of its bright spots. Kendall Curtis drew first blood for Ohio State with an unassisted strike. Taylor Kuehl capitalized on a two-man advantage.
That proved to be all the run support goalie Lisa Steffes would need. She turned aside 35 of the 36 shots North Dakota sent her way, cementing a rare Buckeye win at Ralph Engelstad Arena. Steffes was later named WCHA defensive player of the week for her efforts.
7. STANDING in the HALL of FAME
In October, the Quebec native became the fifth Buckeye hockey player enshrined in the Oho State Athletic's Hall of Fame joining Emma Laaksonen, Jamie Macoun, Bill McKenzie, and Paul Pooley. Boisvert racked up 147 points in three seasons at OSU. He led the CCHA in points in 1997-98 and was a huge contributor to the only Buckeye team to make the Frozen Four. He was Ohio State's Male Athlete of the Year in 1998, a Hobey Baker finalist in 1999, and remains the only two-time All-American in program history.
6. THE GREAT GOALTENDING CAROUSEL
Many people expected goaltending to be a story for Ohio State this season. It has indeed been a big story, just not in the way folks expected. Following seasons dominated by the senior netminding of Cal Heeter and Brady Hjelle, the Buckeyes' 2013-14 roster featured three inexperienced goalies: sophomore Collin Olson and freshmen Matt Tomkins and Logan Davis. After a bumpy first few weeks, Tomkins seemed to have claimed the starting role so Olson departed for the USHL, seeking more playing time. No sooner did he leave than Tomkins was felled by an injury and Davis received a battlefield promotion. The local hero earned his first win in relief of Tomkins and a shutout in his first career start. The team temporarily brought in Buckeye catcher Aaron Gretz, who had played goal in high school (with Olson backing him up, because this story needed to be weirder). Aaron Kahn even sacrificed the rest of his 2013-14 season with OSU's club team in order to shore up the Buckeyes' depth chart. A few weeks ago it was announced that Christian Frey would be joining the team in the new year. He'll be the sixth goalie to be on the Buckeyes' roster this season.
5. MR. CONSISTENCY
In 2013, incorporating the last half of the previous season and the first half of the current season, Tanner Fritz has skated in 29 games. He has registered at least one point in 23 of those games, racking up 10 goals and 29 assists. (One of those six no-point games was at Bowling Green when he left early on with an injury. It really shouldn't count.) Fritz was and continues to be a key cog in both the Buckeyes' ATM line and the team in general, though he receives very little acclaim. Even winning the 2012-13 CCHA scoring title with a total of 32 points in conference games only earned him Second Team All-CCHA honors.
4. HJELLE'S STELLAR YEAR
Last year, goalie Brady Hjelle put the final touches on an outstanding senior season. He would finish 2012-13 with a 2.00 GAA and .935 SV% which placed him second and first, respectively, on the program's single season record lists. Hjelle was named CCHA goalie of the week five times and goalie of the month once. He was a finalist for conference player of the year and earned First Team All-CCHA honors. Then in April came the big news that Hjelle had been named a First Team All-American, becoming just the third Buckeye so honored and the first since Hugo Boisvert in 1998.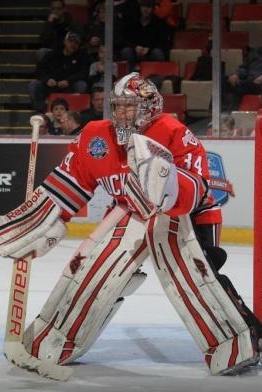 3. BUCKS GO to the JOE
Three seasons of recruiting and coaching for Mark Osiecki and his staff culminated in the Buckeyes' best season since 2004-05. They were 16-16-7 overall and had a winning conference record. The team finished fourth in the CCHA, earning both a first round bye and home ice in the quarterfinals of the conference tournament where the Buckeyes faced a tough fifth place Ferris State team. All three games were for all intents and purposes determined by a single goal. The momentum went back and forth throughout the series. Every inch of ice was contested. Max McCormick was clutch for OSU, scoring in each game of the series. Anthony Greco lit up the Ice Rink with the series-winning goal.  Goaltenders Brady Hjelle and CJ Motte were each brilliant in turn. Hjelle stopped a career high 47 shots in Game Three. Both teams gave it all they had. It was a terrific end to the CCHA in Columbus. The win meant Ohio State advanced to the conference semis at Joe Louis Arena, a trip the team had last made in 2005. The result wasn't great, a lackluster, injury plagued 3-1 loss to Notre Dame, but it was a huge stride forward simply for the Buckeyes to have earned the trip.
2. WELCOME to the NEW AGE
After months of preparation and discussion, Big Ten hockey played its first official games on November 29th. Ohio State vs. Michigan and Wisconsin vs. Minnesota were familiar match-ups for fans of those teams, but the conference logos bore witness to the beginning of a new chapter of college hockey. B1G hockey promises to be an exciting venture, as well as a challenging one with the conference including several of the NCAA's top programs. Fortunately the new conference also comes with big television perks for fans with access to Big Ten Network. In September BTN announced it would air a whopping 27 games this season including the entire conference tournament, and has even picked up some additional games since then. (Jason Priestas also named this one of Oho State's top 11 moments of the year.)
1. CONGRATULATIONS, YOU'RE FIRED
Following one of the program's most successful seasons in the last decade, and to Buckeye fans' considerable shock and anger, Ohio State announced that they were giving Osiecki the ax. Rumors regarding the reason for his dismissal flew around the internets, but the powers-that-be never gave an official reason. ("Difference of opinion" is so vague it's the same as saying nothing at all.) The fans who had been lured out by the success of 2012-13 sank bank into their usual gloomy "We'll never have nice things" state. Steve Rohlik's promotion was generally met with skepticism. It will take a couple seasons before the program completely takes on the character of Rohlik's regime, but so far so good. The team made progress on the ice throughout the first half of the season. Rohlik and company have also hit the recruiting trail hard to replace the summer's mass exodus of committed players.