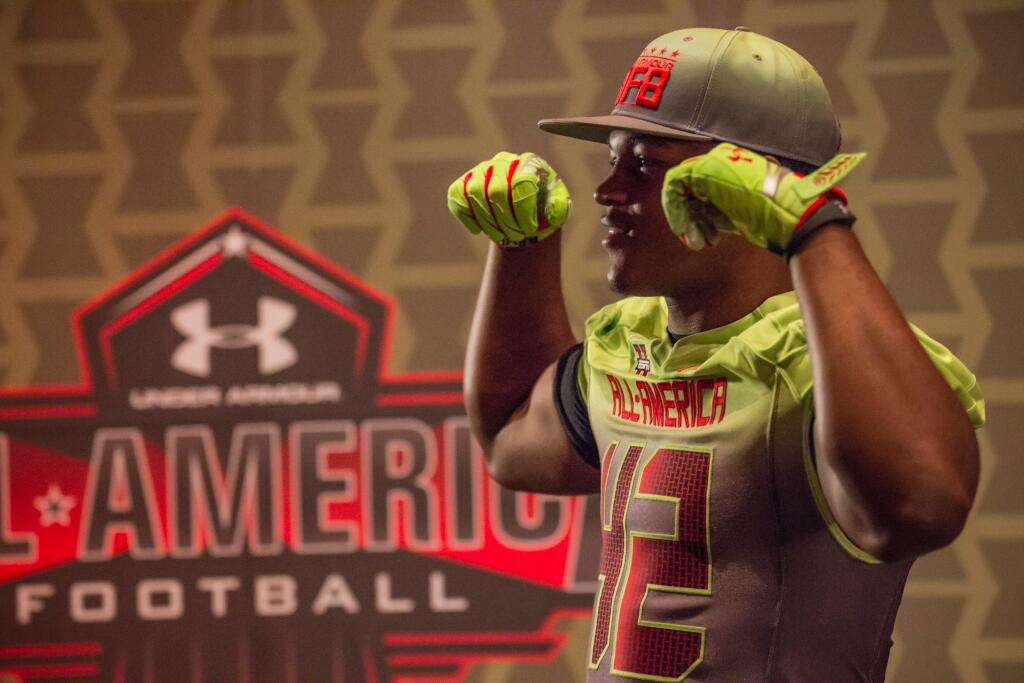 In the annual Under Armour All-American Game, it a pair of Buckeyes stood out. What about the Michigan commits? Well, not so much. Tony Brown made a surprising announcement in part of a dumpster fire day for "The University of LSU."
Meanwhile, a few Big Ten prospects had impressive showings and Buckeye commits continued to recruit top prospects to join them in Columbus.
Join us after the jump for all this and more as we recap the Under Armour All-American Game Week.
Buckeye Commits Thrive on Big Stage
Ohio State may have only had two commits playing in the Under Armour game, but they certainly made an impact for their respective teams.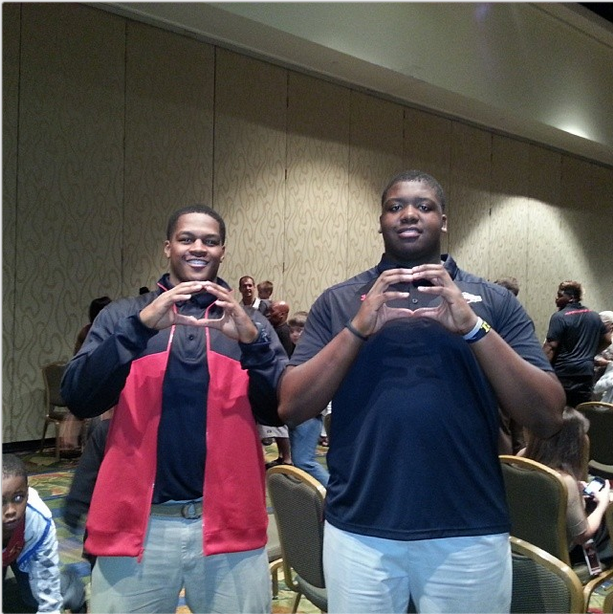 Raekwon McMillan started for Team Nitro and did not come off the field, despite reportedly playing with an injury. Playing both middle and outside linebacker, McMillan showed great versatility. He anchored the Team Nitro defense, recording five tackles – including 1.5 for loss – and was named the game's top linebacker by 247 Sports.
Jamarco Jones started at right tackle for Team Highlight and played well against a couple of the top defensive linemen in the country. At both right and left tackle, Jones went up against the powerful Da'Shawn Hand and the extremely quick Lorenzo Carter, excelling against both.
While Hand and Carter had great games, neither did much against Jones. He had success against each in the run game and did a good job of protecting the quarterback, as well. After watching the game twice, there was a noticeable difference in the success of the Team Highlight offense when he was in the game. Once Jones gains a little more speed and stamina in Coach Marotti's strength program, he will be a force to be reckoned with on the Buckeye offensive line.
Needless to say, the Ohio State coaches were excited to see the future Buckeyes in action:
Since his commitment Raekwon McMillan has really embraced what it means to be a Buckeye, and upon arriving in Tampa he had a message for Buckeye fans:
In the end, Jamarco Jones team got the better of Raekwon's, as Team Highlight won 31-21.
Meanwhile, Raekwon made it clear that there are more important things than winning a high school football All-Star game: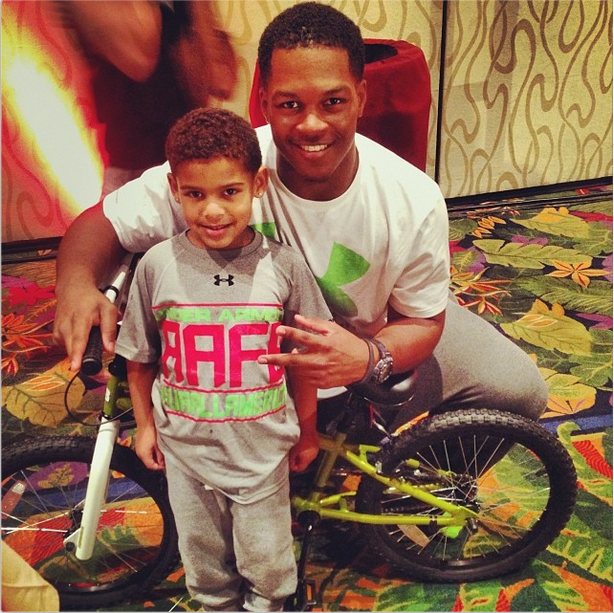 Also, check out this interview with Raekwon McMillan - he has some great things to say about Ohio State, his recruitment and "that team up north":
Ohio State has to be excited in what they are getting in Raekwon McMillan and Jamarco Jones, both great football players and even better young men.
What about the other B1g Commits?
Wilton Speight continued the Michigan tradition of less-than-stellar quarterback play in the Under Armour All-American game. Speight finished only 2 of 6 with an interception in the endzone, while 4-star offensive tackle Juwann Bushell-Beatty was abused for much of the game. It wasn't all bad for the Wolverines however, as Jabrill Peppers showed why he is one of the top players in the country. Team Nitro used him all over the place - cornerback, special teams, wide receiver and even quarterback. Despite giving up a few medium to long passes, Peppers made a few tackles and looked very good on special teams.
Elsewhere, Minnesota commit Jeff Jones was very impressive, running for 37 yards while adding 35 receiving yards and a touchdown. Jones' efforts earned him Team Nitro MVP honors for the game. The Minneapolis native is currently listed as a "soft commit" to Minnesota, planning to visit Florida and Michigan State before signing day. Michigan also just offered Jones after the strong performance yesterday. In a game full of SEC prospects, Big Ten commits performed quite well.
Tony Brown Surprise part of a "rough" day for #ULSU
In the face of rumors that Tony Brown might surprise everyone and pick Ohio State over heavily favored LSU, Brown had a different surprise up his sleeve - choosing the Alabama Crimson Tide, instead. A few "experts" reported that Alabama was where his mom wanted had always wanted him to go, but very few people saw this coming.
The Tigers also missed out on a couple of other 5-stars thought to be "locks" - Speedy Noil and Gerald Willis. But it wasn't all bad for them, as they added the top national player Leonard Fournette and composite 5-star safety Jamal Adams – although, in both of their announcements, they called the school "The University of LSU." The commitments move (U)LSU into the top 5 of 247 Sports team recruiting rankings, but LSU fans still have to be disappointed to lose Noil, Willis and Brown - highly touted local prospects who appeared destined for Baton Rouge.
Buckeyes Continue to recruit
While much of the focus this week has been on McMillan, Jones and Tony Brown, the Under Armour game featured a couple other prospects Ohio State remains in the mix for.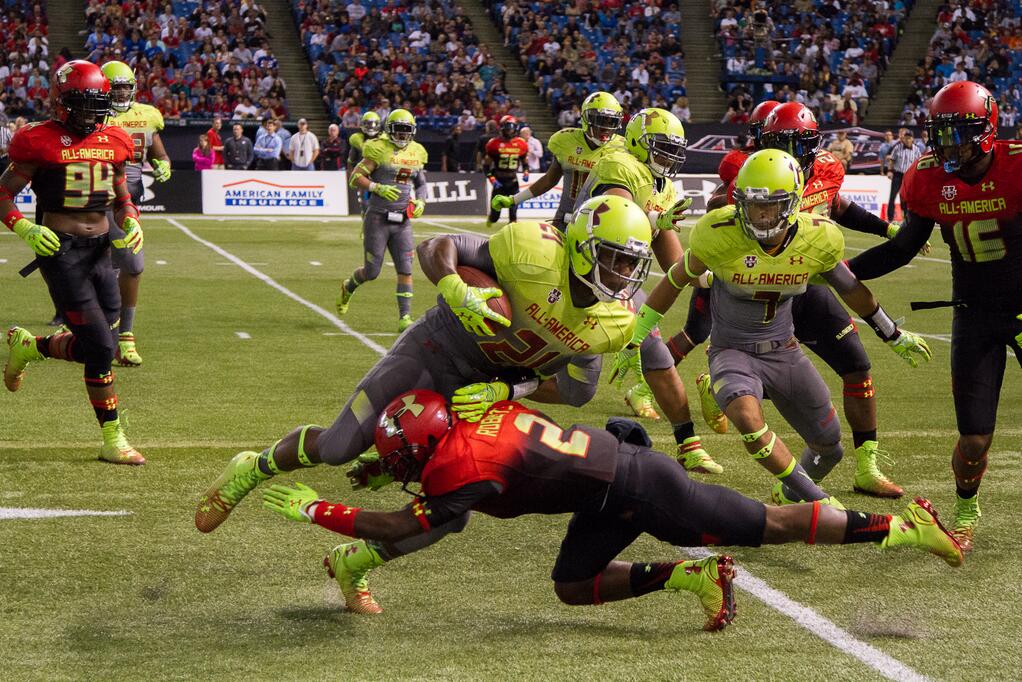 Ohio State continues to recruit Jermaine Roberts, a current Texas Longhorns verbal who had a nice game and week of practice. Roberts finished with 5 tackles and a pair of pass breakups in the game while competing against some of the top skill position players in the country.
Roberts goes to the same high school as top recruit and LSU commit Leonard Fournette, also the same school that former standout Tyrann Mathieu attended. Some have compared Roberts to Mathieu for his similar physicality, athleticism, size and play-making ability.
Meanwhile, Ohio State continues to pursue John 'JuJu' Smith, a California native who visited Ohio State in the fall but appears to be a long shot to come to Ohio State, despite saying positive things about the Buckeyes. Jamarco Jones got in the action, doing some recruiting of his own of Under Armour teammate Smith:
Only time will tell if Jamarco's efforts paid off, but not surprisingly Jones' mom has come to expect nothing less:
Overall, it was another great week for Ohio State at the Under Armour All-American game and it looks like the Buckeyes are getting some real gems in the 2014 class.