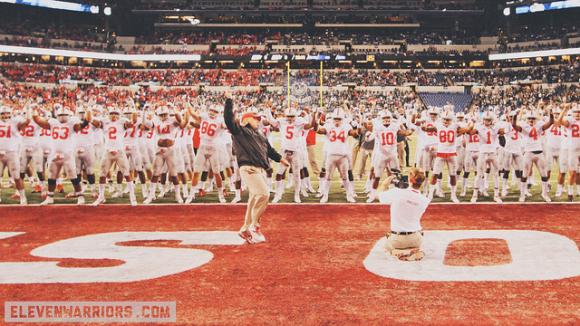 FORT LAUDERDALE, Fla. – Now that the sting is removed from a loss in the Big Ten Championship Game, Ohio State is focused on winning its 25th game in two seasons. It's a feat that Clemson head coach Dabo Swinney continually points to with astonishment.
"Ohio State is a lot bigger than one or two players, and that's why they're 24-1. That's almost unheard of in modern football," he said. "Those guys are incredibly confident, as they should be. I don't have any doubt that Coach Meyer will have them ready to go."
To reach up to another peg on their growing Totem pole, the Buckeyes must corral 12th-ranked Clemson, a team that's only lost four of its past 25 games. Each coach has implanted a motivational tool into their teams. The themes are remarkably similar: prove the past two seasons weren't a smokescreen.
The Meyer era in Columbus already includes one of the finest two-year stretches for one of college football's grandest entities. National championships are a priority every season, but there's no scoffing at the Orange Bowl. Historically, its significance is only one-upped by the Rose Bowl, and presently, the opportunities given to No. 7 Ohio State are immense.
"This is a BCS bowl. This is still a huge game," running back Carlos Hyde said. "You don't really need too much motivation. This is still a huge game, just got to get past that last game. I'm sure we are past that. I feel like we are."
The model of the sport keeps coaches in lockstep with recruiting at all times. That notion has never strayed far from the Buckeyes throughout their week in South Florida. Recruits have been spectators each day of practice, so too has former Ohio State wide receiver and current St. Thomas Aquinas coach Cris Carter.
On Thursday, Meyer said South Florida is a "primary" recruiting area for the Buckeyes. Palm Beach, Broward and Miami-Dade counties produce as much talent as any region its size in the country. Ohio State will even visit Aquinas Thursday night.
"Ohio State is a lot bigger than one or two players, and that's why they're 24-1." -Dabo swinney
"Maybe if not the best high school in America, it's one of the top high schools in America," Meyer said. "I can list at least two dozen high schools right in this area that are loaded with talent. We have, not good relationships, great relationships with these high school coaches. A lot of them came to visit us at a bowl practice. We attack [this area]."
The same mentality has contributed to the Buckeyes' recent success. Only three programs in the past decade have gone 25-1 over two seasons – USC, Boise State and TCU. It doesn't come simply by having better coaches and players. The biggest part of the equation is outworking the opponent.
The entire amalgamation adds up to Ohio State being superior to many other teams. For two years, it's been constant motion and striving to put the program back in the forefront of positive discussions in college football. So far, the success rate is high.
"There's a lot of hours that went into that," senior left tackle Jack Mewhort said. "So 25 wins, when you see behind the scenes, it wouldn't surprise you. Obviously, we're at 24 right now and it doesn't surprise me that we're at 24 because of the way we've prepared and the hours that we've put into this."
Ohio State's seniors especially have been put through a unique set of circumstances throughout their careers. The bowl experience during their freshman season was shrouded in controversy after Tat-Gate came to light. The Buckeyes finished 6-6 the following year and were off to the Gator Bowl knowing Meyer was the next coach. Then 2012 featured an undefeated campaign but no bowl. Finally, they get a dose a normalcy.
The appreciation for receiving a chance to showcase their talents is apparent. Key players are out, the flu is traveling around and the opponent is top-notch, but it hasn't affected Ohio State's optimistic outlook.
"I love this group," Meyer said. "Our leadership was very poor after last year in January and February. We went on about an eight month class to teach leadership and to present situations for them where they had to respond. The whole event plus the response equals the outcome, and they've done a really good job.
"The Philly Browns of the world are different human beings, and I'm anxious to see guys like that go on in their life because of what they've learned and how they've responded. I have great admiration for these players. They've earned that right. Now they've got to finish strong."
It's all the continuation of a process that began two years ago. It won't end with a national title, but it will contain memories and performances that the Buckeyes will point to when the ultimate dream is realized.