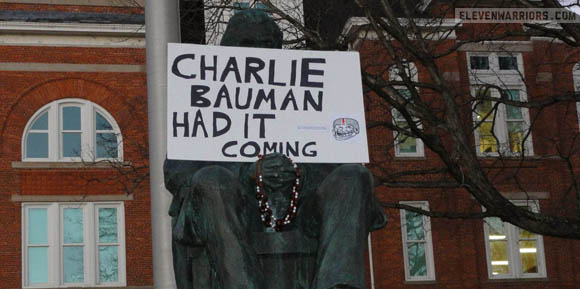 The 1978 Gator Bowl has been rehashed thousands of times, and that's just in the month-long buildup to this season's Orange Bowl. The much lesser told story is that of Ohio State's only venture to Miami for the postseason. It came two years prior to Woody Hayes' infamous punch to Charlie Bauman.
Ohio State entered the final week of the 1976 regular season in familiar territory – needing a win over Michigan to advance to the Rose Bowl. But the Buckeyes suffered one of their worst defeats in decades to the Wolverines, losing 22-0. Unlike previous years, though, it wasn't Rose Bowl or bust for the Big Ten.
The famed 10-10 tie in 1973 between the archrivals sparked sweeping changes for bowl games. Instead of sending one team from the Big Ten to Pasadena, the conference decided to open up other games to teams who didn't win the league title. Thus, Ohio State was selected to play in the 1977 Orange Bowl.
There was considerable hype surrounding the game since it was the Buckeyes' first bowl game that wasn't the Rose. The opponent – 8-3 Colorado – only added to the intrigue. All that excitement was quickly hushed on the Ohio State side after the Buffaloes built an early 10-0 lead. But the Buckeyes would roar back and score 27 unanswered points to win 27-10.
Rod Gerald missed the final four regular season games with a back injury, but returned for the Orange Bowl to rush for 81 yards and a touchdown. He and kicker Tom Skladany were chosen as players of the game. 
It would be another 34 years before Ohio State returned to South Florida, when it lost to Miami at Sun Life Stadium, site of Friday night's Orange Bowl. The Buckeyes are 2-10 all-time in the state of Florida, with eight consecutive losses.
Opponent Breakdown
The game may or may not be decided by Clemson's passing game and Ohio State's secondary, but it's certainly the match up that will receive the most attention. Under head coach Dabo Swinney and offensive coordinator Chad Morris, the Tigers have developed into one of the highest scoring teams in the country.
It helps when you have Tajh Boyd and Sammy Watkins at your disposal. The quarterback-wide receiver combination has totaled 4,710 yards through the air and 39 touchdowns. Clemson ranks 12th nationally in passing yards with 329 per game. Watkins has caught 10 passes of 30 yards or more, which adds up to almost one each game. Twice this season, he's hauled in a pass that exceeded 90 yards, making the Tiger offense the lone unit in the country to accomplish such a feat.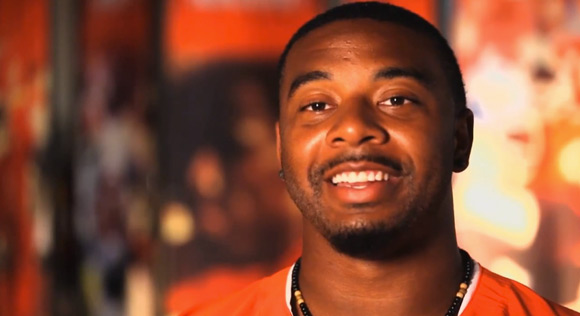 But it isn't all Watkins, all the time. Clemson had a school-record 13 different receivers catch a touchdown pass this season. Martavis Bryant (39 catches, 800 yards, five touchdowns) and Adam Humphries (41 catches, 483 yards, two touchdowns) are also attention-getters. Without Bradley Roby, they could receive more care than usual.
Boyd isn't a true dual-threat per se, though he has tallied 273 yards rushing on 134 carries. The rest of the Tiger rushing attack is average. As a team, they're in the middle of the country – 62nd – when it comes to yards per game with 172.7. Senior running back Roderick McDowell needs 44 yards in the Orange Bowl to reach the magic number of 1,000. He's chewing up more than five yards per carry. 
"They're very good at what they do," Meyer said. "It's not just covering, but it's getting them on the ground because the skilled positions at Clemson are as good as anybody in America."
Just as Ohio State's defense contains holes (i.e. pass defense, Noah Spence), so does Clemson's defensive unit. Stopping the run is the biggest stain, as the Tigers allow more than 150 yards per game. They rank 49th in that category but rise to 17th in scoring defense (21 points) and 23rd in total defense (351 yards).
Pass defense was solid for 10 games. The two where major issues surfaced happened to be losses to Florida State and South Carolina. Against the Seminoles, Clemson gave up 444 yards and three passing touchdowns to Heisman Trophy winner Jameis Winston. Through 12 games, the Tigers sit inside the top 15 in passing yards allowed (197.8) and rank eighth in third-down conversions (32 percent).
Another problem in losses was Clemson's propensity at turning the ball over, which it did a combined 10 times in two losses this season. In their 10 wins, the Tigers were plus-13 in turnover margin.
"That ball is 12 ounces of gold, man. When you put it on the ground, it affects everything," Swinney said. "It affects momentum. It affects field position. It's sometimes very hard to overcome."
One note of interest, Boyd's backup is Dublin Coffman graduate Cole Stoudt. In eight games this season, Stoudt has only thrown 12 incomplete passes. He's 47 of 59 with 415 yards passing, five touchdowns and zero interceptions.
Buckeye Breakdown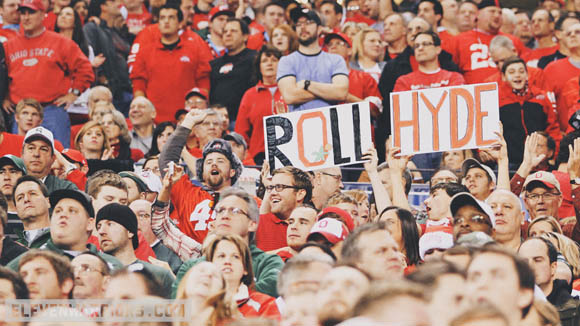 Ohio State's one-time strength and program hallmark – defense – remains a constant talking point. Can they get to Boyd without Spence? Can anyone cover Watkins with Roby out? The questions will be answered, and the results could be negative.
The Buckeyes are already surrendering 362 yards of offense per game, including 259.5 through the air. That number put them at 105th in the nation. The past two games featured the low point. Of course, that could change after Friday's Orange Bowl.
If you go back four games, Ohio State's allowed a combined 1,363 yards passing and 11 touchdowns. The Buckeyes have only intercepted three passes as opposing quarterbacks completed 63.6 percent of their passes during that same stretch.
"Pass defense, we didn't rate very high, but we won a bunch of games," Meyer said. "We weren't up to standard and it hasn't been up to standard for a while. So you have to look at scheme, you have to look at development, you have to look at personnel. That's what I'm doing right now. It's certainly not what we expect. I have a tremendous amount of confidence in Luke Fickell. He's a very unselfish coach, a very good coach and we're going to get this thing fixed."
Can the holes be plugged before the Orange Bowl? Coaches had four weeks to prepare, but the Silver Bullets also lost two of its best defenders. A coach left, too, and Meyer said the search occupies a lot of his time, adding that a home-run hire is needed.
Fickell's doing the best he can in a situation that isn't necessarily ripe for positive results. Ohio State will start six players on defense that did not start in the season-opening win over Buffalo. But the ups and downs still show more high moments when you dig through the stats. The Buckeyes rank 21st in scoring defense and 30th in total defense, numbers that most head coaches and defensive coordinators would be satisfied with.
But the vibe around the Orange Bowl almost screams exhibition due to the abundance of confusion and mystery surrounding Ohio State.
"It's a chance to go compete. Whether it's checkers or ping pong,  we're going to try to win the game," Meyer said. "Our job every time we keep score is to win. It's the mentality we try to create within our program. Whether it's the Orange Bowl, whether it's the eighth game of the season, we're trying to win a game."
How it Plays Out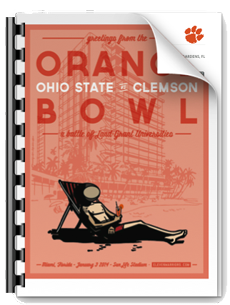 The obstacles in Ohio State's way for the Orange Bowl are many and significant. But the coaching edge could be the Buckeyes' biggest advantage. A loss in the Big Ten Championship Game doesn't change the fact that Meyer is one of the top big-game coaches in football. One of his many accomplishments is an unblemished BCS record – 4-0.
It's clear offenses – or is it defenses? – will steal the show. Miller and Boyd can light up the scoreboard as much as any quarterbacks in the country. The two complementary pieces – Carlos Hyde and Watkins – are possibly the best at their positions, making it a don't-go-to-the-restroom type of game. Get up at your own peril.
In evenly matched games, turnovers often decide the winner and loser. One look at that stat gives Ohio State an overwhelming advantage over Clemson. The Tigers losses in recent years have all related to turnovers. But it's not just that; good teams are the ones forcing the turnovers. Spence or no Spence, Ohio State can be opportunistic. One hit on Boyd could be all the Buckeyes need.
---
ELEVEN WARRIORS STAFF PREDICTION: Ohio State 42, Clemson 40