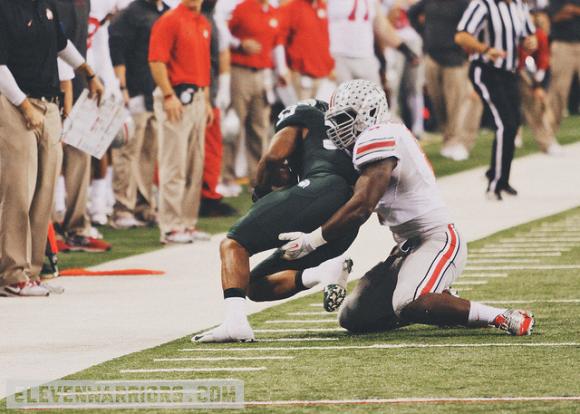 FORT LAUDERDALE, Fla. – At full strength, Ohio State's defense was lit up like a Christmas tree. Imagine what would happen if it lost three starters against one of the nation's best offenses. Might the Buckeye defense resemble the New Year's Eve ball in Times Square?
Noah Spence, Bradley Roby and Curtis Grant all remain questionable. Roby is the lone member of that trio to practice this week. Spence, Ohio State's sack leader, isn't even with the team and Grant is only stretching and jogging lightly at the Buckeyes' practices in South Florida.
Head coach Urban Meyer said Roby is suffering from a bone bruise in his knee, which occurred in the Big Ten Championship Game. Grant's injury, according to defensive coordinator Luke Fickell, stems from a bad back.
Excuse Chad Morris, Tajh Boyd and Sammy Watkins for their excitement. Clemson averages 40 points per game, 502 total yards of offense and 329 passing yards.
"We've got to move on. These guys know that," Fickell said. The coaches have preached a "next man up" mantra throughout the season. But Ohio State is dealing with its most significant lineup issues of the year now.
Just three weeks after a national championship looked possible, the Buckeyes are a one-loss team that doesn't look like the unit that won 24 games in a row. Piece No. 1 in the reconstruction project is Jamal Marcus. He would fill – or attempt to fill – the shoes of Spence.
"It will be a huge loss if Noah can't play," junior linebacker Ryan Shazier said. "We'll need some guys to step up if he won't be able to. He's one of the tops in the Big Ten and gets consistent pressure on the quarterback."
Pressuring Boyd is a must for Ohio State, and Spence's absence would leave a major void in the ability to harass the quarterback. Marcus' past includes sacks and tackles for loss, but nowhere near the rate of Spence, who was an All-Big Ten selection. Junior Steve Miller is another possibility at defensive end. Combined, the backups have 27 tackles, eight tackles for loss, five sacks and a forced fumble this season.
"Steve's been around for a while," Fickell said. "The thing for Steve is he hasn't really been playing that spot throughout the year. He's been playing more of the end spot. He's going to have to be thrust into a situation where he's going to have to go over there and learn. He's done it before, but he's going to have a little bit of baptism by fire."
"We've got to move on. These guys know that." —Luke Fickell
Vonn Bell is another Buckeye who will do something new – start a game. Meyer's been clamoring for more Bell – not cowbell – throughout the secondary's struggles. In the Orange Bowl, the head coach's wish is granted. Bell will play nickel with Tyvis Powell occupying a spot at strong safety. The odd man out becomes Pitt Brown, and it happen for his final college game.
A five-star recruit, Bell was expected to be a significant piece in the defense's arsenal this season, But the true freshman hit a snag and his playing time never materialized, much to the chagrin of Meyer. The pressure will be ratcheted up with his appearance and the possible disappearance of Spence and Roby. Fair or not, the onus will fall on the offense as well. 
"[Vonn's] been there all year. He just hasn't had an opportunity to play as much," Fickell said. "It's just a matter of time before that guy continues to get more and more playing time for us. I think this will probably be the first time you'll see him get as much playing time as we'd like."
Consider senior safety C.J. Barnett a charter member of the Bell and Powell fan clubs.
"Vonn brings a little something different. He's like a little jackrabbit. He's a little different," Barnett said. "And Tyvis, he has a lot of range as a safety."
Against the Tigers' potent offense, he'll need to do his best centerfielder impersonation. Boyd has thrown for 3,472 yards, Watkins has 1,237 yards receiving, Martavis Bryant has 800 yards receiving and Roderick McDowell has rushed for 956 yards.
Oh, and the triumvirate has accounted for 58 touchdowns. They also don't lack any confidence – at least as far as Watkins is concerned.
"I think I'm the best receiver in the nation and I think cornerbacks should have their chance," Watkins said. "Overall, I think I can't be guarded. That's just my mindset. But it's definitely fun going against great cornerbacks."
He would have that opportunity if Roby, a possible first- or second-round draft pick, played. If not, it's Armani Reeves' job to stop or limit the dynamic Watkins. Reeves struggled mightily in place of Roby on multiple occasions this season. He tallied one interception, seven pass breakups, eight passes defended and a forced fumble. But there was also a litany of touchdowns.
The secondary allowed 341 yards passing during the regular season. Perhaps the biggest shot they took all year was among themselves, not Devin Gardner or Connor Cook. When senior safety Christian Bryant went down with a broken ankle in late September, the impact wasn't fully thought through.
Now, it is.
Before the team departed Columbus, Meyer said Ohio State filed paperwork to get Bryant a medical redshirt. But on Monday, Fickell said there's a possibility Bryant could play in the in Orange Bowl in what would be his final college game.
"Maybe in a small box," Fickell said. "I heard him say yesterday, 'If they get the ball inside the 5-yard line, I think I can do it, guys.' You love that attitude. But he would do nothing but probably hurt himself at some point."
At this point, could it get any worse for the Buckeyes?
"It's a part of the game," Fickell said "We've got to deal with it. We can't dwell on it. We can't whine and complain about it. Next man up."