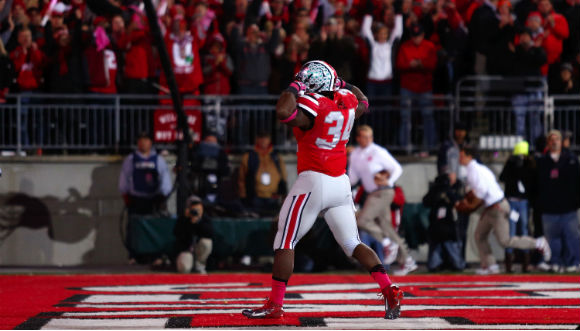 In just five days, Urban Meyer will lead his Buckeyes onto the field in South Florida to face the Clemson Tigers in the Orange Bowl.
Many have predicted a shootout between two teams with supremely talented quarterbacks, star-studded offenses and less-than-stellar defenses. The expectation is that the scoreboard will light up like the sky on the fourth of July. Personally, I think the defenses will rise to the occasion a little bit after hearing all the talk and we may get a winning team barely into the 40s with the other team in the mid to high 30s, instead of the 63-60 type of game some are expecting.
Both teams have had several weeks of preparation, practice, film study and fine tuning. This may give the defenses time to unlock the secrets of the opposing offense. A savvy coach might spot a "tell" that gives his team an advantage, creating a key turnover. Weeks of self-scouting might lead a team to add something unexpected.
Which team will benefit most? Will either team step out of character or will both simply reinforce their strengths? What new wrinkles can we expect?
The following are my five predictions for the 2014 Orange Bowl. These are 100% guaranteed to be entirely possible.
The Unexpected
Both teams will try to pull a fast one. Each will likely pull something from deep in the playbook that we've either not seen or have been used sparingly. They may not be flea flickers or double passes, although that's certainly possible.
With Clemson, you may see a reverse or perhaps a pass from someone other than Tajh Boyd — and Boyd may be the ultimate recipient. With Ohio State it might be something along the lines of a jump pass in a short yardage situation, or a throwback to the tight end.
Whatever the form the unexpected play takes, each team will gamble that they can create an explosion play when the time comes. They will likely be dictated by favorable field position. They also have the potential to backfire spectacularly.
Personally, I'd love to pull out a Jordan Hall halfback pass. He's done it before, albeit not under Meyer.
Roll Hyde
It probably isn't going too far out on a limb to predict a 100-yard effort for Carlos Hyde. However, it might be, if the prediction is that he won't surpass the number by a great deal, as he has done often in recent games. Clemson has shown an ability to bottle up star running backs like Boston College's Andre Williams.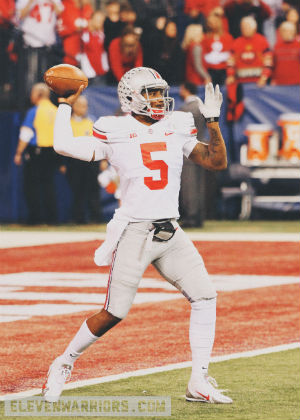 Still, I think Hyde gets the century mark, but possibly tops out at around 110 or 115 yards, rather than nearing the 200-yard plateau. I think the Tigers will sell out to stop the run, gambling that Braxton Miller's recent struggles will continue under the lights with the nation watching.
While I don't expect Clemson to be entirely successful with this strategy due to Ohio State fielding one of the nation's best offensive lines, I believe the other part of the equation will be due to…
The Buckeyes will Throw Early
Ohio State had a lot of success early in the year by throwing to the wide areas to get extra defenders away from the box. In recent games, that strategy has gone away, largely due to an injury to Philly Brown.
With several weeks to rest, Brown should be sufficiently healed and back on his game. Philly has been Miller's security blanket and Ohio State's most productive route runner and pass catcher. I expect Tom Herman to get Brown involved in the passing game early to set up Hyde and Miller runs later in the game.
Michael Bennett Goes Wild
Like Brown, Bennett has battled the injury bug, but his has been a chronic condition. At times it seems to limit his explosiveness and power. This in turn affects his effectiveness. Bennett should enter the game feeling good and he should become a disruptive force for the Buckeyes.
If Clemson has to commit more resources to stopping Bennett, it's a great sign for Ohio State. It would allow Noah Spence, Joey Bosa, Tommy Schutt, Joel Hale and Adolphus Washington to operate more freely. And Ryan Shazier would likely face less opposition on blitzes if Bennett is occupying a second blocker.
Miller Rises to the Occasion
Despite the struggles of the last five games, nearly a month of working on mechanics and timing will set Braxton up for success. Provided the offensive line gives him sufficient time to go through his progressions, I expect Miller's completion rate to reach at least 60% against the Tiger defense.
Clemson's back seven has been susceptible to good quarterbacks this year. Miller is a competitive guy who isn't blind to his own struggles over the last four games. He'll want to silence critics, impress NFL scouts…oh, and win the game. With a healthier Brown, a large dose of self-scouting, and ample time honing mechanics prior to the game, I think the Miller we'll see will more closely resemble the one from the first half of the Big Ten season than the last four contests.