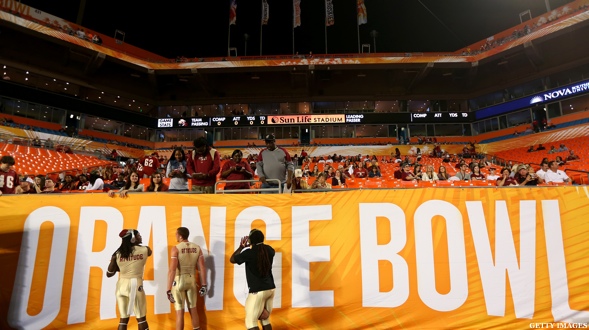 This morning, Chris mentioned a Toledo Blade report that Ohio State has sold roughly 7,5000 of their 17,000 alotted tickets for the Orange Bowl. Turns out, Ohio State isn't the only one facing sluggish sales: 
Both teams playing in the Fiesta Bowl, Baylor and Central Florida, have returned thousands of unsold tickets from their 17,500 seat allotment. Baylor sold about 12,000 tickets while Central Florida managed to sell less than half of its allotment.

... This isn't the first time in recent years that an Orange Bowl team has struggled to sell out its allotment. Last year Florida State sold less than half its allotment while Northern Illinois couldn't get rid of 7,000 tickets. In 2012 Clemson and West Virginia were forced to eat a combined total of more than 15,000 tickets.

... College bowls, particularly those in the BCS, have come under increased scrutiny in recent years for its business practices. Many of the bigger bowls enjoy tax breaks, but then charge the schools -- many of which are taxpayer-financed public universities -- for not selling their ticket allotment.
Fans could always be circumventing schools and looking to the secondary market for better prices/seats, but those schools will be on the hook for tickets they don't sell. What a system!
Thankfully, the BCS' corpse is being shoved into a shallow, unmarked grave after this season. Let's never talk about it again.