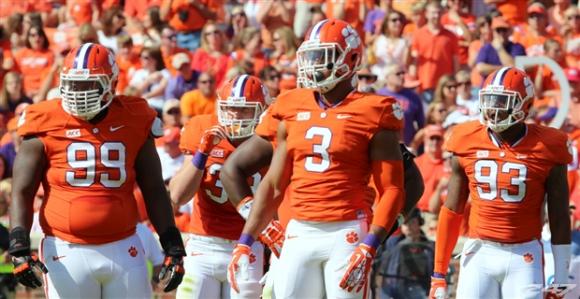 When Urban Meyer came to Ohio State, many had visions of Percy Harvin's effortless strides, passes over the middle that result in 20 yard-gains and world-class speed at nearly every offensive position. That's not exactly how the Buckeyes have gone about building their point-scoring machine.
It was a misconception to begin with, considering Meyer's spread contained more power than other variations of the high-octane offense. He and offensive coordinator Tom Herman are of the ilk that balance means production. Enter running back Carlos Hyde.
Over the past two seasons, Hyde's bowling ball, downhill running style has contributed to Ohio State's numerous offensive school records. Now, he's Clemson's problem. 
"He's very physical, breaks a lot of tackles," Clemson defensive coordinator Brent Venables said. "He runs through a lot of trash. He's not just running and guys are missing hits. He's running through and over people quite often."
Quite often translates into 141 yards rushing per game and more than 1,400 for the season, along with 14 touchdowns. The first-team All-Big Ten performer helped the Buckeyes produce 317.5 yards per game on the ground, third-most in the country. Hyde and the team both account for a nation's best seven yards per rush, almost a half-yard more than any other team.
Venebles attributes Hyde's constant 100-yard outputs to toughness, attitude and technique. It won't take an arm tackle to bring him down and rarely can one defender corral the 6-foot, 242-pound Hyde. He's a running back in a fullback's body with wide receiver speed.
"He can move. He's quick. He can juke," Clemson linebacker Stephone Anthony said. "He doesn't have to come straight at you. He does have some shiftiness to him."
Said Venables: "You've got to get a lot of hats to the ball."
The Tiger run defense is nothing exemplary. They rank 52nd nationally and allow 153 yards per game. But Clemson did shut down the nation's leading rusher, Boston College's Andre Williams. The upset-minded Eagles were close to pulling off the deed, though it was no thanks to Williams. He finished with 70 yards and zero touchdowns on 24 carries.
But as the stats indicate, it wasn't always orange and purple rainbows for the Tigers. Georgia's star tailback Todd Gurley ran roughshod over Clemson in the season opener, recording 154 yards and two touchdowns – on 12 carries. In all, three running backs had 100-yard days in 12 games.
Williams' performance – he rushed for 2,102 yards on the season – and South Carolina's Mike Davis barely cracking the 20-yard mark is evidence the Tigers have the strength and athletic ability on defense to stifle any back they face.
"But they've done a good job at recruiting athletic ability there, too," Venables said. "That's a school that always attracts high-level, elite offensive linemen.  You're seeing right now a group of veteran guys that can knock you off the ball and bloody your nose."
Therein lies the oldest story in the football book. Games are won in the trenches with physicality. Meyer, Venables, Ed Warinner and Dabo Swinney – and thousands of other coaches – all preach a similar message. The proof is in the pudding – or in this case statistics dating back decades.
The cliché rings even truer when the ground and pound Midwestern style of football is played. After more than a decade at Oklahoma, Venables is well versed on defending the power-run game. He likens Braxton Miller and Hyde to Texas' two-headed monster of the previous decade, Vince Young and Cedric Benson.
"Two big powerful guys, both with good top-end speed and power to run between the tackles," Venables said, describing Miller and Hyde's skill set. "They play with toughness, running downhill. I admire them for that. In crucial crunch-time situations, they're not trying to trick you, they're trying to overpower you and out-physical you. They've been really successful doing that."
Ohio State's receivers' and tight end Jeff Heuerman's knack for blocking adds another dimension to the Buckeyes' run game. Fundamentally, there aren't many offenses that churn out points and yards more efficiently than Ohio State. Despite their Big Ten label, the Buckeyes do in fact have players who are fast.
"We take a lot of pride in (stopping) the run game because we feel that's one of our biggest strengths," Clemson defensive tackle D.J. Reader said. "We take it as a big challenge every time someone says they're going to come out and run the ball on us."
The Tigers will get their biggest test of the 2013 season come Jan. 3 in the Orange Bowl.