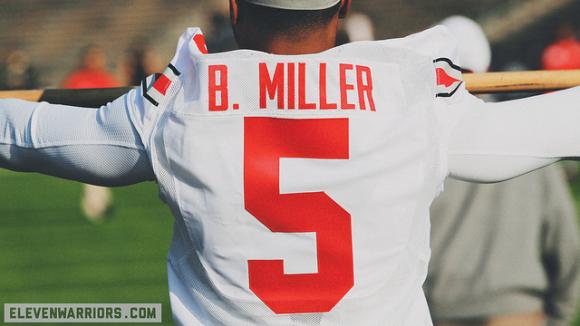 The sting lingers. The fateful fourth-down play is played over millions of time. But the dwelling must end, and it has for the Ohio State Buckeyes. More than a week removed from the hurt of missing out on a national championship, they now prepare for win No. 13 in the Orange Bowl against Clemson. 
A new cloud now hangs overhead – speculation. The far-fetched possibility of Urban Meyer going to Texas was put to rest by the head coach himself.
"I'm here," Meyer said, adding that he has no interest in leaving Ohio State.
But that isn't the only question surrounding the Buckeyes. Striking up even more conversation is the upcoming decision quarterback Braxton Miller must take – college or the NFL?
"Am I ready [to play in the NFL]? Oh yeah, of course," Miller said. A verdict is still weeks away, though. Miller said he isn't leaning one way or the other and laid out many reasons why returning for his senior season would benefit him.
A group of seniors is eager to end its stay at Ohio State with a victory and set the Buckeyes back on a road to prominence. The journey's been turbulent at best. To end 25-1 in the final two seasons would put Ohio State in rarefied air even without a title. First, though, adjustments must be made on both sides of the ball during bowl preparation for the Tigers.
"We understand we just need to play better football as a whole," junior tight end Jeff Heuerman said. "Good football teams don't rely on just one side of the ball. Both sides get it done, and I think that will be the focus going through bowl practice, finding that medium with both the offense and the defense to make us more well-rounded."
Notes
This week's practices have been hard, according to Meyer. He said time off due to recruiting forced the team to go really hard this week.
Meyer said he will sit down with Miller and Ryan Shazier after the season to talk NFL. He did not say who turned in paperwork.
Meyer said Christian Bryant applied for a medical redshirt. The status of the request and Bryant's possible availability for the Orange Bowl are unknown.
The team was very down following the loss to Michigan State, but Meyer said a bid to the Orange Bowl changed the demeanor almost immediately. He said the team's motivation is up and he's happy with how they've responded.
Part of bowl practice has been used to develop younger talent, according to Meyer. The goal entering each game is to win, and that type or preparation is unchanged. 
Meyer said the specter of staff changes always exists when teams win a lot of games. He said nothing is imminent with any OSU staff members, but the possibility is there. Corey Linsley talked up Ed Warinner for the Army job. Linsley said it'd be a perfect fit.
As the Buckeye secondary was shredded throughout the season, Meyer would mention Vonn Bell as a candidate to play more. On Wednesday, Meyer said that should be the case in the Orange Bowl.
C.J. Barnett said Bell is instinctive, fast, a playmaker and someone who has a nose for the football.
"Oh yeah," –Meyer on if Clemson's passing game worries him.
Miller said his decision will not be influenced by any outside factors. He said getting hit is irrelevant, as is his family's financial situation, which he said is fine.
Benefits to returning, according to Miller, are learning under Meyer for another year and graduating. Miller said he has not accomplished everything he set out to achieve at Ohio State.
Linsley said Ohio State's true character will shine through in the Orange Bowl. He said this is the first real adversity they've faced in two years.
Jacoby Boren, Pat Elflein and Taylor Decker are the underclassmen offensive linemen who've shown the most progress in bowl practices, according to Linsley. Darron Lee, Tyquan Lewis, Mike Mitchell, Eli Apple and Kevin Niehoff are scout team performers who have stuck out. Michael Bennett also praised Lewis.
A loss in the Orange Bowl could mean the season is a failure, Linsley said. The goal was to win a national championship, but a 13-1 record and BCS win would be difficult to not consider a success, he added.
"We play against a quarterback like him in practice everyday." –Bennett on Tajh Boyd
The Orange Bowl is an opportunity for the defense to get its confidence back, act as a springboard to next season, Bennett said. He described it as a must-win game.
Bennett said bowl practices have been high intensity with few lulls. The atmosphere is loose, but serious at the same time. A businesslike setting.
The defensive issues are not relating to the scheme, Bennett said. Meyer alluded to possible changes in that area, but Bennett said guys just need to perform better. According to Barnett, a majority of the work has been on fundamentals with not much of the game plan being put together yet.
When the defense was questioned, Barnett took exception. He said people are also critical of LeBron James.
Bennett said Chris Carter is someone to watch. In the few weeks since the regular season ended, Bennett said Carter's technique has improved dramatically.