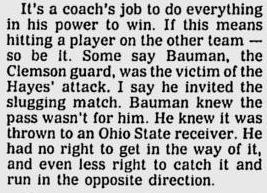 Yesterday, we brought you a tip that showed up in our inbox about an Ohio State fan's troll move on Thomas Clemson's statue on Clemson's campus. "Charlie Bauman Had It Coming" complete with an OhioStateTrollFace.jpeg. It was glorious.
Thankfully for some sleuth on R/CFB, it turns out that Ohio State fan was just the latest in the lineage of thinking Charlie Bauman had it coming. Enter this amazing article from Charleston, South Carolina's The News and Courier January 7th, 1979, edition. It deserves to be read in its entirety, but ends thunderously:
Unless we are willing to see college football go down the drain, all of us are going to have to speak up and reiterate what American coaches have been telling their players for years, WINNING IS EVERYTHING. If we don't allow coaches to slug players on the other team, then there is no sense in suiting our kids up to play the game. Hayes' hit in the mouth might be the best thing to ever happen to Bauman, who I am certain will think twice before stealing a pass again.
*In the distance, the Ghost of Woody Hayes nods in agreement.*
UPDATE (10:37 AM): Because this is the internet in 2013, and we're not allowed to have nice things, we'd like to take this moment to declare: Yes, we know this article is satire, and Charlie Bauman didn't really have it coming because he "stole" a ball intended for an OSU receiver and ran the other way.