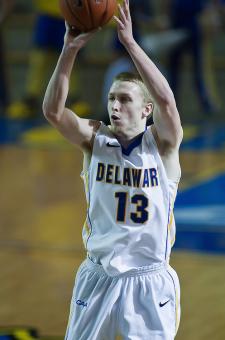 At 10-0 and ranked second in the Coaches Poll and third in the AP, Ohio State still has to battle the stigma that it might not be worthy of its ranking. It's an odd predicament for a program that's been to four consecutive Sweet 16s, something no other school has accomplished the past four seasons.
There's at least one coach who believes the Buckeyes are the real deal – North Dakota State's Saul Phillips. For consecutive weeks now, he's been the lone coach placing Ohio State atop his ballot.
Phillips revealed that bit of information after his team was humbled by the Buckeyes, 79-62, on Saturday night. The Bison were coming off an upset victory at Notre Dame and figured to be a factor against Ohio State.
"[Ohio State] didn't change my mind tonight," Phillips said. "We're pretty good. I don't know if we always looked that way tonight. I think that had a lot to do with them."
The upper hand comes from an assortment of things, Phillips said. Good players, good coaches, well-executed offense, harassing defense. When you're unbeaten and ranked in the top five, you generally click on all cylinders. Smoke and mirrors don't reside in Columbus.
"I was up all night a couple nights ago trying to find a weakness and then I realized that they really don't have a lot," Phillips said. "There's a reason they're playing for Thad Matta in a beautiful building with all the amenities that go with it. They're bigger, stronger and faster at a lot of positions, and when you add in the skill part of it, it's a long road to haul.
"Those guards pressure the ball so well. They put such good ball pressure on within the half court and I think that's a strength against anybody in the country. They're just better at that than anybody."
| # | Name | YR | HT/WT | PTS | REB | ASST | P | # | Name | YR | HT/WT | PTS | REB | ASST |
| --- | --- | --- | --- | --- | --- | --- | --- | --- | --- | --- | --- | --- | --- | --- |
| 4 | A. Craft | SR | 6-2/195 | 10.2 | 3.4 | 4.9 | G | 4 | J. Threatt | JR | 6-2/170 | 17.6 | 5.3 | 6.0 |
| 3 | S. Scott | JR | 6-1/185 | 9.1 | 4.2 | 3.8 | G | 0 | D. Usher | SR | 6-6/200 | 18.1 | 6.4 | 2.8 |
| 32 | L. Smith Jr. | SR | 6-4/210 | 12.9 | 5.1 | 1.6 | G | 13 | K. Anderson | JR | 6-3/200 | 15.0 | 3.3 | 1.4 |
| 10 | L. Ross | JR | 6-8/220 | 11.1 | 4.9 | 0.7 | F | 21 | M. King-Davis | SO | 6-7/230 | 5.2 | 4.7 | 0.1 |
| 23 | A. Williams | JR | 6-11/250 | 10.7 | 7.1 | 0.3 | C | 33 | C. Baptiste | SR | 6-9/260 | 11.9 | 7.7 | 0.4 |
Opponent Breakdown
Delaware, winners of three of its past five games, has five players averaging 10 or more points. Devon Saddler, who missed seven games, is the Blue Hens' leading scorer with 23.3 points per game. He came off the bench in Monday's loss at North Dakota State to score 24 points on 9 of 13 shooting.
Scoring has been a rare problem for Delaware this season. It's put up 80 points in seven of 10 games and ranks in the top 50 nationally in scoring. Jarvis Threatt provided a bulk of the points during that stretch, picking up the slack with Saddler out of the lineup. He averaged 21 points, 5.6 rebounds and seven assists during the Hens' seven-game barrage. Threatt isn't all offense, though. He also has more than two steals per game.
Delaware ranks 37th in three-point percentage defense, limiting opponents to 28.3 percent shooting from long range. But it might need an even more Herculean effort to take down Ohio State – the Hens are 0-16 against opponents ranked in the top 10 and 0-28 all-time versus ranked teams.
Buckeye Breakdown
The career of Ohio State point guard Aaron Craft mirrors what the Buckeyes' 2013-14 season. Some praise him, some deride him. Stats don't always tell the entire story, and in Craft's case, that is true. He provides more than points, assists, rebounds and steals. His leadership and basketball IQ can't be quantified.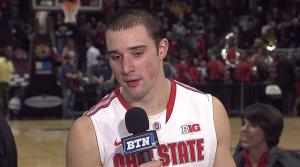 But the numbers do support his cause more often than not, as seen last Saturday when he became the program's all-time leader in assists. Craft now stands alone at 581, passing former point guard Jamar Butler, to go along with his steals record.
In true Aaron Craft form, he completely downplayed his accomplishments.
"Ever since I've been here I've had the easy job," he said. "I've played with a lot of great players, a lot of great shooters that have done the hard part. I just have to find those guys and put them in a great opportunity to score. Fortunately enough, I've played with a lot of those guys, so it's a very humbling experience.
"I'll have a lot of time to think about it when I get older. By the time I'm a grandfather, [the record will] probably be about 800 assists. It's great to think about it right now, but we still have work to be done this year."
Head coach Thad Matta didn't let Craft get off that easy, though. From being lightly recruited by the Buckeyes, to de-committing from Tennessee and joining AAU teammate Jared Sullinger, the journey for Craft has been unlikely. It's not often that small school stars (Findlay Liberty-Benton) excel on such a big stage in college.
Etc.
Ohio State is 2-0 all-time vs. Delaware and 7-2 against Colonial Athletic Association teams.
The Buckeyes are on a five-game streak of shooting better than 50 percent from the field, the first such streak in nine seasons.
"It's hard to put into words, in my opinion, in terms of just what Aaron has meant to this program, to this university," Matta said. "I think dating back to when he got here as a freshman, you saw that. Just in terms of what he brought."
There was speculation before the season began that the new defensive rules would hamper Craft's ability to defend with such vigor. But those concerns seem to have subsided when you consider he already has 24 steals in 10 games.
And like Kenny Guiton drives Braxton Miller on the football field, bringing out the most in his skill set, Craft does the same with backcourt mate Shannon Scott.
"Shannon has been a beneficiary of going against Aaron everyday and all of a sudden last year, Shannon's defense took off to another level to where he is now," Matta said. "I think stuff like that is contagious in terms of guys looking and seeing him on the floor and seeing him deflect passes."