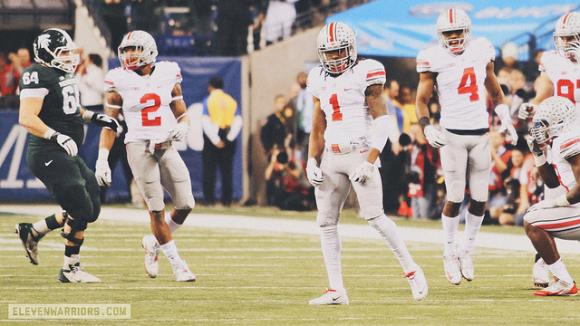 In December 2012, Urban Meyer was in a weird place. There was joy from Ohio State's unbeaten 12-0 season, but a void also existed. Meyer was in pain – "sick to my stomach" – due to the Buckeyes' postseason ban and loss of nearly three weeks of practice.
He won't have to worry about lost practices this year, though Ohio State did fall short of its ultimate goal – winning the national championship. Still, Meyer and the Buckeyes will reap the rewards from playing in a bowl game. And not just any game, but one positioned in fertile recruiting ground in South Florida.
When the nation's longest winning streak ended, it took time for those in scarlet and gray to get rid of the sting. Completing the BCS grand slam lessened the blow, and faced with an opportunity to get win No. 13 against a team that populates part of the national spotlight brought the focus back even more.
"It's been a two-year magical run," Meyer said. "We experienced some incredible success over the last two years and we're going to try and get our 13th win. I can tell you this, every team in America wakes up in August and wants to play in a BCS Bowl game and we're one of the few teams that get to do that, so we're honored to be here."
He's also thrilled to be spending a week in the "State of Miami," the nickname for talent-rich Miami-Dade, Broward and Palm Beach counties. Clemson head coach Dabo Swinney is equally as happy. Both teams recruit from the area and their rosters include a combined 13 players from the state of Florida – three from Greater Miami.
"I was hoping Orange Bowl for that reason, for the respect we have not just for South Florida but for the entire state of Florida," Meyer said. "We've had some good players in the past. We have a couple current ones who are excellent players for us, so we're hitting it real hard down here."
Said Swinney: "It's the same for us. We recruit Florida like it's an in-state area. There are so many great players from the state of Florida that have played at Clemson or are currently playing at Clemson, so it's a huge opportunity for us to continue to build our brand down here."
Just simply appearing in local newspapers and on news telecasts will be a benefit for the Buckeyes and Tigers. Then there's that subject Meyer can't seem to stray from – practices. Fifteen is the magic number. There's no NCAA rule that states bowl participants receive a gift-wrapped set of 15 practices, that just happens to be the number most schools land on.
While the Alabamas, Oregons and Florida States built their on-field cohesion last season, Ohio State could only lift weights and perform drills without the supervision of coaches. Grinding to make up for lost time became a top priority during an extended offseason, and the Buckeyes did so.
"It was horrible a year ago," Meyer said. "This time last year we were already off for a week. A big part of bowl practice is the development of the team. There were 15 legit practices and two others that you get a lot of stuff done. The development of younger players – coaches are excited about that."
As Meyer alluded to, a portion of the bowl preparation doubles as work for the season to come. There's little doubt Pat Elflein, Jacoby Boren, Evan Lisle, Kyle Dodson and Darryl Baldwin will see stints on the offensive line in the lead up to the Orange Bowl. Safety Vonn Bell, defensive backs Eli Apple and Gareon Conley and linebackers Trey Johnson and Mike Mitchell also fall under the category of impact players for 2014.
More than anything, though, it presents one final chance for the seniors to win in an Ohio State uniform. The Buckeyes won't win a national championship, but the 2013 team will be remembered fondly for years to come for the ride they took fans on. Ending four years of climbing uphill with consecutive losses is as appetizing for the seniors as liver and onions.
It would also further damage Ohio State's standing in the national media. Losing to by far the toughest opponent in a two-year stretch did nothing to slow the overrated narrative that's been chugging along since 2006 and 2007.
An exclamation point isn't limited to a national championship – 13 wins and a BCS victory also act as a cherry.
"I can speak on behalf of our team," Meyer said, "they're really looking forward to one last shot at playing together."